Victor Ortiz More Vicious than a Mongoose, But Is He Ready for Nate Campbell?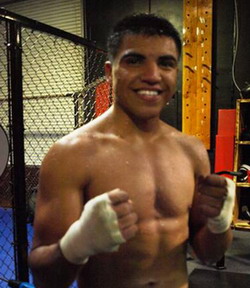 By John G. Thompson - Various sources have already reported that "Vicious" Victor Ortiz 26-2-1 (21 KO's) is scheduled to face Nate "The Galaxxy Warrior" Campbell 33-5-1(25 KO's) on May 15th on the same card as the Amir Khan vs. Paulie Malignaggi fight at Madison Square Garden. This date was in fact scheduled prior to Ortiz's match on Thursday with Hector "The Mongoose" Alatorre 16-9. No disrespect to Alatorre, but having only won two of his last ten bouts going in, "The Mongoose" was in no real position to challenge Ortiz. Former Super Featherweight and Lightweight champion Nate Campbell, on the other hand, is an entirely different kind of fighter.

Flirting with the mythical pound for pound rankings for several years, Campbell has made a career of late by derailing the careers of up and comers like Victor Ortiz. Campbell surprised many with his win over the younger and then undefeated lightweight champion Juan Diaz, and then went on to soundly out-box the younger and much taller Ali Funeka. In his last bout, Campbell fought another undefeated fighter flirting with the pound for pound rankings, moving up in weight against light welterweight champion Timothy Bradley. This fight was stopped after an accidental head but caused a nasty cut over the left eye of Campbell and he decided not to continue. The cut was originally ruled to have been caused by a punch, which gave the win to Bradley. This decision was justifiably overturned and ruled a no contest. In the stoppage, however, Campbell may have drawn some criticism for not wanting to continue. Bradley was seemingly in control of the fight, and some fans feel that the veteran Campbell took the easy way out and avoided another loss. Of course this was only the third round and any argument about who would have won is merely speculation..

Victor Ortiz also drew some criticism after he quit in the sixth round of his war with Marcos Rene Maidana back in June of last year. This would have been a fight of the year candidate had it gone the distance (or if one fighter had gone out on his shield). In this fight Victor Ortiz was clearly in the lead when he quit, having knocked Maidana down once in the first round and twice in the second. Maidana also knocked Ortiz down once in the first and again in the sixth, taking Ortiz's best punches and landing good shots of his own. In the post fight interview, Ortiz stated that he did not feel he deserved to take such punishment and had to reconsider some things – certainly not the statement of a future boxing star. In fairness, a fighter's comments immediately following a difficult contest where he has absorbed numerous headshots should be taken with some degree of leniency. After all, Ortiz bounced back well, stopping Antonio Diaz in the seventh round (due to a cut over the eye of Diaz) and soundly defeating Hector Alatorre in a tune-up bout before the potentially biggest fight of Ortiz's career.

Though should Ortiz be taking "tune-ups" at this point in his career? The tune-up match is traditionally a fight a champion takes between marquee match ups, or a returning champion takes to shake off the ring rust before a mega fight. If Joe Calzaghe came back to settle things with Carl Froch, for example, he would deserve a tune-up bout first. Perhaps with one or two exceptions, Glen "The Road Warrior" Johnson hasn't taken a tune-up fight since long before Victor Ortiz even turned professional.

Ortiz moved and showed utterly dominant ring generalship throughout the first nine rounds, never stopping or allowing Alatorre a chance to exchange blows. In the tenth and final round, Ortiz came out swinging from the start landing serious hooks and a vicious uppercut which put Alatorre down. "The Mongoose" got up, but the referee stopped the fight. It seemed obvious to those watching that Ortiz could have stopped Alatorre in the first round if he had wanted. For Ortiz, this fight at Club Nokia in Los Angeles, California was more of a learning experience; a safe way to get in rounds and build his confidence. After all, Ortiz has only seen the tenth round one other time in his career, and against Campbell he may well be stretched to the limit. Unfortunately, Alatorre provided no real test of Ortiz's capabilities against elite opposition.

If the fight with Nate Campbell does indeed happen, Victor Ortiz has a two inch height advantage and Campbell possesses a two inch reach advantage, so size will not matter. Perhaps Ortiz's best chance comes if as they say in boxing, Campbell "ages overnight." At the ripe age of 37, Campbell is fourteen years older than Ortiz. Of course, these are years of ring experience which Campbell may use against Ortiz. This should be an interesting match up and one thing is certain – if either fighter quits, it will mark the end of that fighter's career. Conversely, whoever wins this fight will certainly be placed near the top of the light welterweight rankings and due a title shot against either Timothy Bradley or the winner of the Khan vs. Malignaggi fight.

Questions or Comments? BoxingWriterJohn@gmail.com

Article posted on 26.02.2010
previous article: Tony Dodson Fires Back At Paul Smith
next article: Saul Alvarez To Face Matthew Hatton On Mosley-Mayweather Card?