Joe Calzaghe Vs. Carl Froch - A Genuine Grudge-Match That Will Never Take Place!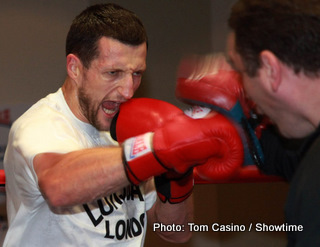 by James Slater - It's no secret there is no love lost between Joe Calzaghe and Carl Froch. Ever since he entered the ranks of world class, Froch began calling out the now retired Welshman, wanting a chance to take his super-middleweight world titles. The fight never happened, though, as we know, and ever since the days of Calzaghe's final fights "The Cobra" has been one of Joe's harsher critics and vice versa.

The two men, over recent times, have verbally attacked one another in the press and via the media. This ongoing rivalry - a rivalry that, unfortunately, will never be settled in the ring - got even nastier recently, as former two-weight king Calzaghe called the man who now holds his old WBC 168-pound belt, "a bitch."

Speaking with City AM, Calzaghe, who, much to the annoyance of Froch, called it quits on his great career shortly after his light-heavyweight points win over a faded Roy Jones Junior in late 2008, came out on the attack when speaking about Carl..

"He won a title that I gave up and hasn't stopped bitching about everybody," Calzaghe said of Froch. "Because he's not making as much money and not getting on T.V I think he's bitter against the whole world. He's like a spoilt little bloody bitch. I don't mind saying that, either, that's okay, keep that in there, he'll like that one."

Froch is sure to see red if and when he does clap eyes on the interview (and it's already made quite a few websites!) and Joe's words will likely make the unbeaten slugger crave a mega-fight showdown with Calzaghe all the more. And wouldn't it be a genuinely great grudge-match if it ever happened! Two guys who have a real dislike for each other, going at it in front of a crowd of 50,000 or more! Who wouldn't want to see it? Well, unfortunately, Joe Calzaghe is not interested in making a ring return to attempt to silence Froch.

"It's a big difference between 46-0 and 46-1," Calzaghe said. "If I did lose, that one loss would destroy everything I've done; I'd never forgive myself. Why would I want another fight? It'd mainly be for money - that's the wrong reason."

It seems then, we will have to place a Calazaghe-Froch fight firmly in the "dream fight" files. Calzaghe is smart, and he realises a return at the age of 38 would be tough - especially against a primed and peaking Carl Froch. But what a fight it would have been had the two rivals met a couple of years back!


Article posted on 24.02.2010
previous article: Humberto Soto-David Diaz - There Could Be Fireworks; For As Long As The Fight Lasts!
next article: UK Boxing: Tony Jeffries; Paul Edwards; Munroe V Terrazas