Kessler: "I have a surprise for Froch"
Nottingham (18.02.2010) – WBC Super-Middleweight Champion Carl Froch does not care whether the old or the new Mikkel Kessler will show up on April 24 – he plans to knock out either one. Thats what "The Cobra" told a crowded press conference in the Robin Hood Suite at Nottingham Forests football stadium on Wednesday afternoon. "They say styles make fights and our fight will be an exciting one," he stated. "I am curious to see whether it will be the old or the new Kessler in the ring. It does not matter to me, I am planning to knock him out anyway.

"The Viking Warrior was quick to respond: "Well, Carl, you dont know the new Mikkel Kessler yet. You will be in for a very explosive surprise when we meet. You are a nice guy, but business is business, and I want to win my old WBC belt back. I had a very bad night in the office against Ward but champions bounce back even stronger. I did that once after the Calzaghe fight and I will do it again when we get inthe ring on the 24th of April.

"The two superstars concluded their international media tour this afternoon after flying from Billund to England on Tuesday evening. Froch admitted he has changed his mind about the city of Herning following yesterdays press conference at the MCH. "We were impressed by the venue," he said. "The people have been great. It is a nice town and a superb arena. There are also two nice pubs out there so my fans will like it in Herning..





"Mick Hennessy was also impressed by Georg Soerensen and the hospitality at MCH. "It was a great trip and we were very pleased about everything. They treated us very well. It is the best possible venue for the fight and it can easily be reached for the Froch Army of Fans. Carl will be getting a lot of support on April 24. To me Froch vs. Kessler is a definite fight of the year candidate. "Chris Meyer, General Manager of Team Sauerland, is convinced that Mikkel Kessler will bounce back stronger than ever before. "Carl is a good fighter but there is no way he can beat Mikkel with the Danish fans behind him," he said.

"It will be too much for Carl. Mikkel is stronger and the better fighter. He has agreat coach, Jimmy Montoya, and they will come up with a brilliant plan to kill the Cobra. "Montoya stated that Mikkel was getting better and better every day. "Training camp has been going very well," he said.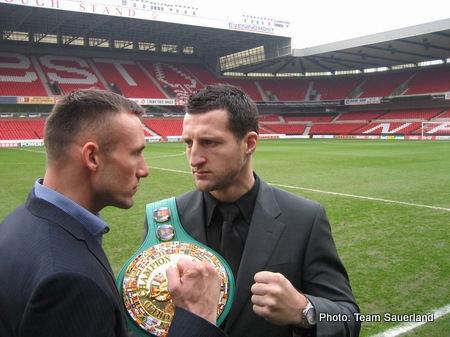 "Mikkel keeps telling me that he not only wants to become world champion again but win the whole tournament. That is exactly how he needs to look at things. He will definitely defeat Froch."

The upcoming Group Stage 2 bout of the Super Six World Boxing Classic will be shown on Saturday, April 24, on SHOWTIME® (9 p.m. ET/PT, same-day tape delay). Article posted on 19.02.2010
previous article: Vitali Klitschko Says He Plans To Make 2010 His Final Year In The Ring - Will He Bow Out With A Fight Vs. Haye?