What Now For Adamek And Estrada?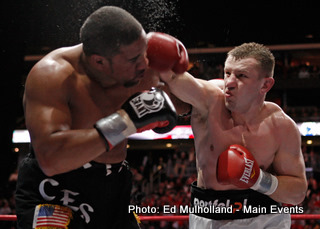 by James Slater - It seems there is a good chance the debate will continue regarding the scoring of last night's heavyweight rumble between Tomasz Adamek and Jason Estrada. Very much a case of take your pick, some fans feel the Polish tough guy deserved his points win, while others felt the fight was extremely close and could have gone either way - with maybe a draw being a fair result. One thing is clear, the 118-110 score one judge handed in after the 12-rounds that Adamek won via a UD was another case of poor officiating.

Geoffrey Ciani, in his fine piece of work below, has already covered last night's bout from all bases, but I wanted to add my thoughts about where each fighter goes from here. Angry at the decision going against him, especially by such a wide margin on that last card, 29-year-old Estrada would no doubt like a rematch, but on neutral ground - what with last night's venue of Newark, New Jersey very much being 33-year-old Adamek's hometown. But what real chance does "Big Six" have of getting a return with "Goral?" Slim and none, as the saying goes..

It may be unfair, but Estrada, who fought arguably the best fight of his now 16-3(4) pro career, has a good chance of being left out in the cold, with no big fight to look forward to. Adamek, on the other hand, will almost certainly sign up for his already-in-discussions clash with Chris Arreola. Talked about for April 24th, Adamek-Arreola looked a very tough fight for the former 175 and 200-pound titlist before last night's bout - based on how Estrada was able to push him back, catch him with some clean shots and make things most uncomfortable for him, Adamek looks set to have another hard night against the much harder-hitting "Nightmare."

Though Arreola is not as good a boxer as is Estrada, his raw power, good chin and more aggressive approach figure to be too much for Adamek; in my opinion anyway. Make no mistake, the fight, if it indeed happens, will almost certainly be an exciting contest, but it has the look of a most winnable fight for the approx 255-pounder from Riverside, California.

But win or lose, Adamek, with his huge fan base eager to buy tickets, will be rewarded with a big payday. And as hard as he fights and as much of himself he gives in the ring, the 40-1 warrior deserves it - even if you don't think he deserved last night's unanimous decision victory. And, though he was nowhere close to making good his prediction of a stoppage win last night and though his performance was a disappointment in some eyes, Adamek remains a welcome addition to the heavyweight ranks.

Looking solid at 220-pounds, Adamek showed good stamina as a heavyweight, and his hand speed remains above average. But the Pole was hit and hit quite frequently by Estrada - so much so that it's probable Arreola is eagerly looking forward to getting in the ring with him. Adamek is still growing into his new weight class, and after just two fights up at heavyweight he may well improve; therefore we shouldn't be too hard on him and his chances of success shouldn't be based on last night's fight alone.

But Estrada, who says he was robbed, at the very least made a number of fans think twice about Adamek and his chances against the Hayes and the Klitschkos and the Arreolas of the world.

If I were to make a prediction right now, I'd have to say Adamek loses to all four fighters I've mentioned above. However, as Adamek said himself last night, it will be fun finding out for sure!

Article posted on 08.02.2010
previous article: Euro News: Jack Culcay, Robert Woge, Holyfield vs Nielsen?
next article: With Carlos Támara, Colombia Amounts 42 World Champions –A Statistical Approach from Antonio Cervantes to Carlos Támara