Estrada provides difficult challenge for Adamek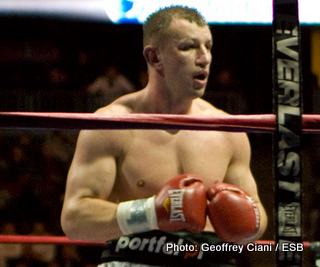 by Geoffrey Ciani @ Ringside - Despite his impressive victory against Andrew Golota there were a lot of questions surrounding cruiserweight champion Tomasz Adamek's jump to the heavyweight division. Against Golota, Adamek looked impressive and made relatively quick work of his fellow Pole. Golota, however, was a shell of his former self far removed from the days when he twice battered former undisputed champion Riddick "Big Daddy" Bowe. Golota was painfully slow and unable to mount a serious offensive attack. As a result, the much quicker Adamek was able to have his way with Golota who did his best impression of a walking heavy bag before succumbing to Adamek's firepower in round five.

Adamek's second test at heavyweight came in the form of Jason Estrada last night at the Prudential Center in Newark, New Jersey. The 10,123 in attendance were overwhelmingly pro-Adamek, but despite constant cheers from the fans clad in red and white this was a tough fight for Adamek. Estrada proved to be a formidable foe and was able to give just as well as he took. Most of the rounds were extremely close and very difficult to score. Adamek was the busier man, but for the most part, Estrada was landing the cleaner harder blows. Through the first six rounds Estrada had tremendous success countering Adamek's right with a left hook that never seemed to miss the mark. Despite this success, however, Adamek still seemed to be winning at the halfway point based on activity..

Estrada-Adamek Post Fight Press Conference Audio:


Rounds seven and eight belonged to Adamek. By this point in the fight, Adamek had made an adjustment which prevented Estrada from countering with his left hook as effectively. In round nine, however, Estrada began coming on stronger and made a counter adjustment that created openings for his right. Adamek started becoming uncharacteristically passive which may have further emboldened Estrada who even appeared to hurt Adamek during the tenth after landing a big right hand. Momentum seemed to be shifting in Estrada's direction, but then in the eleventh, Adamek regained control by being busier and throwing combinations. The last round was another close one that probably could have gone either way.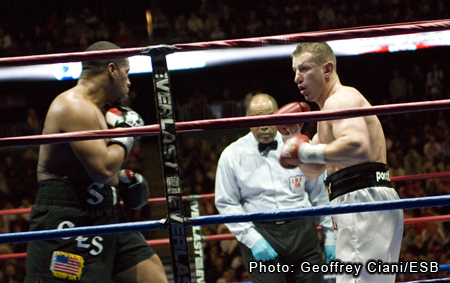 At the end of the night, all three judges scored the bout in Adamek's favor by scores of 115-113 (Steven Weisfeld), 116-112 (Joseph Pasquale), and 118-110 (Lawrence Layton). Personally, I scored it the same as Weisfeld, 115-113 for Adamek. I could even see 116-112 in his favor, because as I stated, there were many close rounds that were difficult to score. Layton's scorecard was atrocious, however. 118-110? That score was in no way indicative of what happened in the ring. I can only venture to guess that the crowd must have affected his judgment. Those of us scoring the fight in press row had it much closer with some even scoring it a draw. The right man won the fight, though, even if one of the judges happens to need new glasses.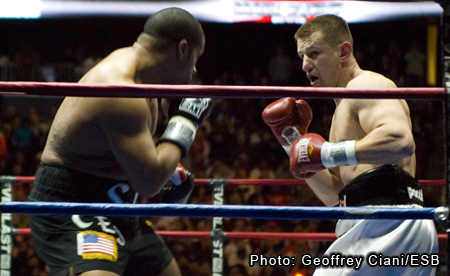 Jason Estrada was furious at the post-fight press conference. "I really honestly don't have much to say as far as this fight. Anybody in this room, if you want to be honest with yourself, you know that I won that fight. It's obvious. I'll give him three rounds out of twelve. Anybody who says no, shaking their heads, that's because you're biased. How the hell is he going to be in the heavyweight division? All he did was run. I'm going to say it, and I don't care what anybody says. I'm going to be an asshole right now. I'm angry. Yeah, I'm angry, because I came here I worked hard. I worked eight and a half weeks for this fight. I did twelve rounds easily. What happened t o putting me on my ass? What happened to being faster than me? What happened to all that? Anybody have any answers for me? There were no answers. He did absolutely nothing to win this fight tonight! And the last judge who scored that fight, he don't need to judge anymore." A visibly disappointed Estrada then fielded questions from the press. At one point, he even got into a heated verbal exchange with members of the Polish media. He ultimately vowed to come back, although it is uncertain where he goes from here.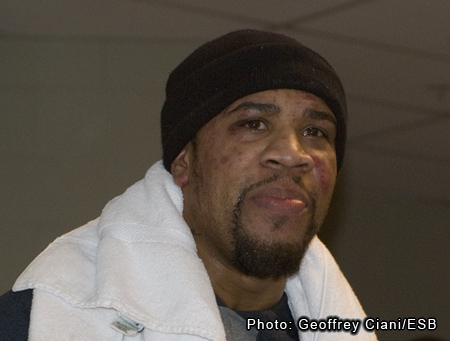 Tomasz Adamek was much more cheerful at the press conference. "First of all, thank you very much all of you for coming. I want to thank Jason Estrada for a terrific fight. I'm trying to prove that I can be a world champion in three different weight classes." Adamek proceeded to answer questions and talked about his future. In his estimation, he is just one fight away from being ready for a world title shot. When asked about which champion he would most like to face, Adamek expressed interest in fighting WBA champion David Haye. "I think against David Haye would be the best, because we are kind of the same guy. We are tough guys, we want to punch, so imagine the fight: Me versus David Haye, punch after punch against punch." When pressed on whether he feels he would be ready for one of the Klitschko brothers after another fight, Adamek replied, "I think that if I will be able to win my next fight it will be proof that I will be ready to fight a Klitschko. I am 34 and I think I am in my prime, so there is no time to waste."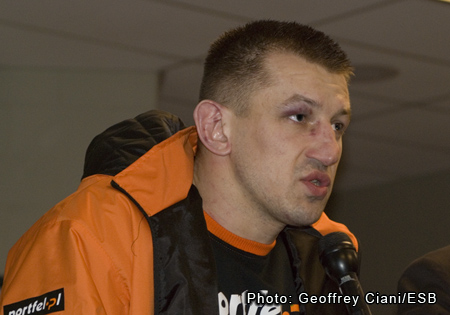 Before Adamek is granted a title shot, however, he must first get by Chris Arreola. Is this a winnable fight for Adamek? It is difficult to say. On one hand, since Adamek appeared troubled by some of the punches landed by Estrada he might not be able to withstand power shots from Arreola. On the other hand, unlike Estrada, Arreola is not a slick boxer. Arreola is considerably slower, has questionable stamina, and is probably not as durable. This means Adamek has a chance. In order to beat Arreola, however, Adamek is going to have to box more and slug less. If he eats too many heavy-handed shots from Arreola it is difficult to envision him lasting deep into the contest. If he can box and move effectively, though, while carefully selecting his shots and slipping punches when Arreola tries bulling his way inside, he could outbox the much larger Arreola—but in order to do so he would need to fight a perfect fight.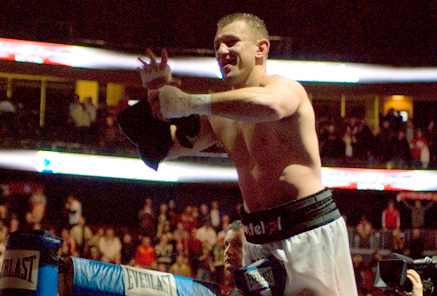 In many ways, Adamek might be better suited returning to cruiserweight where he has the potential to dominate for years to come. At the same time, it is easy to understand why Adamek wants to test his luck at heavyweight. After all, it is the most prestigious division in boxing and that translates into bigger paydays. While many questions about Adamek have now been answered, some still remain—mainly, how will he handle the power of an elite heavyweight puncher? When Adamek steps into the ring against Arreola, this question will be answered. After watching his performance last night, I cannot help but wonder if Adamek is making a huge mistake. Arreola may simply prove too big and too strong.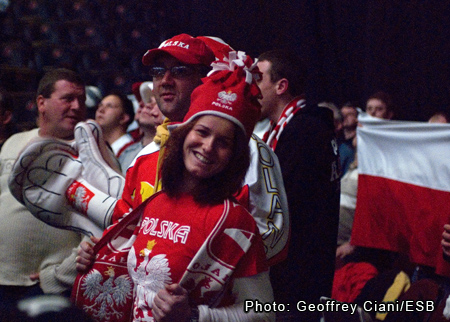 ***

To contact Ciani:
ciani@eastsideboxing.com

To read more by Ciani please visit The Mushroom Mag:
http://www.eatthemushroom.com/mag Article posted on 08.02.2010
previous article: Does Floyd Want to Clean Boxing or Tarnish His Rival's Image?
next article: News: George Tahdooahnippah; Joseph Judah; ICB Knockout Series