Ibragimov Stops Tamim In Three Rounds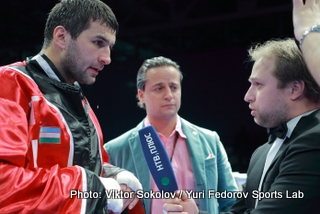 by Pavel Yakovlev - (2/6/10) - Timur Ibragimov kayoed Awadh Tamim in three rounds in a heavyweight bout today. Tamim was knocked down twice in the third before referee Jon Schorle ended the match at 2:15 of the round.

Tamim (11-2; six kayos), 224 ¾ lbs, was simply out of his league against the vastly more experienced Ibragimov. The powerfully built Tanzanian fought aggressively in the first round, apparently hoping to catch Ibragimov cold. But Ibragimov was prepared for his opponent's blitzkrieg tactics, and efficiently eluded Tamim's combinations. Near the end of the round, Ibragimov rattled Tamim was hard counter punches, which seemed to drain the Tanzanian's strength.

By the third round, Ibragimov (27-2-1; 15 kayos) was on the hunt. The brave but outgunned Tamim was soon trapped on the ropes and obliterated by the Uzbekistani's combinations.

Ibragimov weighed 222 ½ lbs, and he is now fighting regularly since ending his contract with Don King Productions last year. Ibragimov acquired the vacant IBA Intercontinental heavyweight title as a result of today's win.. He is hoping to advance himself in the ratings by acquiring multiple regional belts in the future. The victory is his sixth in a row. Ibragimov is now only one or two fights removed from regaining the worldwide top 15 rating he held until 2007, when became semi-active due to managerial and promotional difficulties.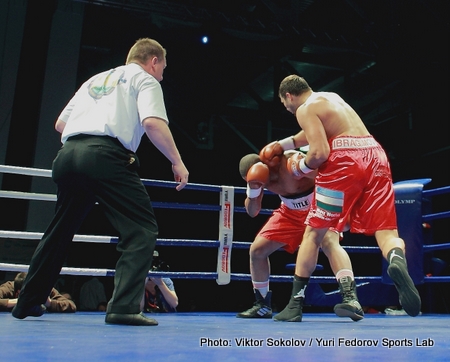 In a co-feature, world rated Dmitry Pirog of Russia (15-0; 12 kayos) stopped Eric Mitchell (22-7-1; 11 kayos) in round five of a middleweight bout. The fight ended when the American suffered a cut. The 159 lbs Pirog controlled the action from the opening round. Mitchell, a last minute substitute for his brother Aaron, weighed 158 lbs.

Pirog (ranked 4th by the WBC, 15th by the WBA, 12th by the IBF, and 2nd by the WBO) is handled by the prominent Russian promoter German Titov. After the bout, Pirog stated that he wants to fight Kelly Pavlik. Pirog also hopes to fight in the United States soon to heighten his profile with American fans.

Kazakhstan's Vitaly Demyanenko (18-0; 11 kayos) won a 12 round unanimous decision over Jorge Daniel Miranda (34-8; 13 kayos) in a welterweight bout. The 146 ¼" Demyanenko (ranked 12th by the WBC, 10th by the WBA, and 9th by the WBO) completely controlled the match against his Argentine opponent. Miranda weighed 146 lbs. The scores were 120-108, 120-108, and 120-109.

In a bantamweight match, Sahib Usarov (14-0; six kayos) won a hard fought eight round decision over Ilhom Rahimov (6-1, 4 KOs). The Russian media reported that the fight was exceptionally competitive and exciting. The scores were 79-75, 80-73, and 77-77. A native of Tajikistan, Usarov (ranked 10th by the WBO as a bantamweight), weighed 124 ¾ lbs. Rahimov, an Uzbekistani, weighed 125 lbs. Both boxers obviously fought over their normal weight limit for today's match.

Dagestani heavyweight Magomed Abdusalamov (7-0; seven kayos) won a brutal first round kayo over Kenya's Raymond Ochieng (20-10-3; 17 kayos). The power punching Abdusalamov scored three knockdowns before referee Evgeni Gortschkov stopped the match at 1:24 of the round. Abdusalamov, who has won all of his professional fights within the first round, weighed 256 ¼ lbs. Ochieng weighed 220 ¾ lbs.

In a light heavyweight bout, Roman Simakov (10-1; six kayos) stopped Vasyl Kondor (18-8-1; five kayos) at 22 seconds of the fifth round. Simakov, of Russia, weighed 175 ¾ lbs. The Ukrainian Kondor weighed 174 lbs. At heavyweight, Alexey Soloviev of Russia (17-0; 11 kayos) won a six round decision over Azerbaijan's Emin Gyulmanedo (0-2). Soloviev weighed 226 ¾ lbs to 238 ¾ lbs for Gyulmanedo.

Today's event was staged at The Aquarium Hotel in Moscow, and was promoted by Yuri Fedorov Sports Lab. Article posted on 07.02.2010
previous article: Canadian Boxing: Lemieux, Trupish, DeLaronde, Ngoudjo, Valdez, Cermak, Emerge Victorious Saturday Night
next article: News: Manny Pacquiao; Honorio vs Hilario; Hernandez vs. Nunez