Valero, DeMarco Final Presser Quotes From Mexico, Saturday's World Title Fight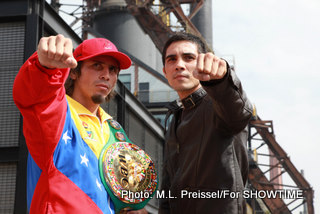 The always-exciting Edwin Valero will defend his World Boxing Council (WBC) lightweight title against undefeated, once-beaten WBC 135-pound interim titleholder Antonio DeMarco in the main event this Saturday, Feb. 6, on SHOWTIME CHAMPIONSHIP BOXING on SHOWTIME (9 p.m. ET/PT, delayed on the west coast).

The undefeated knockout artist and two-time world champion Valero (26-0, 26 KOs), of Merida, Venezuela will be making the second defense of his WBC title against Tijuana's Demarco (23-1-1, 17 KOs), the WBC Interim Champion at the Arena Monterrey located in Mexico.

In the 10-round co-feature, Luis Carlos Abregu (28-0, 23 KOs), of Salta, Argentina will meet Richard Gutierrez (24-3, 14 KO's), of Miami, Florida, via Arjona, Colombia, in a welterweight bout. The event is promoted by Gary Shaw Productions, LLC and will take place during the celebration of the bicentennial of Mexico's Independence.

What the fighters and their respective promoters had to say at Wednesday's final press conference:.




EDWIN VALERO

"I'm looking forward to Saturday night with great anticipation. It's going to be a great fight. I am very focused and have put in my work by training extremely hard as I do in all of my fights."

"I have sacrificed a lot by being out of my country and away from my family for so long. Because I have made the sacrifice to be away from them I have nothing more to do than to dedicate myself to my training 100 percent. I give myself completely to my training because I want to make sure that my sacrifice was worth the while."

"I am positive that I am in a key moment of my career. I want to be a solid champion and continue to rise. I know it won't be easy and I have to be cautious because the opponents are tough."

"There was one time that I was overly confident and felt that a fight against my opponent would be easy. I found out only when I was in the ring just how difficult he was. But, that won't happen again in my career because I learned my lesson not to take anyone lightly."

"I know that Antonio DeMarco is a fighter to be reckoned with and I'm prepared. I'm going to give it my all."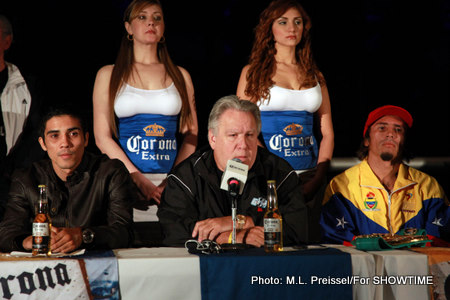 ANTONIO DEMARCO

"I want to thank God, Gary Shaw, my team and family for their support. Specifically I would like to thank my trainer Romulo, who to me, I value more than gold."

"I give a sincere thank you to the people of Monterrey, Mexico and to Mauricio Sulaiman. I want to assure them that I am going to work hard on Saturday. Everything will be OK in the end. I know what I need to be prepared for because I am facing a great champion.

"I feel privileged to be able to take on the best champion. I want to give Valero, his team and his promoter all the thanks in the world for accepting this challenge."

"I put 100 percent of myself into my training."

"All of my fights are different in their own right but one thing remains consistent with me, I like to hit and I don't mind taking the punches. It's part of the sport. It's boxing."

"My height should give me some advantage in winning the fight, but the true story about what happens in Saturday's fight will be told in the ring."

"I don't like to think beyond Saturday. I am only focused on my fight against the great champion Edwin Valero."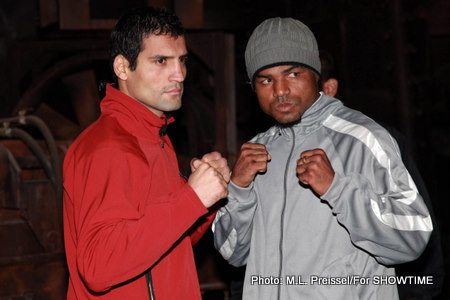 RICHARD GUTIERREZ

"Thank god to be here with everyone in Monterrey. I am very thankful for the hard workers of Monterrey, especially the ones that did so much hard work here at the steel mill."

"I thank SHOWTIME and Gary Shaw for the opportunity; I will put on a good show!"


LUIS CARLOS ABREGU

"It is really great to be here in Monterrey. I am in great condition for the fight. This fight will definitely help to carry me towards my goal of a world championship fight."

SHOWTIME CHAMPIONSHIP BOXING announcers Gus Johnson and Al Bernstein will call the action with Steve Farhood reporting from ringside. The executive producer of SHOWTIME Sports is David Dinkins Jr. with Ray Smaltz producing and Bob Dunphy directing.

For information on SHOWTIME Sports, including exclusive video, photos and news links on SHOWTIME CHAMPIONSHIP BOXING and Strikeforce mixed martial arts telecasts, along with access to the SHOWTIME Sports Facebook® and Twitter® pages, please go to http://Sports.Sho.com. Article posted on 04.02.2010
previous article: Video: Arthur Abraham - Sven Ottke: Sparring For Andre Dirrell