News: Sergiy Dzinziruk; Mikkel Kessler; Melissa Hernandez
Statement Sergiy Dzinziruk and Universum: Sergiy Dzinziruk: "Universum and i have both agreed to part ways. We have had constructive conversations and have found a way to dissolve my contract. I am grateful to Universum fro my success in recent years and for the ability to become a professional Boxer. Under Klaus-Peter Kohl i became the WBO world Champion and i am extremely grateful to him for that. I would like to stress that the statements made about Universum and me in various media outlets in the past are false and have not originated from me personally. Universum has always been a reliable partner and is one of the world's elite promoters.."

Universum Managing Director Stefan Braune: "After the courts affirmed the validity of our contract, Sergiy asked that it be canceled by mutual agreement. We were able to reach an agreement about this in recent weeks. we do not want to be an obstacle to Sergiy and now wish him all the best and especially good health. We are gretaful to Sergiy for the many great matches that he fought under our banner."


Mikkel Kessler In Berlin

Mikkel Kessler (42-2, 32 KOs) has moved his training camp from Copenhagen to Berlin. He is working out at the famous Max-Schmeling-Gym at Team Sauerland´s headquarters near the Olympic Stadium. "I enjoy being in Berlin," the Viking Warrior said. "The facilities are great and we train very hard. I will be in perfect shape when I take on Froch."

Kessler will battle it out with WBC Champion Carl Froch in the second round of the Super Six World Boxing Classic in April. Practicing with Kessler in Berlin is gifted Danish youngster Patrick Nielsen (2-0, 2 KOs).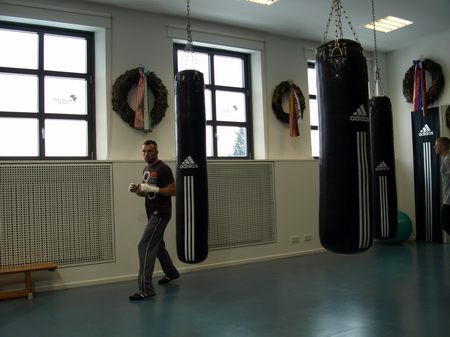 The "Huracan" Calls Out "The Ace"!

"Ada Velez just got a draw against Kaliesha West and now says she's ready for more fights?? She's also has been spending a lot of time saying she's the best Puerto Rican female fighter" Hernandez said during a break in training at Gleasons Gym, "but I am. I was born in Puerto Rico. I'm ranked #1 there and here in the USA. Ada, if you want a good fight, come see me. I''m looking for a good fight. A fight with me and you is long overdue. Let's see if the "Ace" can survive a "Huracan", or if she comes out looking like a Joker when she plays her hand against me. Call my manager Brian Cohen and let's make this happen!"

In addition to calling out Velez, Hernandez is wasting no time in making 2010 a busy year. February 19 at the Tri States Sports Complex in Ashton, PA she is scheduled for a 6 round bout at 126 pounds against Lakeysha Williams on a card promoted by Al Thompson. Article posted on 02.02.2010
previous article: Harold Lederman Interview
next article: Quotes from Adamek Estrada Presser; Sadam Ali On The Undercard