Carl Froch 167.4 lbs Andre Dirrell 167.5 lbs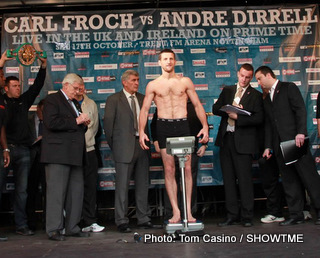 NOTTINGHAM (October 16th ,2009) - There was high drama at the historic Old Market Square in Nottingham today when Andre "The Matrix" Dirrell failed to make the weight at the first time of asking ahead of his Super Six World Boxing Classic showdown with Carl "The Cobra" Froch at the Trent FM Arena tomorrow night.

Earlier in the week WBC World Champion Froch intimated that his undefeated American challenger may be struggling to make the 168 pound Super Middleweight limit and he turned out to be correct as Dirrell's first attempt at making the weight saw him tip the scales at 168.4 pounds.

The Champion meanwhile had no issues and was all smiles as he was cheered on by thousands of "Cobra" fans in an open air weigh in the centre of Nottingham. Froch registered 167.4 pounds on the scales, a full pound lighter than the challenger's first attempt. Dirrell quickly returned to the gym at his hotel to lose the excess poundage. He returned one hour later to finally make the weight on the second attempt registering 167.5 pounds on the scales..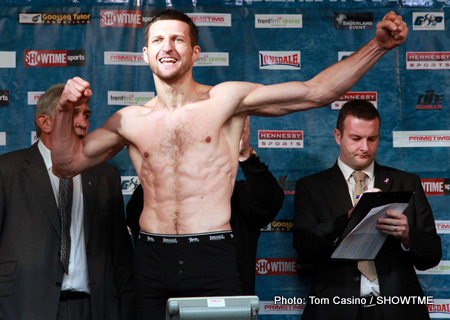 Afterwards Dirrell insisted that the weigh in drama was down to a miscalculation on his part. "It was a simple misjudgment on my part, my scales at the hotel said I was on the weight so it was just a misunderstanding. I didn't have to train yesterday or today so I haven't had to work hard to make the weight, in fact I was on the weight yesterday but it was just a misunderstanding on my part with the scales.

"It hasn't bothered me at all. In fact it only adds more fuel to the fire for me tomorrow night and made me even more determined to bring that WBC belt back home with me to the U.S."

However the champion continues to believe that Dirrell is genuinely struggling to make the weight. "He's a big, tall lad and he obviously has to work hard to make the weight but it's very unprofessional on his part not to get it right first time," blasted Froch. "He's obviously been training right up to the weigh in and not eating or drinking right if at all and he's still needed a second attempt to make it. Mentally that will be devastating for him.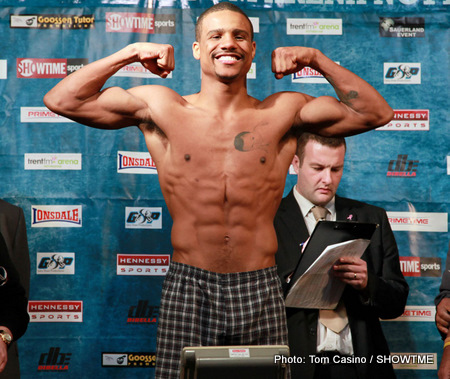 "He can say what he wants but to miss it by that much first time round he must have really struggled. I'm a consummate professional and I never miss the weight. I'd my breakfast this morning, a bowl of cereal, a banana and an apple so I'm fully fuelled up.

"I never have a problem making the weight and that's why I'm still punching hard in the last few rounds when the other guys are fading late on. It's obviously a good sign for me but I'm not going to waste too much time thinking about it. I'm better than him, I'm stronger than him and I'm going to beat him anyway regardless of the weight issue."

Froch couldn't hide his delight at the huge turnout of "Cobra" fans in the Old Market Square and he paid tribute to his loyal fanbase. "It's fantastic, there must have been three or four thousand people here just for the weigh in and it's made for such a fantastic occasion," said Froch. "It was easily the best weigh in I've ever done in my whole career and it's one I'll remember for a long, long time."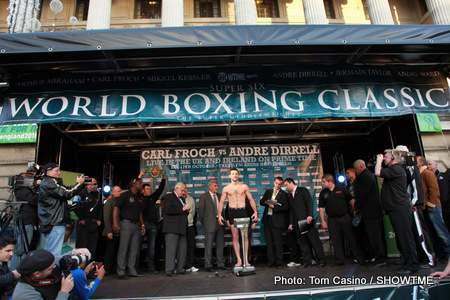 Since arriving in Nottingham last weekend WBC title challenger Dirrell has claimed that "there is a new sheriff in town" but the real deal, Sherriff Leon Unczur was on hand at the weigh in today to set Dirrell straight and assert his . Other introduced to the crowd included reigning WBC Light Heavyweight Champ and former Froch for Jean Pascal, Rocky Balboa star and former World Champ Antonio "Magic Man" Tarver an unbeaten Heavyweight sensation Tyson Fury.

The atmosphere at what's expected to be a sold out Trent FM Arena in Nottingham tomorrow night promises to be electric and fight fans at the venue are in for a Super Six World Classic bonus when the opening Super Six bout between former Middleweight Champs Arthur Abraham and Jermain Taylor is screened live on the big screens in the venue.

The two men clash at The O2 World Arena in Berlin as the Super Six tournament kicks off before the action switches to Nottingham for Froch's WBC World Super Middleweight title defence against 2004 Olympic medalist Dirrell.

Boxing at the Trent FM Arena starts from 8.30 on Saturday evening with the live action in the ring pausing at 10pm while the big screens broadcast the Abraham – Taylor fight live from Germany. Following that bout the live action will resume in the ring in Nottingham as the evening builds to the Froch – Dirrell showdown set to take place shortly after 2am.

The October 17th bout will be screened live on pay per view in the UK and Ireland on new satellite channel Primetime (Sky channel 480) as part of a knockout Super Six tournament double header from Nottingham and Berlin. The tournament officially kicks off in Germany when former marquee Middleweight Champs Arthur Abraham and Jermain Taylor clash at The O2 World Arena in Berlin before the action moves to Froch's hometown and the Trent FM Arena in Nottingham.

The full weights from today's weigh in were as follows:

Carl Froch (167.4 lbs) V Andre Dirrell (167.5) - WBC Super Middleweight Title / Super Six World Boxing Classic (12 Rounds)
Adnan Amar (146.5 lbs) V Tom Glover (146.5 lbs) – English Welterweight Title (10 Rounds)
Marcus Portman (153 lbs) V Tyan Booth (153.4 lbs) – Midlands Area Light Middleweight Title (10 Rounds)
Young Muttley (145 lbs) V Mihaita Mutu (145.5 lbs) – 8 Rounds
Eddie O'Rourke (135.5 lbs) V Steve Gethin (135 lbs) – 4 Rounds
Terry Maughan (160 lbs) V Matt Scriven (165) – 4 Rounds
Nathan McIntosh V Danny Dontchev (Both weighing in tomorrow) – 4 Rounds
Jack Perry V Martin Gordon (Both weighing in tomorrow) – 4 Rounds

To watch the opening night of the Super Six tournament on Primetime (Sky channel 480) call 0871 200 4444 (+448702 416 666 from the Republic of Ireland) or see http://www.primetimelive.co.uk. The event is available at a special price of £12.95 until 24 hours before the fight after which it will then increase to £14.95.

Primetime will build up to the event by screening Froch's previous two world title fights, his twelve round thriller with Jean Pascal to win the WBC title and his sensational final round KO over Jermain Taylor in the U.S. in April. The fights will be broadcast from 7-10pm on Primetime each night leading up to the Super Six tournament double header on October 17th. Primetime will also broadcast FIGHT CAMP 360°: Inside The Super Six World Boxing Classic, a new reality series that will give fight fans unprecedented access into the lives of the Super Six tournament participants.

For more information on the Super Six World Boxing Classic including exclusive videos, photography, expert analysis from Al Bernstein and Steve Farhood, and much more please visit www.WorldBoxingClassic.com or visit http://www.hennessysports.com/worldboxingclassic.htm Article posted on 17.10.2009
previous article: Lyell defeats Gray
next article: Showtime Super Six World Boxing Classic: Opening Night Preview