John "The Quietman" Ruiz Gives Back to South Boston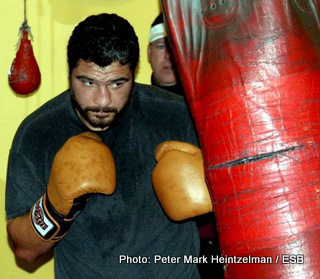 Interview & Photogallery by Trish Kilcullen & Peter Mark Heintzelman - He received a phone call from his brother, that the South Boston Boxing Club had been ransacked, and boxing gear stolen. Gear that coaches and trainers, Tommy Lee and Eddie Ruiz, use to train neighborhood youth, in the art of boxing.

After Ruiz heard the news, he called his manager/attorney, Tony Cardinale. They made a call to Ringside (ringside.com) and worked out a deal to purchase new boxing gloves, pads and accessories, at cost, and low and behold, the gym was re-open today, for the youth to once again lace up the gloves, learn the skills of pugilism, and best of all, to be given a safe haven from the sometimes tough streets of South Boston.

At today's presentation, South Boston Boxing Club was once again alive, with the staff, trainers, the boxing press, and, most importantly, the young men and women who seek shelter from the storms of life, at the club..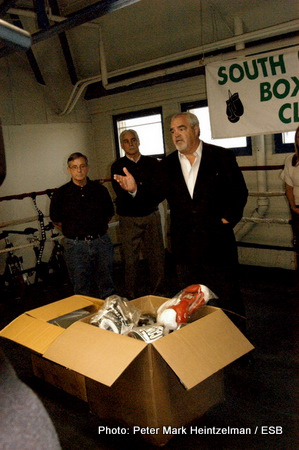 But it was not the shiny new gloves and pads that made the difference today; it was the words of John Ruiz (43-8-1, 29 KO's), that impressed the champs of tomorrow: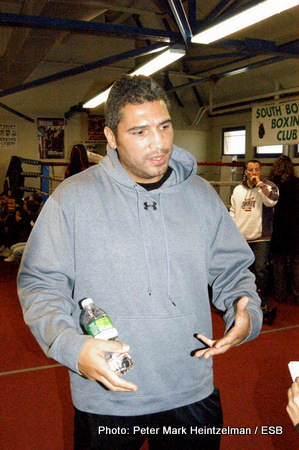 "I grew up in the projects," said John Ruiz, who drove up from Connecticut with his wife, Maribel today, for the presentation. "I had the opportunity to get off the streets, and stay out of trouble, by coming to the gym. I was given the opportunities to develop my skills, which has lead me to a better life. Because of boxing, I have had the opportunity to travel around the world, to become a world champion, and to do things I would never have had the opportunity to do. When I heard about the break-in and theft of boxing gear from the club, I just knew I had to do something to restore to the area's youth, the opportunity to continue to learn boxing, and a better way of life."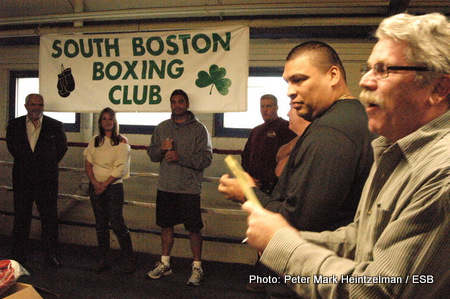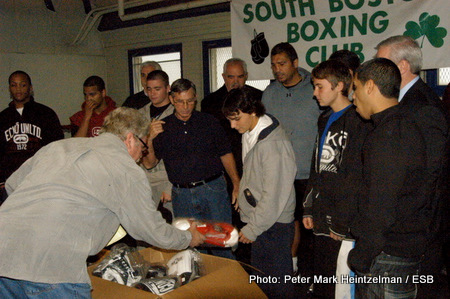 Ruiz had flown from his home base of Las Vegas, to Connecticut, to address the American Association of Professional Ringside Physicians, and took the time to drive up the coast, to his old stomping grounds at South Boston, to recharge its youth. And they were all smiles, when they got to jump into the ring with the three time world boxing champion, as Ruiz' publicist, Bob Trieger, passed out new gloves to the smiling youngsters, while media lights and camera flashes documented the day.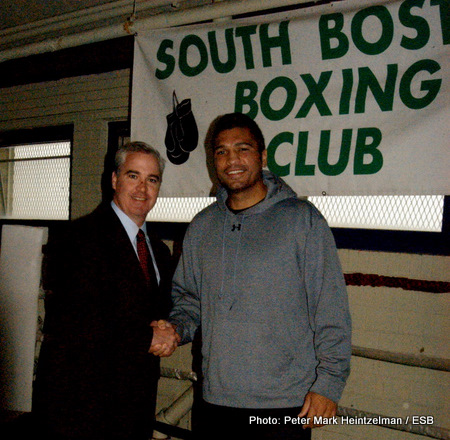 It was such a big event that even a "Southie" native and Boston mayoral candidate, Michael Flaherty, took time out from his busy law practice and city councilor responsibilities, to appear in support the efforts of Ruiz and the kids.


Just before the event took place, EastSideBoxing caught up with The Quiet Man, to get an interview about his current standing in the heavyweight division:

EastSideBoxing: John, reports are that you are scheduled to fight on November 7, 2009, in Nuremburg, Germany, against a yet- to-be-announced opponent. Are you fighting on the 7th?

Ruiz: Yea, that's what they are talking about. I'm pretty sure we are, but then again, boxing is a crazy world, and not everything always comes true.

EastSideBoxing: As you know, the WBA world heavyweight title bout is also scheduled in Germany on November 7th, between Nikolay Valuev and David Haye. Who do you think will win, and why?




Ruiz: I don't really know much about David Haye, other than that he's pulled out of a couple fights. I'm hoping this fight goes through, but you know, he's already pulled out twice, so who knows. But Haye is not winning by decision in Germany over Valuev. So, well, in Germany, I have to go with Valuev, because when I fought Valuev in Germany, and although I beat him, I came out in the loss column! So . . . .

EastSideBoxing: Is it automatic that you will fight the winner of Valuev and Haye, for the WBA heavyweight belt, and do you have a preference as to whom you would like to fight?

Ruiz: Well, right now, that's what we're working on. We're making sure we sign a contract with these guys, and let them know, we're going to fight the winner. If I had a preference between both of them, I would rather fight Haye than Valuev, because otherwise, I can't get a win in Germany. ("You would have to knock him out twice to win!" pipes in a ring insider, standing behind Ruiz).

EastSideBoxing: John, seventeen years a professional boxer, and now 37 years old – so, what has boxing given to you and your family, and how much longer do you intend to keep fighting - - and why?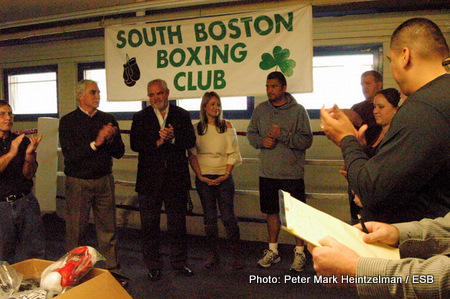 Ruiz: It's done a lot for me in my life. That's the main reason I'm here at the South Boston Boxing Gym. When I was in the amateurs, I got to see the world. I saw a different life than I had in the projects. And at the same time, I stayed out of trouble, and so on and so on. And through my life, I'm glad that I could give back, and I hope it does help. I'm glad I'm asked to give back, and I hope it helps, and keep the kids going to the gym, and definitely, the good thing about it is, that they are not out there doing anything negative.

EastSideBoxing: Your nickname, "The Quiet Man." How did you get that name?

Ruiz: I was working with the US amateur team. And, someone came to see me, and didn't know me, and asked who I was. And someone pointed to me, and said "the quiet guy." So the quiet guy turned into "The Quiet Man." So, the name stuck.

EastSideBoxing: John, I understand you are a guest speaker at Mohegan Sun Casino, in Uncasville, Connecticut in a couple days, before the American Association of Ringside Physicians. What are you going to share with them?

Ruiz: I'm speaking to them on Friday, at their convention. It's something that I'm hoping to give them a view on helping out the boxers themselves, and how to keep them safe.

EastSideBoxing: What message would you like to send to the other contenders in the heavyweight division?




Ruiz: You know, I'm not much of a message kind of person, and you know, I love to fight. My philosophy is I want to fight the best in the world, and prove who is best.
Article posted on 16.10.2009
previous article: So, Could Samuel Peter Wind Up Getting Another Heavyweight Title Fight?