Carl Froch - Andre Dirrell Press Conference Quotes and Photos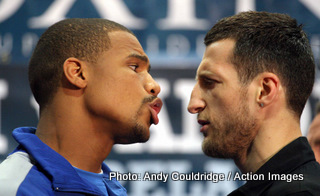 Carl Froch - "My fans, the people of Nottingham and I think the boxing fans around the world know what I'm capable of and what I'm about. I've proved that time and time again. I've fought top quality opposition throughout my career and made short work of 80% of them."

"Andre Dirrell certainly talks a good fight but 25 of my previous opponents also talked a lot of trash and it didn't get them anywhere. Talk is cheap and I'm not going to get involved in a slanging match. The fists are going to do the talking on the night."

"I don't get wound up by words and Dirrell has had a lot of words to say. I met him in New York three months out from the contest and we exchanged friendly banter, handshakes and hugs because fight time's not really on the agenda at that point. But the minute my back was turned I was reading a lot of trash in the papers and seeing interviews on the internet. Andre Dirrell and his team lack class as far as I'm concerned. The language has been bad, the banters been terrible and I don't want to get involved in any of that nonsense.."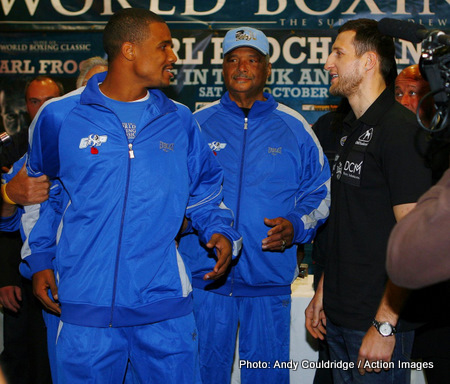 "He knows he's in deep water on Saturday night. He knows that once I start connecting with the bombs he's going to be in serious trouble. I've got a feeling he's going to run and run scared but it's twelve by three minutes rounds and I will catch up with him and when I do I'm going to do some serious damage."

"You all know the script, you know what's happening, you know what's coming. I bring it every time and I'll be brining it Saturday night. I'm looking forward to it, I cannot wait. That belt's going nowhere, it's staying in Nottingham.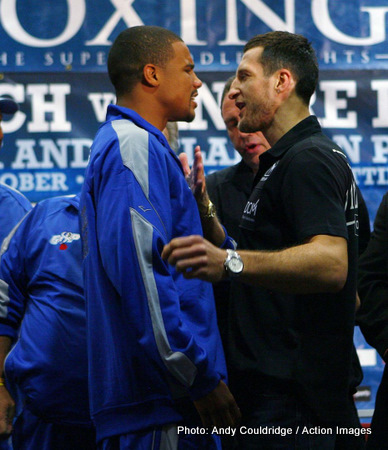 "I'd like to thank the fans because we're looking at a full house of 8,000 screaming people. The fans know that they're in for a good night and hopefully Andre Dirrell has trained as hard as he says he has because that means he might be fit enough to go an extra round or two when the bombs start landing. The one thing the fans know that with my style it's always going to be an exciting night so they'll get value for money and I'll return their support with a great performance."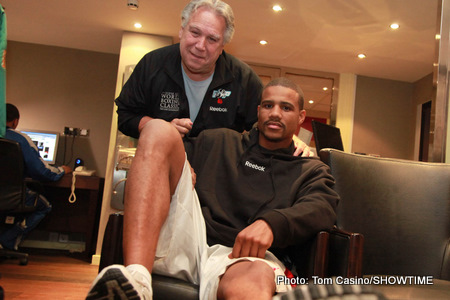 Andre Dirrell

"We had an excellent camp, I worked my ass off and now its time to shine. I've been working hard my whole life but I put in the extra ten yards for this camp so that I could come here and do what I've been dreaming of for 16 years and that's to bring back the WBC title. Froch currently holds that title and he's a hell of a fighter but I will be Champion and I will make short work of him."

"I hope he cherishes the title now because it will be coming home to the United States with me and I will prove that I'm the superior being. I'm taking that belt home, guaranteed. I'm giving my word right now."

"The crowd won't get a chance to do nothing. The loudest person in there, no disrespect to Carl Froch at all will be his mother because she'll probably be crying. The fans I will silence because I'll be in there doing my job 100%."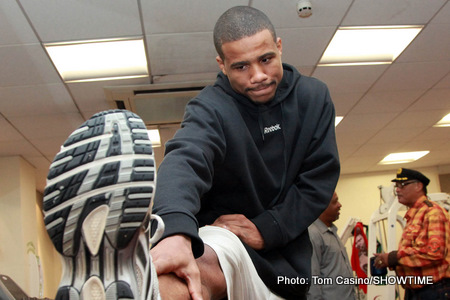 Mick Hennessy of Hennessy Sports:

"It's an incredible tournament that's set to transcend boxing and I'm delighted to be associated with it. I believe it's the best thing to happen to the sport in at least the last 20 years."

"It's a throwback fight, an absolutely brilliant contest between a young, hotshot American who's unbeaten and a former Olympic medallist who is very, very highly thought of in the U.S. He's up against the current WBC Champion, the best belt in the business, and the best 168 pound fighter on the planet right now in Carl Froch. It really is something to behold."

"It's going to be a hell of an event at the Trent FM Arena on Saturday night. We're almost sold out, we're down to the last few tickets right now. Not only has it got a very good undercard and a classic main event but the fans will also get to see on the big screens another mega fight from the O2 World Arena in Berlin between Arthur Abraham and Jermain Taylor, another classic Super Six fight. Of course for the fans at home both fights will also be available live on Primetime, Sky channel 480."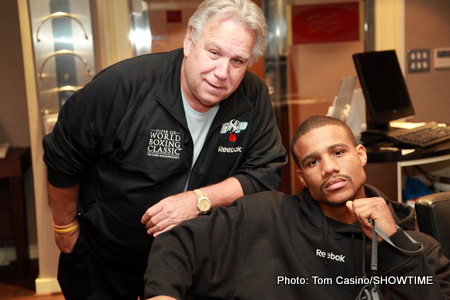 Gary Shaw of Gary Shaw Productions:

"I want to thank Ken Hershman and Showtime for establishing this great tournament with six truly world class fighters. There are no losers and the big winners from this tournament aside from the fighters will be the fans. The great thing about this tournament is that we don't just have great fights this weekend, we'll have great fights one after the other throughout this tournament."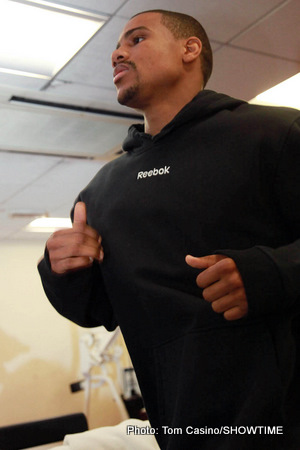 Robert McCracken (former British and Commonwealth Champion and Froch's trainer)

"Training's gone really well. Obviously people close to Carl knew there were problems before the Jermain Taylor fight with the ankle injury. He missed four weeks running over that. He was around 70% for that one but he's smack on for this one. He's going in at 100%, everything's good. He's doing what he normally does and he's looking awesome in the gym."

"It's the same for all these guys, Pascal, Taylor and Dirrell. They watch Carl on tape and think, I can do this or that with him but once the fight starts they realise how awkward he is and how hard he hits. It's a different ballgame. Dirrell's a good kid, a good talent but he's not fought anybody anywhere near the class of Carl. He isn't ready, it's that simple. I'm sure he'll give it his best on the night but it won't be good enough so the Cobra will retain his title."


Carl Froch-Andre Dirrell Press Conference photos


Undefeated WBC super middleweight champion Carl Froch (25-0, 20 KOs), of Nottingham, England, and unbeaten, 2004 Olympic U.S. medalist Andre Dirrell (18-0, 13 KOs), of Flint, Mich., met in a heated press conference on Wednesday to promote their 12-round showdown in the Super Six World Boxing Classic at Trent FM Arena in Nottingham, England, on Saturday, Oct. 17, live on SHOWTIME® (8 p.m. ET/PT, delayed on the west coast). The two threw verbal jabs at one another. Here is a sampling of the heated exchanges:

Said Froch: "He knows he'll be in deep water on Saturday and he knows when I start connecting with the bombs he's going to be in serious trouble."

Said Dirrell: "I'm glad he thinks it's a slight advantage for him being at home because he's going to need it. I'm coming with my A game and I guarantee you that I will keep that crowd quiet and he will get lost for words by the third or fourth round."




The battle of unbeatens – the second half of a doubleheader on SHOWTIME® – will be for Froch's WBC 168-pound title and the first fight for Froch and Dirrell in the Super Six World Boxing Classic.




In the opening Super Six Group Stage 1 bout on Saturday, undefeated former IBF middleweight champion "King'' Arthur Abraham (30-0, 24 KOs), of Germany, will face former undisputed 160-pound titleholder Jermain "Bad Intentions'' Taylor (28-3-1, 17 KOs), of Little Rock, Ark., at 02 World Arena in Berlin, Germany. The Abraham-Taylor 12-rounder will be shown on SHOWTIME on same day delay.




For more information on the Super Six World Boxing Classic including exclusive videos, photography, expert analysis from Al Bernstein and Steve Farhood, and much more please visit www.WorldBoxingClassic.com or visit http://www.hennessysports.com/worldboxingclassic.htm.

The Carl Froch – Andre Dirrell WBC World Super Middleweight title fight will be screened live on pay per view in the UK and Ireland on new satellite channel Primetime (Sky channel 480) as part of a knockout Super Six tournament double header from Nottingham and Berlin. The tournament officially kicks off in Germany when former marquee Middleweight Champs Arthur Abraham and Jermain Taylor clash at The O2 World Arena in Berlin before the action moves to Froch's hometown and the Trent FM Arena in Nottingham.

To watch the opening night of the Super Six tournament on Primetime (Sky channel 480) call 0871 200 4444 (+448702 416 666 from the Republic of Ireland) or see http://www.primetimelive.co.uk. The event is available at a special price of £12.95 until 24 hours before the fight after which it will then increase to £14.95.

Tickets for Froch V Dirrell are available from the Trent FM Arena, Nottingham Box Office priced £30, £45, £125 and £250. To purchase tickets call the Box Office on 08444 124 624 or visit www.trentfmarena.co.uk. Tickets are also available from Ticketline on 0844 888 4402 or via www.hennessysports.com. Article posted on 15.10.2009
previous article: News: Euro Boxing; Yader Escobar; Luis Perez; Brian Mihtar