Abraham vs Taylor Press Conference And Open Workout Videos, Quotes And Photos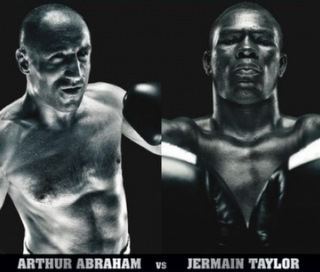 BERLIN (October 14, 2009) - Jermain Taylor today dismissed Arthur Abraham´s talents at a packed press conference at the o2 World Arena in Berlin. More than 14.000 fans will be in attendance when the two former champions open the Super Six World Boxing Classic in Germany´s capital on Saturday night (SHOWTIME®, 8 p.m. ET/PT, tape delayed).

Taylor added fuel to the fire today when he publicly questioned his opponent´s class. Asked how he would rank Abraham, he replied: "There is nothing special about him. He has some power and I know he will be prepared to do battle, (but he is) just a normal fighter. I would not rank him at the top with some of the other fighters I have fought."

Abraham refused to return the verbal jab. "He can say what he likes. I am sure he will have a different opinion once I have caught him for the first time. I really look forward to Saturday. This is a special fight, the first of many big fights in the Super Six tournament. I am ready and prepared and cannot wait to get in the ring with Taylor.."





Here are all the quotes from today´s press conference.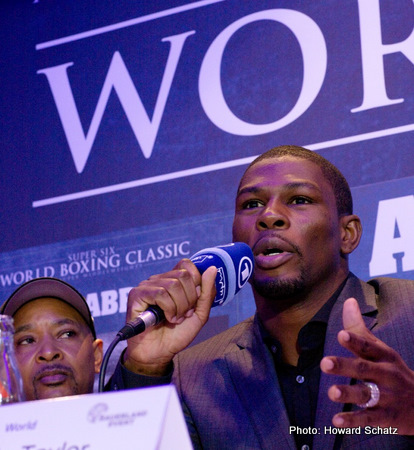 JERMAIN TAYLOR

"I have been in Berlin for about a week and a lot of people have come up to me on the street and let me know they will be cheering for me. I don't think he is going to have 50,000 people hoping he wins. There a lot who want him to lose. I don't think that everybody likes him."





"I'm ready to do battle and win by any means necessary. Every fighter has to be ready to do battle and go to war. I'm expecting a war and I'm prepared for it."

"Whoever wins this tournament I think would have to be considered the best Super Middleweight. You have six very talented Super Middleweights and I don't see how the winner could not be seen as the best."





ARTHUR ABRAHAM

"I want to be a star in America and the Super Six tournament will help me to accomplish my goals. I am thrilled to get started."

"I have been a happy man each and every day because I don´t have to make weight any more. For me that used to be the biggest problem – much bigger than the actual fight. But since I don´t have to lose much weight this time, I am very relaxed, happy and in a great mood."

"We will find out on Saturday in what shape Taylor will be like. There are no favorites in this tournament. There are six great fighters. They will all be in great shape and we can only tell afterwards who the favorite was."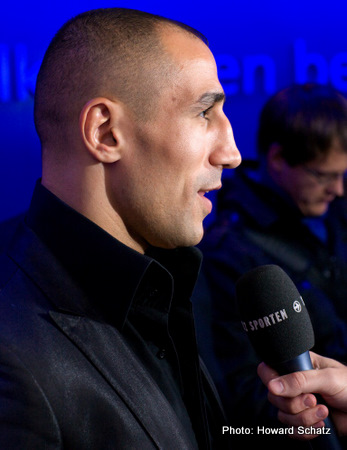 LOU DIBELLA

(To Abraham directly) "Please don't mistake our confidence for disrespect. We know you are a very strong fighter. More importantly, we know that you have incredible heart. It's that heart that makes you a great champion."

"We also know that in Jermain Taylor, we bring to Berlin a great champion with tremendous heart and determination. It is Jermain's heart as a fighter that will carry him to victory on Saturday night."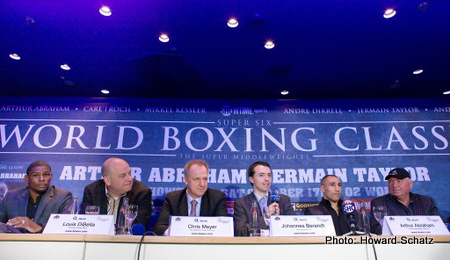 WILFRIED SAUERLAND

"This historic tournament will revolutionize boxing. We are thrilled to stage the first fight of the Super Six. Abraham and Taylor are two great champions who will please the crowd with a spectacular fight."

"Arthur has been in great shape and he is very happy that he does not have to lose much weight any more. He is excited to get in the ring knowing that a sell-out crowd in his home city of Berlin will support him. We are looking forward to Saturday."




ULLI WEGNER

"We have had a great training camp. We went to a small island in the Baltic Sea so that Arthur could get away from all the frenzy in Berlin. He is ready to move up in weight. Taylor is a great fighter, a true champion, but Arthur will find a way to beat him.

"It is our duty to win the fight here in our city. We owe that to our fans. And we have big plans for America afterwards."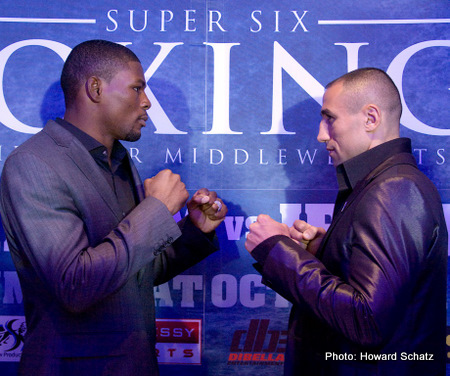 Abraham vs Taylor Open Workout Videos

Dozens of reporters and camera teams attended today´s public workout in the heart of Berlin as "King" Arthur Abraham and Jermain Taylor gave a taste of their class. The two former champions will open the hotly-anticipated Super Six World Boxing Classic in front of what will be a sell-out crowd at the o2 World Arena here on Saturday night (SHOWTIME®, 8 p.m. ET/PT, tape delayed).

Not just the German capital, but the international press and fans around the world are buzzing with anticipation. Camera teams from Russia, Denmark, Italy, Germany and America, amongst other nations, were deployed to cover today´s training session.

King Arthur believes his opponent will be in for "an unpleasant surprise". He said: "Taylor is good, he is a proven champion, but he has never been in the ring with someone that punches as hard as I do. He will find out on Saturday. I have a lot of respect for him, but he will not beat me in my hometown. The Super Six is the biggest challenge of my life and I want to be a star in America once the tournament is over."





Coach Ulli Wegner guided Abraham through a light work-out that featured stretching and pad work. "I already feel sorry for Taylor," he said.

"He does not know how hard Arthur punches. Once he finds out, it will be too late. Once Arthur lands, Taylor will wish to go back to America very quickly."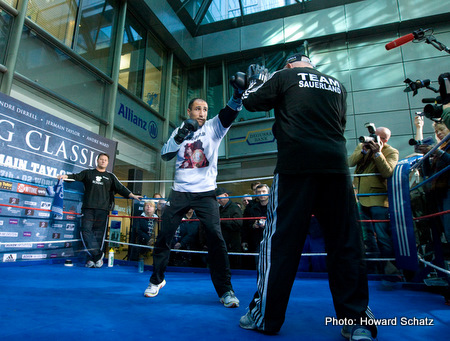 Taylor also took a lot of time to speak to the reporters. "I have a lot of respect for Arthur as a fighter and I know he will be prepared," he said.





"You can expect a lot of fireworks in the ring on Saturday night. I had a good training camp in Houston and I'm well prepared. I'm expecting to deliver a good performance which will lead to victory. I know exactly how Arthur plans to fight me, it's no secret. I will be ready to counter anything that he presents."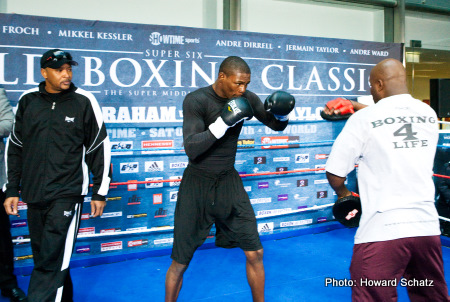 Meanwhile, Lou DiBella, Taylor´s promoter, believes Saturday will be a sad day for German boxing fans.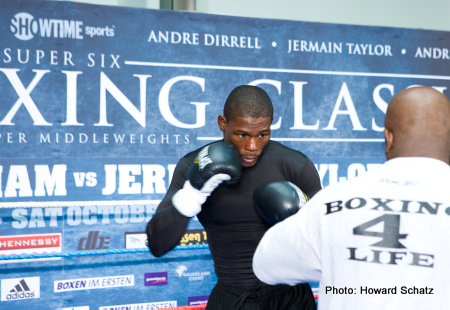 "There will be a lot of disappointed fans in Berlin on Saturday night after Jermain has beaten Arthur," he said.

"Arthur is a good boxer but he has never been in the ring with someone of Jermain´s class. Jermain will definitely win."





For more information on the Super Six World Boxing Classic including exclusive videos, photography, expert
analysis from Al Bernstein and Steve Farhood, and much more please visit www.WorldBoxingClassic.com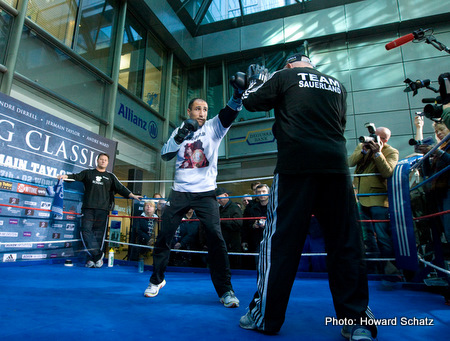 Article posted on 15.10.2009
previous article: Exclusive Interview With Ray Mercer - "Guys Won't Take A Chance Against Me"
next article: Gambler's Dilemma: Should Arum go for Lopez-Gamboa right away?