Vazquez-Priolo Photos and Quotes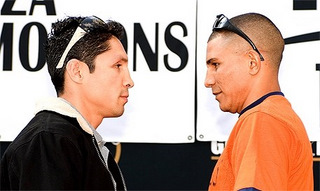 ISRAEL VAZQUEZ, Two-Time Junior Featherweight World Champion - "I'm excited and grateful for all the support, but most of all I can't wait to get back in the ring on Saturday night. I'm ready. I've been training very hard over the past few months. I know there are still a lot of questions out there about whether or not I still have what it takes and if there is potential for a fourth fight with Marquez. This Saturday will answer a lot of those questions. I know it's going to be a tough fight and I'm ready for it."

ANGEL PRIOLO, Featherweight Contender - "I'm here and in great condition and I'm sure Vazquez is too. It's an honor to fight a champion like him and I'm sure it will be a great fight Saturday night." You must be mentally and physically ready to fight and I know I'm prepared for Saturday. I can't wait for the first bell to ring. It will be a great show. L.A. boxing fans will be the real winners.."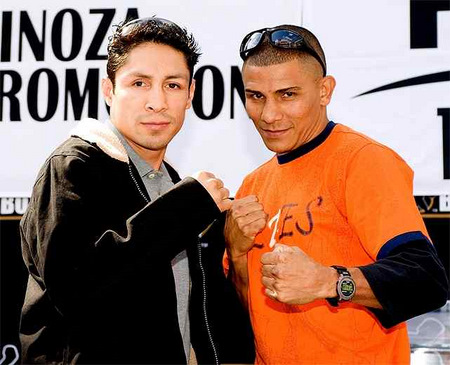 CARLOS MOLINA, Undefeated Former National Amateur Champion

"I'm happy to be here and am excited to be part of the undercard of a future hall-of-famer. I'll do my best to perform well and promise not to let anybody down."

RICHARD SCHAEFER, CEO of Golden Boy Promotions

"Nokia Theater is a stage of legends. Some of the greatest performers of all time have performed here, so it's only fitting to have one the greatest boxers in the sport, Israel "Magnifico" Vazquez, fight on this stage."

"What makes a fighter great pound-for-pound? Is it the number of fights he has won or the fights he's been in? I think it's his heart and few fighters in the sport have a heart like Israel Vazquez. He is a true warrior."

"Carlos Molina is a name that many of you know and if you don't, you will after Saturday's fight."

"Our televised fighters have a combined record of 108 wins with only 15 losses, which shows you that these guys come to win. It will be a great night for Southern California boxing fans."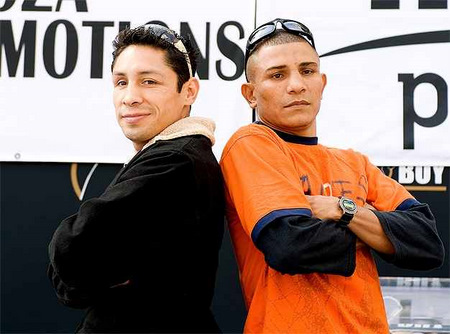 DAN BECKERMAN, COO and CFO of AEG

"I can't wait until Saturday. Two of the best fights I've ever seen were with Israel Vazquez. He's a great fighter and a true warrior."

"The Nokia Theater is an intimate setting and will make for a great night of boxing. It will be a tremendous evening thanks to Golden Boy Promotions."

Gustavo Grossman, Vice President & General Manager of HBO Latin America Group

"It's an honor for this to be the first "Next Boxing Generation" fight broadcast on U.S. soil."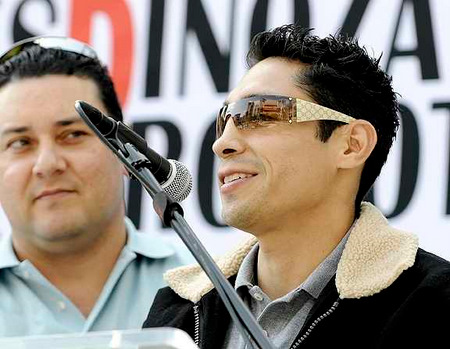 FRANK ESPINOZA, Manager of Israel Vazquez and Carlos Molina

"Few will argue when I say, without a doubt, Israel Vazquez is one of the most exciting fighters who ever lived. I can guarantee you no one has ever been disappointed after watching Vazquez in the ring and they won't be disappointed on Saturday night either."

FRANK ESPINOZA, JR., President of Espinoza Boxing Promotions

"Performances from Vazquez have not only been impressive, they have been inspiring. Vazquez has proven that he is a fighter with determination and courage and he will not be kept down."

RUDY PEREZ, Trainer of Israel Vazquez

"I got here from Mexico City a few weeks ago to train Israel and he is ready, 100 percent. The entire team has done a great job and we are going to be successful Saturday."


Vazquez-Priolo Live On Fox Sports en Espaņol

LOS ANGELES, October 7 - United States boxing fans wishing to see the return of two-time world champion and boxing superstar Israel "Magnifico" Vazquez this Saturday night, October 10, have their wishes granted, as Golden Boy Promotions will team up with Fox Sports en Espaņol for the exclusive live United States broadcast of Vazquez' bout against Angel Priolo at the Nokia Theatre LA Live.

The Fox Sports en Espaņol telecast, which includes Vazquez vs. Priolo, as well as the co-featured bouts of Carlos Molina vs. Caesar Holguin and Luis Grajeda vs. Juan Carlos Diaz, will air live in the United States at 7 PM PT (10 PM ET). The evening of boxing will be produced and distributed by the HBO Plus service in Latin America beginning at 7 PM local time (10 PM ET).

"There was a high demand from fight fans here in the United States to see the return of Israel Vazquez and we're happy that we were able to make this deal with Fox Sports en Espaņol to give fans what they want," said Oscar de la Hoya, President of Golden Boy Promotions. "This is a great night of fights and now boxing fans in the U.S. will get the chance to see them."

"We're thrilled to be airing this exciting and prestigious fight," commented David Sternberg, General Manager of Fox Sports en Espaņol. "Golden Boy Promotions consistently packages the most in-demand boxing matches, and we're happy to bring this exciting action directly to our fans."

Tickets, priced at $200, $100, $75, $50 and $25, are on sale now and can be purchased by calling 800-745-3000 or online at ticketmaster.com. Tickets may also be purchased at the STAPLES Center Box Office.

In the evening's main event, two-time Junior Featherweight World Champion Israel Vazquez will take on perennial contender Angel Priolo in a ten-round featherweight fight which is presented by Golden Boy Promotions, Espinoza Boxing Promotions and Sycuan Ringside Promotions and is sponsored by Cerveza Tecate and Southwest Airlines. Doors open at 3:30 PM and the first fight begins at 4:30 PM. Article posted on 07.10.2009
previous article: Sergiy Dzinziruk Wants A Fight With Cory Spinks
next article: News: Eric Vega; John Ruiz; "High Stakes" Public Press Conference