David Tua's Return Has People Talking - Could The Powerhouse Mow Down A Klitschko?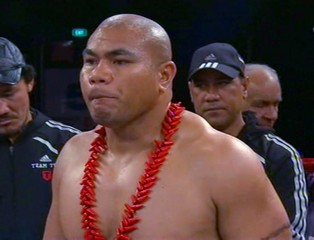 by James Slater - Though he didn't beat a proven world class fighter on Saturday, the returning David Tua sure looked impressive in smashing his New Zealand rival Shane Cameron to painful defeat in less than two-rounds. And, as a result of the way the well conditioned and still fast "Tuaman" got the job done after an absence of just over two years, a buzz has definitely been created amongst the fans.

It's still way too early to get too excited, granted, but if Tua stays active (word is, thankfully, he will fight again before the year is out) and if he stays at or around the 237-pound range, the 37-year-old might, just might, be a formidable challenger for one of the Klitschko brothers next year. One expert, who really knows his stuff, was moved to write after the recent Vitali Klitschko-Chris Arreola fight, that a guy who would have beaten the giant is the legendary Joe Frazier.

A crouching fighter, who bobbed his way in, used plenty of head movement, had a granite chin, boundless stamina and toughness, and who had wrecking ball punching power in his left hook.. Though he's no Joe Frazier, it could be argued that all the above attributes apply to David Tua - with a lethal right hand thrown in as well. Could it be, then, that the block of granite with the sturdiest of chins and the most explosive of bombs is the man to break the Klitschko's dominant run atop their weight class? Maybe.

As I say, it's too early to get too excited, but after, say, two or three more impressive, highlight reel KO wins, the call for Tua to fight Vitali or Wladimir will become deafening in my opinion. Bottom line: fans love to see action and they love to see KO's. Tua, in his return against Cameron, gave them both.

The brave Chris Arreola was able to push Vitali Klitschko at least a little in going ten-rounds with the WBC king, and he did that with no head movement to speak of and he did it with fists that are far slower and less potent than are Tua's. It's not that hard to imagine a Tua who would get inside, take anything that comes his way in getting there as well as once he's on Vitali's chest, and then wreaking havoc on the big man's head and body with his left hooks and his right hand sledgehammers.

Now motivated perhaps like never before because he knows the clock is ticking on his career, Tua would perhaps be willing to go through hell to get the win. And I haven't even spoken yet about Tua's chances against the weaker-chinned Wladimir. Don't tell me you wouldn't give "The Terminator" at least a 50/50 shot at stopping the younger Klitschko.

I know what the critics will be saying; that the last time he faced a giant, in Lennox Lewis, Tua was shut down, his attacks were nullified and he was out-jabbed and out-boxed. That's true, but that was also a long time ago now, and Tua did have a supposed rib injury going into that fight, which restricted his movement and the ferociousness of his attacks. And even then, Lewis never came close to putting the slightest dent in the Samoan slugger's chin.

Against the Klitschko's, Wladimir especially, I give Tua a genuine puncher's chance. In fact, I give him a hard-headed-bobbing-and-weaving-buzzsaw-of-a-fighter's chance. At the very least, Tua would take either brother the distance - can you imagine the thick-necked warrior, with his chin down and his head moving side to side, being KO'd? I can't. But I see more from Tua than him just taking the K brothers the distance. If Arreola could make Vitali work as hard as he did, and if he could have him back-pedalling as much as he did, what would the faster, harder-hitting and more experienced Tua do?

To beat the Klitschko's you need speed of hand, a constantly moving head, immense will and stamina and, above all, raw, one-punch KO power for when you have got close, so as to really make it count. Maybe I'm wrong, but I think David Tua has got the lot. Remember, most experts agree the Klitschkos don't really take their opponents out with one punch, they break a fighter's heart instead. Something tells me that this would not happen with David Tua.

Article posted on 06.10.2009
previous article: News: Francisco Contreras; Juan Carlos Burgos; Javontae Starks
next article: Chris John & Yuriorkis Gamboa - Both current WBA Featherweight Champs?