Edwin Rodriguez Decisions Boone!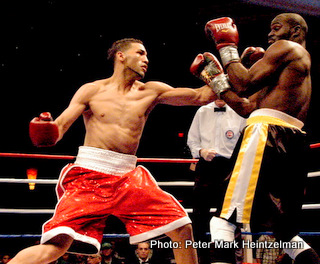 By Trish Kilcullen & Peter Mark Heintzelman - In a Saturday afternoon special, Jimmy Burchfield's Classic Entertainment & Sports, in association with Banner Promotions, Star Boxing, and DiBella Entertainment, gave the boxing fans in attendance, a bang for their buck.

In an exciting six bout afternoon, hosted by the Twin River Events Center, in Lincoln, Rhode Island, the twelve pugilists put on a fantastic show, from top to bottom, headlined by an eight round main event that went the distance, between super middleweights, Edwin Rodriguez, of Worcester, MA, and journeyman Darnell Boone, of Atlanta, GA.

From round one, Rodriguez was all business. He dominated seven out of eight rounds, according to the Rhode Island judges' scorecards, despite suffering a cut over his eye in the first round, compliments of his opponent.

The bleeding was quickly quelled by Dave Tenny, the best cutman in the Northeast..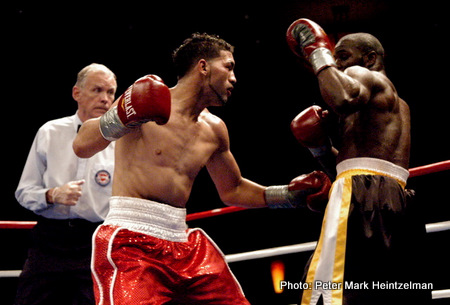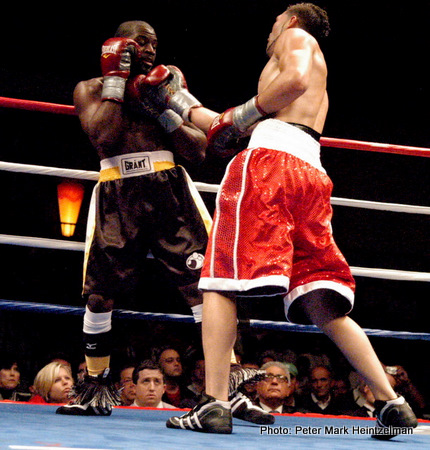 Although the fight took place in the backyard of Worcester's promising middleweight, it was far from a home town decision. Darnell Boone was probably Rodriguez' toughest test so far, on his now twelve undefeated fight journey through the talent-rich middleweight division.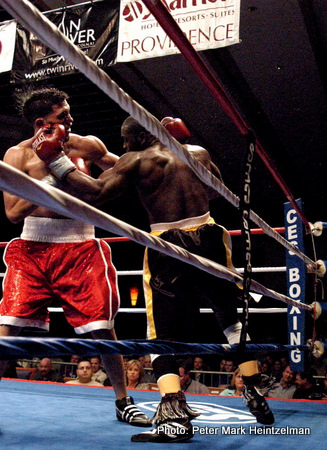 Darnell Boone is no slouch – just look at his record on boxrec, and the pedigree of his opponents. He came to Rhode Island, full of offensive skills and a good defense – no wonder he is looked at as a dangerous opponent. Don't miss a chance to see Boone fight in person; he's worth the price of admission all by himself. Boone fought well, but could not overcome the talent and technique of the undefeated Rodgriguez. Rodriguez substantially fended off the offense of the Georgian fighter, with good defensive and evasive skills, finely honed at Pawtucket, Rhode Island's Manfredo's Gym, under the watchful eye of Peter Manfredo, Sr.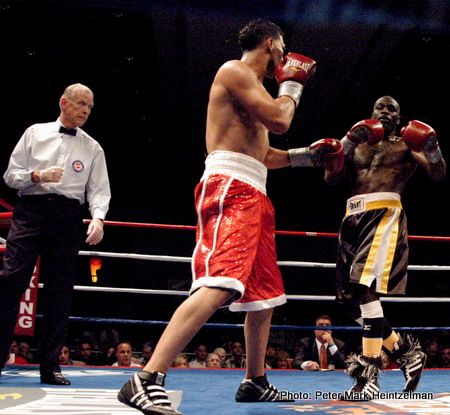 Manager, Larry Army, Jr., can return now to the Owl Shop in Worcester, MA, and stock up on his favorite cigars, to nervously burn more holes in his pin striped suits, as even bigger opponents eye his prodigy.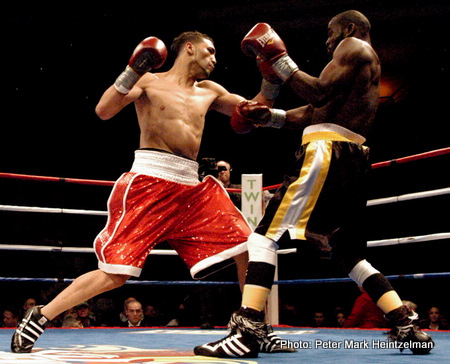 With the win, Edwin Rodriguez climbs to the undefeated record of 12-0, 8 KO's. Darnell Boone stands at 16-13-2, 6 KO's, and although notching a loss, Boone gained an admiring fan base in Rhode Island.




Keep your eye on Rodgriguez, as he vies for position in the middleweight division. Article posted on 05.10.2009
previous article: Twin River Undercard Results & Photo Gallery
next article: News: Fright Night Fights Ticket Alert; Nguyen vs Ledesma on Oct 10