Poonsawat leaves door open for a rematch and urges Dunne to keep fighting
By Jonny Stapleton, photos by Ludovic Daly - Newly crowned WBA Super Bantamweight World Champion Poonsawat Kratingdaenggym recieved a hero's welcome in Bangkok's Suwannaphum Airport early last week and spent over two hours showing off his new belt to thousands of fans, before claiming a similar desire to please his own support cost Bernard Dunne dear in their recent world title clash. The pint sized Thai who unbuckled the championship belt and snatched it from around Irish star Dunne's waist with a power packed third round display also left the door open for an unlikely rematch and encouraged former champion to ignore premature calls for him to hang up his gloves..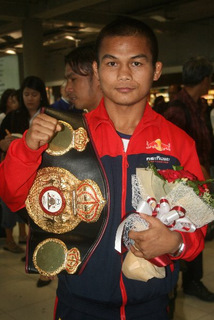 Speaking just minutes after arriving home from Dublin the mild mannered Thai pointed out the fight ended early because once Dunne got hurt he reacted to the capacity 9,000 crowds cries for an immediate response and abandoned his game plan.

Poonsawat believes Dunne's decision to stand and fight rather than hit and run proved crucial to his demise, as he was never going to match 'the little tank' in a standing brawl.

"We had a game plan build around a seventh round stoppage. I was expecting to win but i wasn't expecting it to come so early. After the second round I knew he hadn't a big punch to trouble me but i expected him to box and move and use his skill more. In the third i decided to push and press him and it seemed to work but once he got hurt he seemed to change tactics. I think the roar of the crowd forced him into a fight which suited me. I think we had our tactics right and we counteracted his hit and move policy but the stoppage came a little earlier than we thought."

After suffering a similar fate against Kiko Martinez in a European Title bout Irish hero Dunne called for an instant chance to redeem himself and wanted a rematch. There is the feeling that unlike the Spaniard Poonsawats victory didn't come as a result of a lucky punch and there has been no talk of Poonsawat Dunne two as of yet. The Thai believes that is a fight team Dunne won't want but pointed out he would be open to a rematch.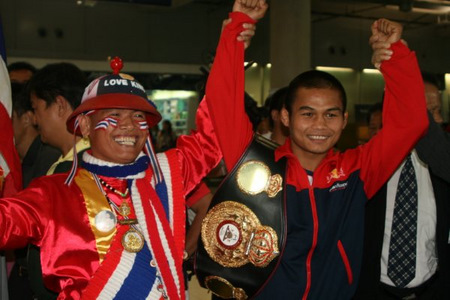 "There was no talk of a rematch after the fight. I don't think Bernard Dunne would like to fight me again? I would have to talk to my management team and see what they think, but i would be open to it and if the money was right i presume they would be too," he added before dismissing any suggestions Dunne should retire.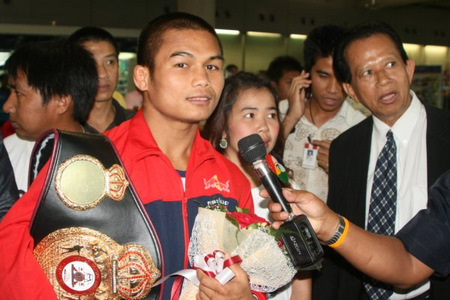 "Bernard Dunne was a European and World Champion you don't achieve those things unless your a quality fighter. He is only 29 and i don't see any reason for him to retire just yet, unless he wants to that is. He has had to very tough fights this year with myself and Cordoba so he deserves a rest but if he wants to box on i think he can come back as strong as before. Retirement should be a decision for him not the pundits."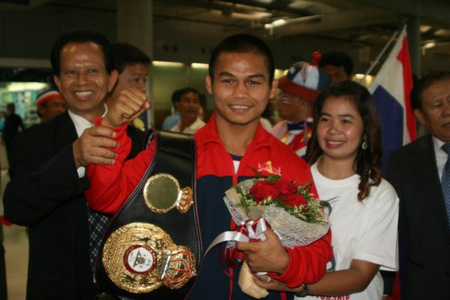 Article posted on 03.10.2009
previous article: Allan Green Wins, but not Super in UD Over Tarvis Simms
If you detect any issues with the legality of this site, problems are always unintentional and will be corrected with notification.
The views and opinions of all writers expressed on Boxing247.com do not necessarily state or reflect those of the Management.
Copyright © 2001- 2015 Boxing247.com - Privacy Policy l Contact