Rodriguez-Boone Headlines Saturday Twin Rivers Fight
by Peter Mark Heintzelman - Jimmy Burchfield's Classic Entertainment & Sports, Inc.'s matchmaker, Ted Panagiotis, deserves a raise. Talk about pulling a rabbit out of the hat. Lining up fighters in just days before a fight card, is hard enough – but when it's the main event, no-one can sleep. Yet low and behold, the main event comes together, as CES finds an opponent for the undefeated Edwin Rodriguez (11-0, 8 KO's), in the likes of a seasoned, and dangerous, veteran journeyman, 29 year old Darnell Boone, 16-12-2, 6 KO's, of Atlanta, Georgia. His record may looked like he can be beaten, but when you factor in a number of his fights have been in opponents' backyards, Boone is, indeed a dangerous opponent..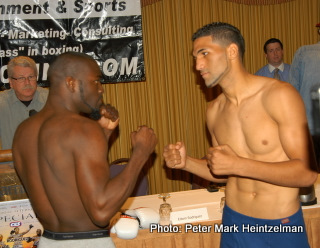 "This is a very tough opponent for Edwin," said manager, Larry Army, Jr., yesterday, nervously puffing away on his cigar at the Owl Shop on Main Street, Worcester, MA, unknowingly dropping cinders on his lawyerly pin striped suit.

A look at Darnell Boone's record shows he is not afraid to fight anyone in his division. He has fought a number of big names, including the likes of Jean Pascal, Anthony Thompson, Lajuan Simon, and Andre Ward, just to name a few of the "Who's Who" in the middleweight division, that Boone has faced.

So, fasten your seatbelt, boxing fans, and Team Rodriguez – this could be a bumpy ride. Not to mention, the undercard looks grand as well, for an afternoon of professional boxing at Twin River Event Center, in Lincoln, Rhode Island, on Saturday of this week.

Prior to today's final press conference and official weigh in, at the Marriott Hotel on Orms Street, in Providence, EastSideBoxing caught up with the likeable Darnell Boone, who shared his thoughts and strategies twenty-four hours prior to his scheduled eight round super middleweight challenge against the undefeated Edwin "LaBomba" Rodriguez:


EastSideBoxing: You're a long way from Atlanta, Darnell. What attracted you to take this fight against Edwin Rodriguez?

Boone: I can beat him!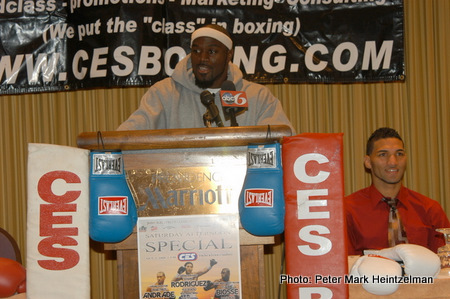 EastSideBoxing: Darnell, what do you know of Rodriguez and his fight style, and what do you expect of him tomorrow afternoon?

Boone: I really don't expect too much. I just kind of figure out the fight as I go. But I know I gotta start early. That's what's been the problem in most of my other fights, I hadn't started early. But, I know I gotta start early this time.

EastSideBoxing: I was going to ask you what attracts you to fight in Rodriguez' back yard, but I note from your professional fight record, that you are the epitome of a journeyman – having fought last in Vegas, then LA, Baton Rouge, Houston, Montreal – you beat Rasheem Brown at Mohegan Sun, in Connecticut, just to mention a few. Being a journeyman seems like a hard way to make a living. What is it like, to fight so often in other fighter's backyards?

Boone: Yes, yes. I like the back yard. It's like a pit bull. You get me on the chain, you let me off the chain, and I gotta do what I gotta do. You get your back against the wall. So, you know, the odds are against you. But when you overcome them odds, that's what brings out, you know, the best about you.

EastSideBoxing: You were announced only this week, as the opponent for this main event Saturday afternoon at Twin River against Edwin Rodriguez. How do you prepare for a "last minute opponent?"

Boone: Just come in and figure out what they've got going on, and exploit them and whatever faults they have, you know.

EastSideBoxing: What got you into boxing?

Boone: My little brother - He led me to the gym the first time, and got me to spar. My first time in the gym I sparred with Kelly Pavlik. I called him out in the gym! I've been boxing professionally for about 5 years. I only fought nine fights as an amateur.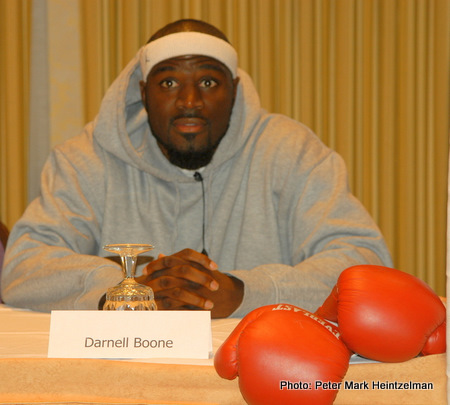 EastSideBoxing: Who is your manger and trainer, and who will be working your corner on Saturday?

Boone: My manager is Charles Ferguson, and my trainer is David Honea. David will be working my corner with Steven Copeland.

EastSideBoxing: What can fans expect to see from you on Saturday?

Boone: A whole bunch of fireworks - - like the 4th of July!

EastSideBoxing: Any public statement you would want to make to Edwin Rodriguez, before the first bell rings?

Boone: Just come in with his A game, because I'm coming in with mine.

EastSideBoxing: What is your prediction as to the outcome of your Saturday main event bout?

My prediction: We'll have to see. I don't really make too many predictions. When you plan things, things don't seem to go the way you expect them to go. You have to adapt to the situation, as to what's going on, and the conditions – I can fight in many conditions. So, I gotta do, what I gotta do!

EastSideBoxing: Any final comments to your fans at EastSideBoxing.com?

Boone: Just be watching out for me. I'm making a turnaround in my career! I'm going to bring a lot of excitement and a lot of flash, and a lot of flair, so just be on the look out for me, when I get in there!

###

The fights are on THIS SATURDAY, October 3, at the Twin River Event Center. The co-feature pits Demetrius Andrade, a 2008 U.S. Olympian boxer against Chris Chatman, both undefeated in the junior middleweight division, and "someone's "O" has got to go!

Also on the undercard is a scheduled 4 rounds at super middleweight, between Vladine Biosse vs. Tafari Lawton, 4 rounds at junior middleweight, pitting David Bauza against Khristian Geraci, Light Welterweights Jesus Caro, of Providence, RI puts his undefeated record on the line for four rounds against Damien Butler, and rounding off the card is the exciting Simeon Dunwell who is scheduled for a six round duel against light welterweight, David Marquez.

Classic Entertainment and Sports has announced that a number of CES boxers will be available after the fights, for photo opportunities with fans, so bring the kids and the camera, for a once in a lifetime opportunity to meet and great the boxers.

Rollback ticket prices for "Saturday Afternoon Special" are $25.00, $35.00 $50.00, $100.00 ($15.00 redeemable free play at Twin River), and limited $150.00 Jimmy's Platinum Club ($25.00 redeemable free play at Twin River), and are available to purchase by calling CES (401.724.2253/2254), going online at www.cesboxing.com or www.twinriver.com, at Twin River's Players Club booth at Twin River, or any TicketMaster location. Contact CES (401.724.2253/2254/www.cesboxing.com) or the Twin River Event Center (877.82.RIVER/ www.twinriver.com) for more information.

Twin River is located at 100 Twin River Road, Lincoln, RI 02865. (Twin River has waived its 18+ rule for "Saturday Afternoon Special." Anybody under the age of 18 must be accompanied at all times by an adult and they must enter through the West entrance.)

All boxers are subject to change. Doors open at 1 pm, and the first bell rings at 2pm. Article posted on 02.10.2009
previous article: Tomasz Adamek - Can He Flatten A Heavyweight? And What Will He Do Post-Golota?