Vitali Klitschko - Can Anyone Beat Him?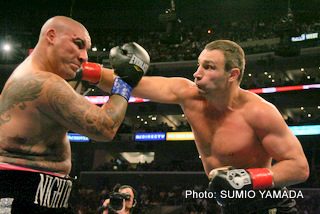 by James Slater - Even though he is 38, it seems, amazingly, as though WBC heavyweight king Vitali Klitschko is getting even better. "Dr. Iron Fist's" defensive skills, his clever and astonishingly agile use of his legs, combined with his overall reflexes were quite stunning to see last night as he dominated a brave Chris Arreola on the way to a 10th-round retirement win.

Looking almost as hard to hit as Floyd Mayweather Junior, the 6'7.5" giant once again proved he is the best big man in the sport - even better, in my opinion, than his younger, but somewhat less reliably-chinned brother. Some people will perhaps come out with some negativity and claim that 28-year-old Arreola was so overmatched that, sure, of course Vitali was gonna look good. But that would be to pay a major disservice to both fighters.

While Klitschko's skill level was something to behold, the sheer heart and determination - to say nothing about the incredible chin - of Arreola also left one open-mouthed.. How did "The Nightmare" manage to eat right hand after right hand without even looking like going over? I hope no one ever questions Arreola's desire and toughness again after what he willingly went through last night. I also hope nobody comes out and calls him a quitter.

Arreola was pulled out by his corner and then stopped by the referee last night at the end of the 10th-round, but the fighter was reportedly, according to his trainer Henry Ramirez, "irate." Arreola also said post-fight that he will "have no more Coronas," that he will "work his ass off" and that he will not let the loss "break him." Yes, it will be tough for Arreola to come back from such a bludgeoning, but nobody should write him off yet.

As for Vitali and his great performance, it leaves us asking the question, can any of today's heavyweights beat him? It could be the talented, but not too hard-hitting Kevin Johnson next, maybe in December. Will "KingPin" be the man to end the dominance of "The Doctor?" Don't count on it. More skilled than Areola he may be, but Johnson simply has nowhere near enough power to hurt Vitali - if he can reach him. Johnson's heart and chin are thus far question marks, too.

Who else is there that Vitali could fight? David Haye's name, of course has to make it into this article. Supposed to have been the man in there with the WBC boss back on September 12th, Haye suddenly decided he didn't want to be a "slave fighter." Good thing, too - for him, that is. Can you imagine "The Hayemaker" walking through the thudding right hands that Arreola took last night? I can't. Sure, Haye would claim, and has claimed, that he would out-box Vitali and make him look clumsy. It would be fun seeing if Haye could do this, but the odds would be firmly against it.

No, I think the WBC heavyweight crown is in good hands right now. I also think Vitali's big fists, or rather his lean waist, will go on carrying the green belt for some time to come. The "two-headed monster" that is the Klitschko brothers' hold on all the marbles at their weight class could, at this rate, go on throughout 2010 and maybe even well into 2011.

Congratulations, Vitali, on a masterful performance. Congratulations, Chris, on a brave and genuine effort.



Article posted on 27.09.2009
previous article: Bert Cooper To Return To The Ring Next Month?