Edwin Rodriguez To Face Boone Oct 3!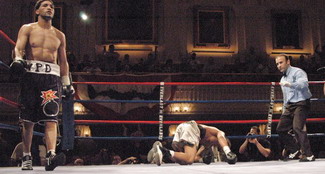 By Peter Mark Heintzelman, Photos by Peter Mark Heintzelman - Middleweight, Edwin Rodriguez, Worcester, MA's pugilistic pride and joy, has his head on straight, and is focused on improving his game. The mild mannered 24 year old, friend to all, has a major goal in mind: A shot at a world title bout in the next year and a half. Plan your work; work your plan.

Under the seasoned eye of trainer, Peter Manfredo, Sr, and managed by Attorney Larry Army, Jr., promoter, Lou DiBella, has a great prospect brewing. With a professional record of 11-0, 8 KO's, Rodriguez has even been recognized by Ring Magazine, and featured on page 24 of November's "New Faces" column. It would be tempting to repeat the accolades in the "Bible of Boxing," but better for you to buy it yourself; it's worth the read.

Rodriguez had been slated to fight Robbie Tovar (15-4-1, 5 KOs), former NABC Latino title-holder, in Manchester, NH this month, but Tovar bowed out, reportedly feeling dizzy after last minute sparring – or was it nervousness after scoping out his opposition?

After a quick scramble, DiBella worked out an arrangement with Jimmy Burchfield, and next thing you know, Rodriguez is headlining Classic Entertainment & Sports' October 3rd fight card "Saturday Afternoon Special), in association with the Twin River Event Center, in Lincoln, Rhode Island. Jimmy knows a good thing when he sees one. Not to mention, Rodriguez' fan base fills seats. The fight card, filled with excitement from bottom to top, is likely to pack the forum with fight fans of all ages, so get your tickets now!

Darnell Boone, a 29 year old middleweight from Atlanta, Georgia, will be Rodriguez' opponent. He is a seasoned veteran, with a record of 16-12-2, with 6 KO's, and is the epitome of a journeyman - not scared to fight in other boxer's backyards - as evidenced by his professional travels to Pittsburgh, Kissimmee, Vicksburg, Montreal, Las Vegas, LA, and Houston, to mention a few. His opponents have included the likes of Brian Vera, Jean Pascal, Anthony Thompson, and Walid Smichet. The only fighter that both Boone and Rodriguez has fought, is James North; Boone defeating North in 2005 by a third round knock out, while North went a full four round distance, only to lose by unanimous decision to Rodriguez, last year.

EastSideBoxing was fortunate to catch up with Edwin Rodriguez moments before the fight presser began yesterday, at the Marriott Hotel on Orms Street, Providence, for an pre-fight interview: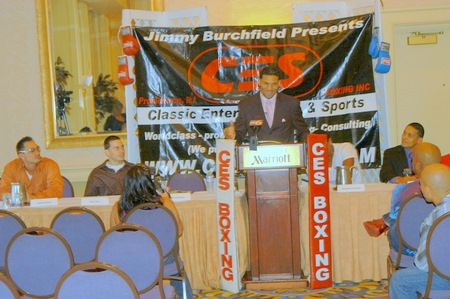 ESB: So, Edwin, what happened to your opponent who was scheduled to fight you in Manchester, NH earlier this week?

Rodriguez: I guess my opponent got spooked; but one door closes and another one opens, and I'm happy to be fighting on this Twin River Card on October 3rd.

ESB: As of today, your opponent for Twin River has yet to be announced; do you know who you're opponent will be?

Rodriguez: Well, I understand they have found an opponent for me, and contracts have been sent out, but we still have to get him here, but I'm excited!

ESB: So, how hard is it for you to prepare for a fight against an unknown fighter – the fight night is only nine days away?

Rodriguez: I'm just getting ready for any fight; I'm not just getting ready just for this opponent, but I'm focused on improving and hopefully for getting for a shot at a world title in about a year and a half, or so.

ESB: After your resounding defeat of Patrick Thompson at Mechanics Hall in Worcester this past March, you've been out of action until August. Can you tell your fans why?

Rodriguez: Yeah, I had surgery on both my elbows, and had bone chips removed. But I feel 100 per cent now, and I had no problems with my elbows when I beat (Angel David) Gonzalez, in Rochester, NY last month.

ESB: Of your eleven professional bouts to date, who has been your toughest opponent, and why?

Rodriguez: Well, let me think about that . . . where's the list (he says with a smile)? Well, I guess it was my fight at The Castle in Boston (June 28, 2008), when I fought Hector Hernandez. He is a tough Mexican kid. He came forward and gave me a good fight, even though on the judge's card, I won every round. But he was there - it was a competitive fight.

ESB: You and your manager, Larry Army, Jr., after your first nine fights, were courting various promoters, and you landed with DiBella Entertainment. I know you were also negotiating with other potential promoters, including Classic Entertainment & Sports.

So, what does it tell you about Jimmy Burchfield, that, at the last minute, he agreed to not only put you in his October 3rd card, but also made you the headliner. What does that tell you about class?

Rodriguez: Jimmy is a great guy, and I'm happy to have him as a friend, and he's a good guy, and we continue to do business.

ESB: What can your fans expect to see from you, in your October 3rd, Saturday matinee fight at Twin River Event Center?

Rodriguez: My fans can expect to see I'm in great shape, with explosive power.

ESB: How does it feel to be featured in the November issue of Ring Magazine?

Rodriguez: It feels great! I saw it this morning. It's an honor to be in the boxing bible, and I'm excited to be part of it.

ESB: Anything else, Edwin, you want to say to your fans at EastSideBoxing?

Rodriguez: Come to my next fight on Oct 3rd, its going to be a hell of a show!!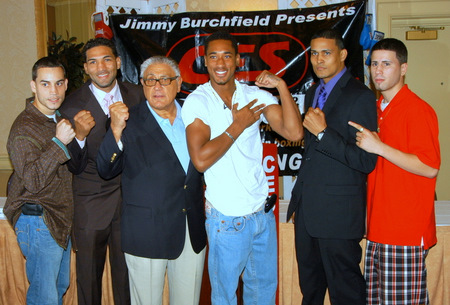 The evening's undercard promises an exciting evening, and includes:
Demetrius Andrade 7-0, 6 KO's vs TBA for 6 rounds at light middleweight;
Simeon Dunwell 9-1, 2 KO's vs David Marquez 4-6, 1 KO 6 rounds at light welterweight;
Vladine Biosse 3-0, 3 KO's vs Tafan Lawton 1-0 for 4 rounds at light heavyweight;
Jesus Caro 4-0, 4 KO's vs. Damien Butler 0-1 for 4 rounds at light welterweight;
David Bauza 1-0 vs. Khristian Geraci 4-6, 3 KO's for 4 rounds at light middleweight.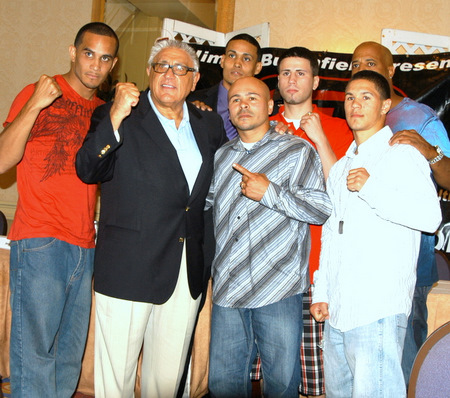 Classic Entertainment and Sports has announced that a number of CES boxers will be available after the fights, for photo opportunities with fans, so bring the kids and the camera, for a once in a lifetime opportunity to meet and great the boxers.

Rollback ticket prices for "Saturday Afternoon Special" are $25.00, $35.00 $50.00, $100.00 ($15.00 redeemable free play at Twin River), and limited $150.00 Jimmy's Platinum Club ($25.00 redeemable free play at Twin River), and are available to purchase by calling CES (401.724.2253/2254), going online at www.cesboxing.com or www.twinriver.com, at Twin River's Players Club booth at Twin River, or any TicketMaster location. Contact CES (401.724.2253/2254/www.cesboxing.com) or the Twin River Event Center (877.82.RIVER/ www.twinriver.com) for more information.

Twin River is located at 100 Twin River Road, Lincoln, RI 02865. (Twin River has waived its 18+ rule for "Saturday Afternoon Special." Anybody under the age of 18 must be accompanied at all times by an adult and they must enter through the West entrance.)

All boxers are subject to change. Doors open at 1 pm, and the first bell rings at 2pm. Article posted on 25.09.2009
previous article: A New Look At Prizefighter III
next article: Nicolay Valuev vs. David Haye: Why Valuev will win