Cristobal Arreola Muscle Beach Open Workout Quotes
Undefeated, No. 1-ranked WBC world contender Cristobal Arreola jumped rope, posed and hit the mitts with trainer Henry Ramirez during a free open public workout Wednesday at Muscle Beach in Venice, Calif. In the best heavyweight world championship fight in years, the hard-hitting Arreola (27-0, 24 KOs) will challenge defending champion Klitschko (37-2, 36 KOs) for the WBC heavyweight title this Saturday, Sept. 26, at STAPLES Center. Tickets can be purchased at STAPLES Center, all TicketMaster outlets, by phone (800) 745-3000 and online at www.ticketmaster.com..

The 12-round world championship will be promoted by K2 Promotions in association with Goossen Tutor Promotions. It will air live on HBO at 10 p.m. ET/7 p.m. PT. Doors open Saturday at 4 o'clock.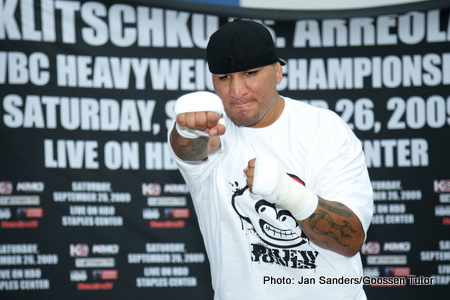 CRISTOBAL ARREOLA QUOTES: ďItís going to be a changing of the guard. Very simple. The steel curtain is closed and now I own it. Itís gonna be my time.

ďItís not gonna go far; plain and simple Itís gonna be a knockout fight and itís gonna be an exciting fight. Itís something in the heavyweight division the fans have been waiting a long time for.

ďIím gonna bring emotion as far as determination to win the title for Mexicans and Mexican-Americans to celebrate, and determination to keep the title out here in the United States. Thatís my main goal.Ē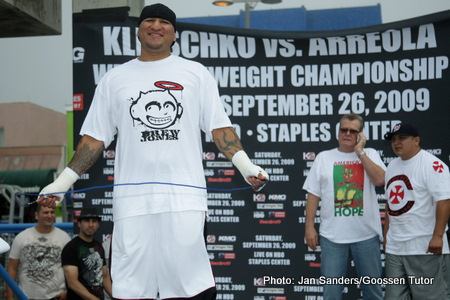 Article posted on 22.09.2009
previous article: Vitali Klitschko Muscle Beach Open Workout Quotes
next article: Haye vs Valuev: David Haye Wants To Spar Tyson Fury To Get Ready For Nikolai Valuev