Vitali Klitschko Muscle Beach Open Workout Quotes
As brother Wladimir Klitschko, the IBF/WBO/IBO/Ring heavyweight champion, describes the live action, WBC heavyweight champion Vitali Klitschko is shown getting his hands wrapped, hitting the mitts with trainer Fritz Sdunek, shadow boxing, addressing the media and fans and shaking hands and facing off with Cristobal Arreola during Wednesday's free open workout at Muscle Beach in Venice, Calif..

In a collision of knockout specialists, the popular Klitschko (37-2, 36 KOs) will defend against the No. 1-ranked Arreola (27-0, 24 KOs) in the main event this Saturday, Sept. 26, at STAPLES Center. Tickets can be purchased at STAPLES Center, all TicketMaster outlets, by phone (800) 745-3000 and online at www.ticketmaster.com. The 12-round world championship will be promoted by K2 Promotions in association with Goossen Tutor Promotions. It will air live on HBO at 10 p.m. ET/7 p.m. PT. Doors open Saturday at 4 o'clock.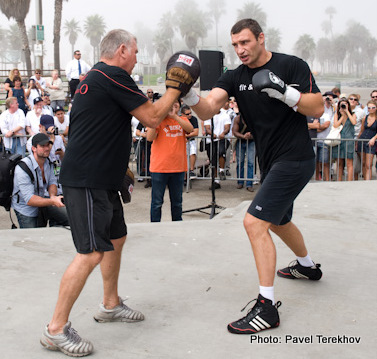 VITALI KLITSCHKO QUOTES:

ďI enjoy this time. I enjoy this moment. I enjoy this moment by bringing my friends a title fight in Los Angeles. Itís what Iíve wanted to do since I was a teenager. This time everybody is saying, Ďsorry, we donít believe you can do it.í I will show my skills and punch in the ring on Saturday.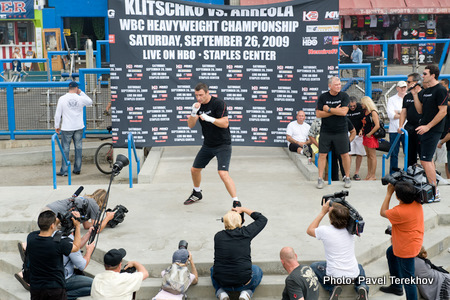 ďThis will be fight No. 3 at STAPLES Center and I spend a lot of time in Los Angeles. I have a lot of friends here and Los Angeles has a huge boxing community. Itís the Goossens, the home of a lot of fighters. To be at STAPLES Center -- for me, itís the biggest arena and Iím ready to fight there.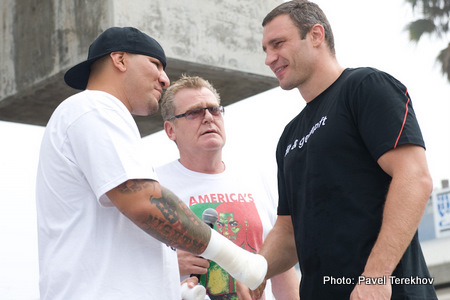 ďIím always in shape. Itís never tough to get in shape. I donít drink, donít smoke, don't do drugs. I always, always maintain the fitness.''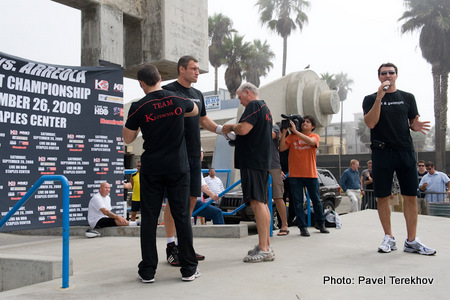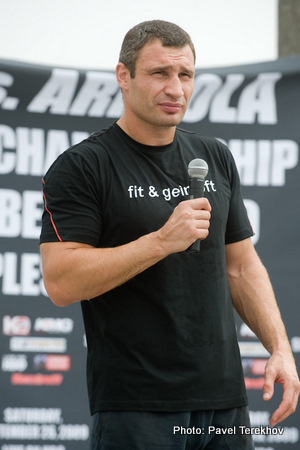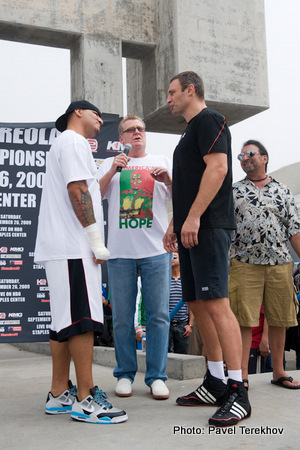 Article posted on 22.09.2009
previous article: Diaz-Chavez Open Workout Photos
next article: Cristobal Arreola Muscle Beach Open Workout Quotes