Kessler warms up for Super Six World Boxing Classic with fourth-round TKO win over Perdomo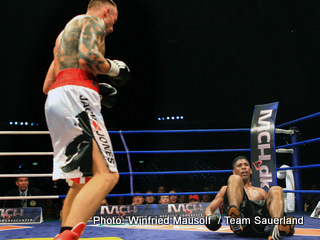 WBA Super-Middleweight Champion Mikkel Kessler once again proved his class with a spectacular fourth-round TKO victory over Gusmyr Perdomo. Fighting in front of a sell-out crowd of 6.200 boisterous Danish fans at MCH Herning, the Viking Warrior (42-1, 32 KOs) dropped the mandatory challenger at the end of the third with a big right before launching another furious assault in the fourth. After Perdomo was rocked by a series of hard shots, including two big rights to the head, the referee jumped in to save him from further punishment. It was the first-ever KO loss for the brave challenger (16-3, 10 KOs). "I am very happy," Kessler said. "It was very special to fight in front of such a great crowd. Perdomo was very active in the first two rounds, so I had to change my game plan. I adjusted well in the third. Now I really look forward to the Super Six World Boxing Classic."

Perdomo admitted that the better man won. "Congratulations to Mikkel Kessler. He is a great champion. He broke my rhythm after the second round and then he just hit me. He deserved to win. Now I will recover and come back." His coach Michael Timm added: "We knew it would be tough against Mikkel. Congratulations to him. We knew at some point he would catch him but I was surprised it came that early.."

While Perdomo is left to lick his wounds, Kessler has bigger things ahead. He will participate in SHOWTIME´s hotly-anticipated Super Six World Boxing Classic. "That will be the ultimate test for Mikkel," Kalle Sauerland said. "We are thrilled that he took the final hurdle in such spectacular fashion. This is boxing, and everything can happen, but he took care of business against Perdomo. Now he can shift his concentration to the Super Six and his first opponent Andre Ward. Mikkel certainly has a golden future ahead and we look forward to many great fights in the tournament." Added Kessler: "It is a dream to fight in the Super Six. It has become reality now. It is the best facing the best – the Champions League of boxing. I cannot wait to get started." Kessler´s first-round fight is set for November 21 when he takes on up-and-coming American Andre Ward, who stopped Shelby Pudwill on Saturday night.




On the undercard of the historic first Team Sauerland show in Denmark, the First Lady Cecilia Braekhus (13-0, 2 KOs) defended her WBA/WBC Female Welterweight Titles with a hard-earned points victory over Lucia Morelli (13-1, 6 KOs). Braekhus was the better boxer throughout, landing one-two combinations to body and head, but Morelli proved her heart and chin, making good use of her hard right. After ten interesting rounds, Braekhus was ahead 99-92, 98-92 and 97-93. "It was a tough fight," the First Lady said. "She was a tough opponent but I am pleased I won." And Morelli said: "I think we gave the crowd a good and interesting fight. The champion deserved to win."

Sauerland cruiserweight hopeful Alexander Frenkel (19-0, 15 KOs) clinched another spectacular KO victory, knocking out Laszlo Hubert with a huge big left hook to the chin in the third round.


Kessler fight draws phenomenal market share of 72 percent on Danish TV2

Mikkel Kessler´s fourth-round TKO victory over Gusmyr Perdomo at MCH Herning drew a phenomenal peak market share of 72 percent. 1.645.000 viewers watched the clash on TV2 during its peak, with an average of 1.342.000 fans (58,2 percent) tuning in between 21:55 and 22.35. "Those are phenomenal viewing figures which tell you something about Mikkel´s popularity in Denmark," Team Sauerland General Manager Chris Meyer said. "It was a great night of boxing at MCH Herning. We cannot wait for the Super Six World Boxing Classic to get started. Mikkel is such an exciting fighter. He will fascinate the fans all over the world during the course of the tournament."

Kessler´s Super Six fights will be shown live on Pay-Per-View on Viasat.

Visit www.boxing-online.com for a Kessler-Perdomo picture gallery. Article posted on 13.09.2009
previous article: Big victory for Kauramäki in fight of the year in Finland