Ward vs. Kessler Set For Nov. 21 From Oracle Arena Live on SHOWTIME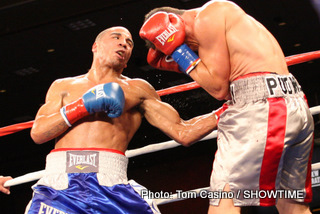 TEMECULA, Calif. – (Sept. 12, 2009) – They did it 5,600 miles apart, but Andre Ward and Mikkel Kessler both took care of business in similar fashion in front of their fans and television viewers on a special split-site doubleheader ShoBox: The New Generation on SHOWTIME Saturday night.

Ward (20-0, 13 KOs) remained undefeated, stopping Shelby Pudwill (22-4-1, 9 KOs) at 2:!6 of the third round from the Pechanga Resort and Casino. Pudwill had been knocked down earlier in the round on a left hook and suffered a cut on his cheek just under his left eye.

"I knew it was over after I knocked him down," said Ward, the 2004 Olympic Games gold medalist. "There was no use continuing. Once I saw the blood the fight was over.."

Up next, Ward will meet Kessler in Group Stage 1 of the celebrated Super Six World Boxing Classic, Nov. 21 at the Oracle Arena in Oakland, Calif., for Kessler's WBA world title.

Earlier in the day, in Herning, Denmark, Kessler (42-1, 32 KOs) retained his WBA super middleweight title with a fourth-round TKO over Venezuela's Gusmyr Perdomo (16-3, 10KOs) at the MCH Messecenter.




Let the hype begin as both Ward and Kessler will meet Thursday in Oakland for a press conference at the Oracle Arena.

Ward said he was told of the Kessler-Pedromo result by none other than Antonio Tarver, who was working the fight as a guest commentator for ShoBox. Ward had declined to watch the fight before his own.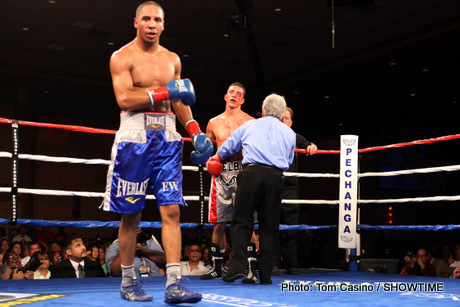 "Didn't see it, didn't want to see it," he said. "I had my own fight to worry about. I knew somebody would come up to me and tell me who won and it was the last person I expected, Tarver."

Ward continued, "It's championship time now. It's time to rise to the occasion."

Kessler sent the 32-year-old Perdomo to the canvas for the first time in his career in the third round before referee Russell Mora stopped the fight with just 56 seconds remaining in the fourth round.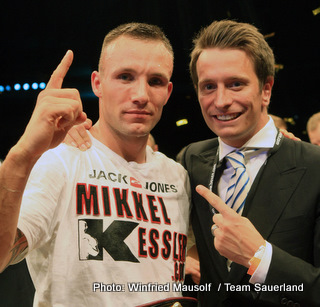 "He came out strong in the first couple of rounds," Kessler said. "I couldn't figure him out so I made a plan in the third to go forward and put pressure on him and that worked.

"I am looking forward to the Super Six (World Boxing Classic). It's a dream come true for us all. Ward is a great fighter. I have deep respect for him. He's a tough guy and a nice guy also. I met him. I think we are going to have a hard fight. I am going to show him I am the best. I am the world champ."


What They Had to Say Saturday:

Super Six tournament entrant Andre "The Matrix" Dirrell was in attendance Saturday night at Pechanga. Dirrell is training in the California mountains of Big Bear with Leon Lawson, Jr.

Dirrell was interviewed by Steve Farhood during the ShoBox telecast:
"The Super Six is making history. And more importantly for me, it's the beginning. It's the chance for people to see me and discover who Andre Dirrell is. People don't know what I'm like and what I'm like when I'm tested. These are all world-class fighters and everyone is hungry."

On Kessler: "He has a terrific 1-2. That's what he works on. That's where his power is. And he's a solid fighter. He works hard and you can tell.

On tune-up fights: "They feel they need it but you know, you could get hurt and anything can happen. This is a big opportunity (the Super Six tournament). This is one of the most blessed positions we could be in. I know fighters that would kill to be in this tournament.

On being a long shot to win the Super Six: "I expected to be (a long shot), me and Ward. But I work hard everyday. This is what I do. I take the game just as seriously as any other fighter out there. I just have not gotten my world title shot, but I have it now and I will take advantage of it."

On his first Super Six opponent Carl Froch (Oct. 17, Trent FM Arena, Nottingham, England): "I know I have pure talent over him. I know I have pure speed. He has power. He has never seen a guy like me, never been in the ring with a guy like me. I may lack experience but the one thing I don't lack is the motivation."

ShoBox Analyst Steve Farhood: "Andre (Ward) was perfect tonight. He tried a lot of different things offensively and he was successful with all of them. Pudwill offered just the right amount of resistance. This will make him as sharp as can be going into the Super Six and more importantly in his mind, this puts him on an even playing field because they both fought and won tonight."

Antonio Tarver: "I'm excited about the Super Six. Ward had a great win over Edison Miranda and a lot of momentum coming into this fight. Shelby Pudwill came to fight and did everything he could and put up some resistance. But I just love the way that Andre Ward went to the body, he broke him down and then he knocked him out. I noticed one move he made, when he went from orthodox to southpaw. He switched up on a dime. You never can tell which angle he's coming from. That's a major advantage for him as he moves forward to the Super Six. He comes in as a sleeper but I think he awakened a lot of people tonight. He's for real."

UP NEXT FROM SHOWTIME SPORTSShoBox returns to its regular day and time this Friday night (Sept. 18, live at 11p ET/PT) as Travis Kauffman (18-0, 15 KOs) meets Tony Grano (15-1-1, 12 KOs) in a 10-round heavyweight fight from the Chumash Resort and Casino in Santa Ynez, Calif. The co-feature pits Chris Avalos (11-0, 9 KOs) against Giovanni Caro (12-8-3, 11 KOs) in an eight-round bantamweight fight.

On Friday, Sept. 25, STRIKEFORCE Challengers will air live on SHOWTIME (10p ET/PT) from the SpiritBank Event Center in Tulsa, Okla., as Tim Kennedy meets fellow middleweight Zak Cummings in the main event and Tyron Woodely faces off against Zach Light in a welterweight matchup.

On Friday, Oct. 2 (live at 11p ET/PT), Allan Green (28-1, 20 KOs) takes on Victor Oganov (28-2, 28 KOs) in a 10-round super middleweight fight with Antwone Smith (16-1, 8 KOs) meeting Henry Crawford (22-0-1, 9 KOs) in a 10-round welterweight bout on ShoBox from the First Council Casino in Newkirk, Okla.

The much-anticipated Super Six World Boxing Classic premieres on SHOWTIME Oct. 17 as Carl Froch (25-0, 20 KOs) faces Andre Dirrell (18-0, 13 KOs) live from the Trent FM Arena in Nottingham, England and Arthur Abraham (30-0, 24 KOs) meets Jermain Taylor (28-3-1, 17 KOs) on tape-delay from O2 World Arena in Berlin, Germany.

On Saturday, Oct. 31, Joseph Agbeko (27-1, 22 KOs) will face Yonnhy Perez (19-0, 14 KOs) for the IBF Bantamweight Championship on SHOWTIME CHAMPIONSHIP BOXING.

On Saturday, Nov. 21, the Super Six World Boxing Classic continues with the aforementioned Kessler vs. Ward WBA Super Middleweight World Championship.

In another exciting SHOWTIME CHAMPIONSHIP BOXING bout set for Dec. 12, Timothy Bradley (24-0, 11 KOs) will face Lamont Peterson (27-0, 13 KOs) for the WBO Junior Welterweight Championship. In the co-feature, Vic Darchinyan (32-2-1, 26 KOs) will battle Tomas Rojas (31-11-1, 22 KOs) for the IBF, WBC and WBA 115-pound Championship and Joan Guzman (29-0, 17 KOs) meets Ali Funeka (30-2-2, 25 KOs) in a lightweight bout.

For more information on "ShoBox: The New Generation" and all SHOWTIME Sports telecasts, including complete INSIDE THE NFL, Strikeforce and boxing video, photos and more, please go to http://sports.sho.com/ Article posted on 13.09.2009
previous article: UK Boxing: Audley Harrison; Tony Jeffries; Lenny Daws
next article: Derek Chisora Says He Wants To "Burst Tyson Fury's Bubble", Claims He Would Also KO John McDermott