Andre Ward Takes Out Pudwill, James Toney Stops Greer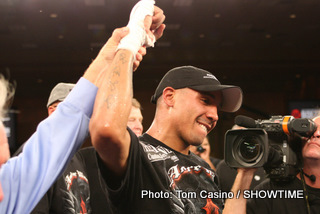 Temecula, CA (September 12, 2009) – In a tune-up for his Super Six World Boxing Classic confrontation with WBA Super Middleweight Champion Mikkel Kessler, NABF and WBO NABO Super Middleweight titleholder Andre "S.O.G." Ward (20-0, 13 KO), Oakland, CA looked primed and ready after dismantling Shelby Pudwill (22-4-1, 9 KO), Mandan, ND in a non-title bout at the Pechanga Resort & Casino in Temecula, CA. The bout was a co-main event telecast on "ShoBox: The New Generation" on SHOWTIME.

Ward, who thoroughly outboxed Pudwill in the first two rounds, dropped him with a left hook in the third round, which opened a nasty cut under Pudwill's left eye. Smelling blood, Ward went for the kill and had his opponent in serious trouble. Knowing he could do serious damage, Ward signaled referee Pat Russell several times to put a halt to the shellacking and he mercifully did at 2:16 of the third round.

The key to the fight was "just staying focused," Ward, America's last Olympic gold medal winner, simplified. "The speed and the timing and I just had to stay focused. This kind of fight had a lot of build up to a bigger fight and I had to focus on this fight..

"I think he was done," Ward continued when explaining why he kept calling for the stoppage. "I'm a fighter and I can feel when a fighter's strength leaves him and after he got up from that knockdown it was pretty much over. He was in serious trouble so why not stop the fight?"





As for his upcoming fight with Kessler in his own home town, Ward succinctly said, "I'm ready"!
Promoter Dan Goossen, breathing a deep sigh of relief, said: "I hate tune-up fights. I'm just happy that he (Ward) got through it for three rounds to get ready for November 21st. That's what it was all about. So Kessler and Ward both came out successful. That will take us over to November 21st at Oracle Arena.


In a Special Attraction heavyweight contest, an obviously trimmer James "Lights Out" Toney (72-6-3, 44 KO) of Calabasas, CA, made a big statement by stopping Matthew Greer (12-6, 11 KO), of St. Louis, MO at 2:33 of the second round. The 41-year old former IBF Middleweight, Super Middleweight and Cruiserweight Champion came in at his lightest weight since stopping Evander Holyfield in his debut as a heavyweight six years ago and dropped Greer with a left to the body midway in the first round. Toney pounded away to the head and body with combinations forcing Greer's corner to stop the fight.

"I felt great at the lower weight," Toney said. "When I was heavier I felt like I was losing my speed and stamina. Even when he hit me I wasn't hurt. Now I'm 41 years old, 21 really, and I'm a heavyweight fighting like a middleweight. If I can get one of the Klitschko sisters to fight me next fight, I'll come in lighter than I did for Holyfield, maybe 211 or 210."

"James proved that he's willing to work for one more shot and that's what we're going to try and get him," Goossen offered.

In the opening bout of the six-fight card promoted by Goossen-Tutor Promotions, junior featherweight Rico Ramos (12-0, 8 KO), of Pico Rivera, CA knocked out Mexico's Victor Martinez (15-6, 11 KO) at 1:46 of the third round. In a battle of unbeaten junior welterweights, Mike Dallas, Jr. (10-0-1, 2 KOs), of Bakersfield, CA earned a unanimous decision over New York City's Vincent Arroyo (9-1, 6 KO). Once-beaten Francisco Santana (11-1, 5 KO), from Santa Barbara, CA got the nod by split decision over Tony Hirsch (9-3-1, 5 KO), of Oakland, CA in a hotly-contested six-round junior middleweight bout. Finally, Terrel "Tiger" Williams (2-0, 2 KO), of Los Angeles, CA remained unbeaten in his young career with an impressive stoppage of Joshua Zurfluh (1-7-1), of Long Beach, CA just five seconds before the end of the second round. Article posted on 13.09.2009
previous article: Kim TKO's Marali, Wins IBO Title
next article: Mayol Loses to Calderon; Nietes Wins by Split Decision