Marco Huck edges Ramirez for WBO Cruiserweight Title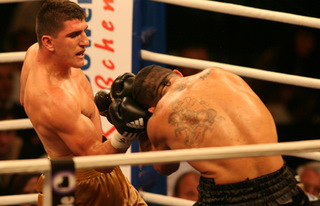 Marco "Captain" Huck is the new WBO Cruiserweight Champion following a spectacular victory over Victor Emilio Ramirez. In a hard-fought battle, Huck stuck to his coach´s game plan and was ahead 116-111, 116-111 and 115-112 after an action-packed contest. "This is an unbelievable feeling," the 24-year-old enthused. "Ramirez was an incredibly tough opponent. I have never been in the ring with someone punching that hard. But I did what my coach told me. I can´t describe what I feel. I am so happy to be world champion."

Backed by a ferocious home sell-out crowd at the famous Gerry Weber Stadium in Halle (Westphalia), Huck (26-1, 20 KOs) cleverly blocked Ramirez´ aggressive assaults. The Argentinean was on the front foot throughout, trying to push Huck against the ropes and punish him with strong combinations. Just as coach Ulli Wegner had instructed him, Huck avoided toe-to-toe exchanges. Instead, he patiently waited for his chance and landed explosive combinations to body and head. "I am incredibly proud of Marco," said Wegner. "We have been through quite a lot. He really showed that he learned from the loss against Cunningham 20 months ago. We knew that Marco needed to avoid open exchanges with his opponent. Ramirez is physically very strong and would not have been impressed. Instead, Marco had to wear him down and outbox him throughout the entire 12 rounds.."

The fans raised the roof every time Huck landed one of his trademark assaults. The 24-year-old German looked especially strong in the late rounds when he landed big to body and head. Not even a point deduction could threaten his win. "It was a hard fight," Ramirez coach Carlos Martinetti said. "Victor did well. He is still very young and you could see that he maybe lacked experience during key moments." Added Ramirez: "It was a tough fight against a very strong opponent. I feel like I won this fight."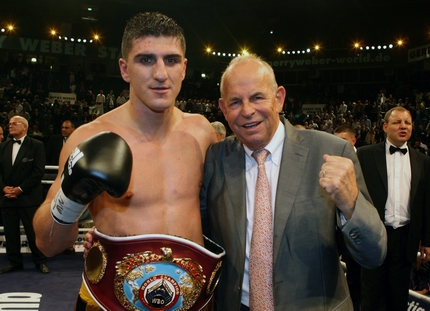 Further to WBA Heavyweight Champion Nikolai Valuev, WBA Super-Middleweight Champion Mikkel Kessler, King Arthur Abraham -- who has just vacated his IBF Middleweight belt to participate in SHOWTIME´s hotly-anticipated Super Six World Boxing Classic -- and WBA/WBC Female Welterweight Champion Cecilia Braekhus, Huck completes Team Sauerland´s line-up of world champions. "Marco has a great future ahead," manager Wilfried Sauerland said. "He is just 24 years old and he has a lot of potential. Today you could see that he has really matured since the Cunningham fight. I take my hat off to Ulli Wegner – he has done a magnificent job with Marco. He stuck to the game plan and that is why he is the new world champion."

On the undercard, Karo Murat (20-0, 12 KOs) successfully moved up to light heavyweight. He cruised to an uncontested points victory over Sergey Demchenko to win the vacant WBO Intercontinental Title. The former European Super-Middleweight Champion was ahead 120-108, 117-111 and 117-111 on the judges´ scorecards. It was a dominant performance by the 25-year-old, who landed hard hooks to body and head throughout the entire 12 rounds. He had his opponent in trouble on several occasions, especially in the 11th, but Demchenko survived. "I am pleased with my performance," he said. "The first fight at a higher weight is always tricky but I adjusted well." Added Wilfried Sauerland: "Karo proved that light heavyweight is the right division for him. I am sure he will climb in the rankings very quickly."

Gifted middleweight prospect Dominik Britsch also clinched a points victory over Salvatore Annunziata, while the "Nordic Nightmare" Robert Helenius knocked out fellow heavyweight Serdar Uysal with a punishing body shot in the sixth round. Lamon Brewster dropped a unanimous points decision against Gbenga Oloukun.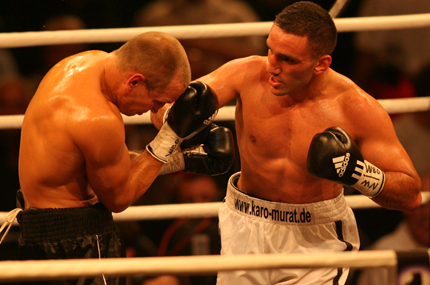 Article posted on 30.08.2009
previous article: How To Make Boxing Great Again
next article: Ricky Hatton Says He Has A "Sneaking Feeling" He'll Fight Again