Colombian Boxing: Urango, Alvarez and Rivas Destroyed Opponents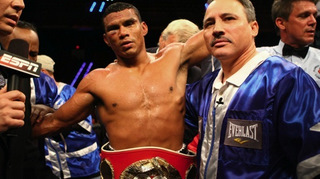 By Jaime Castro-Núñez. Photo: Courtesy of Marco Pérez – boxeodecolombia.com. After a poor start of the year when most Colombian contenders were unable to get important victories, finally three kids, two debutants and a world champion, rescued the country's reputation by brutally knocking out their opponents. To their credit, all of them fought outside Colombia and against US/Canadian rivals. And the reason I mention this is because there is a tendency among writers and commentators to criticize "those Colombian boxers coming out of nowhere" due to what they love to call "inflated" records. Let's examine these three bombers.

Juan Urango - On Friday night at the Seminole Hard Rock Hotel and Casino, IBF light welterweight champion Juan "Iron Twins" Urango (22-2-1, KO's 17) proved to be a walking piece of iron as he got up in the 6th round after being floored by Randall Bailey. During the following rounds Urango landed so many powerful shoots that clearly hurt the tough challenger, but it was not until the 9th round when Urango found his way to victory.. The champion dropped the opponent four times, one of which was not officially scored. In the 9th stance Randall kissed the canvas twice and once more in the 10th. For the 11th Urango was determined to win and kept castigating the opponent's body, which eventually made the trainer to stop the fight.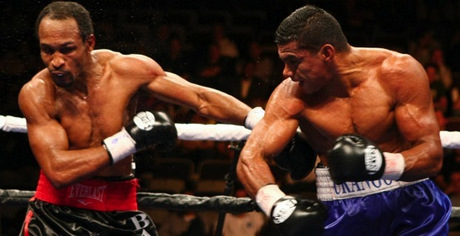 Eleider Álvarez

This powerful kid, who won the gold medal at the Pan American Games held in Brazil in 2007, successfully made his professional debut at the Montreal Casino by knocking out the more experienced Jesse Sanders (14-7-2, KO's 13) of Iowa, USA. "Storm" Álvarez caught "Iron Jaw" Sanders with a huge straight right to the chin that floored Sanders, who was not able to stand up. The official time of the stoppage was 2:03 into the first round.

Óscar Rivas

At the same Montreal Casino where Álvarez dispatched Sanders, heavyweight Óscar "Kaboom" Rivas accomplished the same by outclassing Joe Stoffle (11-19-2, KO's 10). The debutant proved to be too much for Stoffle, who was knocked down in round 2. He got up and managed to make it into the next round. Knowing his rival was hurt, "Kaboom" threw his best bombs to eventually stop the veteran at 1:33 into the third. Article posted on 30.08.2009
previous article: News: Jason Sia; Josesito Lopez; Crown Boxing
next article: Naseem Hamed Says Bad Hands Forced Him To Retire In 2002