Roy Jones To Address Saints; Jeff Lacy Lean And Ripped At 175!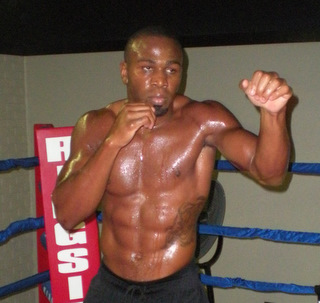 Note: Roy Jones Jr and Jeff Lacy will be on the sidelines at Wednesday's New Orleans Saints' practice in Metairie, LA. Coach Payton has asked Roy Jones Jr. to address the team afterwards. Jones will.

Biloxi, MS (August 11, 2009) -- Jeff "Left Hook" Lacy worked out today in Biloxi preparing for Saturday night's showdown against eight-time world champion Roy "Captain Hook" Jones Jr. This is Lacy's first time fighting at the 175-pound weight limit and one would think he may come in a little soft, but that is definitely not the case. Lacy still has the sculpted body, only now he's carrying seven more pounds of muscle (see attached photo).

"And I never lifted a weight in my life," said Lacy. "It's all natural, and that (ticks) some people off. If got most of it from my dad who is 6'4" 240 (pounds). Funny thing is, I'm the only one out of nine kids that is under 6-foot, except my one sister who is 5'11". I have another sister who is 6'3"."

Two of Lacy's brothers "dabbled in boxing" and one played baseball for a while "but I'm the last one standing." Right now I weigh 175 and I feel real good. I feel real strong," said Lacy about fighting at the new weight. "I ran a little bit this morning and I'm going to shake out right now.."

Lacy jumped rope for 25 minutes straight then shadow boxed for another 20 consecutive minutes in the sweltering (94-degree, no A/C) heat in Dixon's Dungeon, the only local boxing/MMA gym. "It's really hot in here," said Lacy as the sweat flew in the air with every punch. "I can't wait for Saturday night," he quipped while toweling off as he walked out the door.





Tickets for " Hook City ," presented by Square Ring Promotions in association with Left Hook Promotions and Beau Rivage Resort & Casino, are priced at $150, $125, $100, $75, $50 & $25 are available at the MS Coast Coliseum Box Office, all Ticketmaster locations, by calling Ticketmaster at 800.745.3000 or on-line at Ticketmaster.com. The event will be broadcast live on pay-per-view. Article posted on 11.08.2009
previous article: Sampson Boxing, LLC Responds to Universum Statement
next article: UK Boxing: Tyson directs Fury at Maloney's Baloney; Sexton: Rogan's An Old Banger!