Roy Jones Junior Vs. Jeff Lacy This Saturday - Anyone Excited?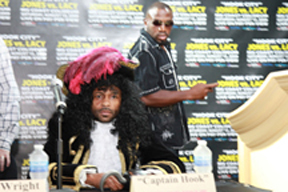 by James Slater - In truth, this coming Saturday night's light-heavyweight bout, between a former multi-weight world champion and a former IBF super-middleweight champion, is not a bad match-up. However, the way the two pugilists involved, in Roy Jones Junior and Jeff Lacy, have been going about things in the hyping of the fight department you'd think a classic was on its way.

Maybe a few years back, when Lacy was an unbeaten would-be star, a fight between he and Jones would have been one to be sure not to miss tuning in for, but now? Sure, with Jones we are talking about an all-time great, and an all-time great figures to be worth watching even when he's aged 40 and has not won a truly meaningful fight for a number of years. But when one thinks back to how extra-special Jones Junior was it's kind of tough seeing him trying to do what he once did with ease, and struggling..

Jones Junior has certainly gone all out to sell as many tickets as he can for August 15th's fight; even dressing up in a pantomime costume that would have even embarrassed British boxing hero Frank Bruno. It's all a bit sad really. Still, both the future Hall of Famer and Lacy are seriously enthused about their upcoming tussle, and maybe we should get on board and try to enjoy the "Captain Hook" show too.

And both men have predicted a KO win, promising they will put on a great fight before emerging victorious. Each man is a faded version of what he once was (even if, as some critics have suggested, this was never all that much in Lacy's case), but Jones, though the older man by eight years, seems to have more left. The fight has been given its "Hook City" tagline due to the fact that Lacy carries the "Left Hook" nickname and because Jones says he is a master at throwing a hook. So who will prevail in this battle of faded talent?

Jones does seem to have more left in the tank, and he also appears the faster of the two fighters. He also has retained a good deal of ambition. The plan for Jones, if victorious, is to then travel to Australia to fight up at cruiserweight against Danny Green, who faces Julio Cesar Dominguez on Saturday's under-card. R.J will not want to see these plans spoilt by Lacy - a fighter he feels he is vastly superior to.

On the other hand, Lacy has already spoken about quitting the game once before (in fact Jeff actually did announce his retirement before being persuaded to "come back" and go head with his fight with Jermain Taylor). So maybe, or even probably, Lacy is half way out of the sport already. It seems it will be easier for "Left Hook" to give it up than it will be for Jones, and that should give Roy the edge on Saturday.

Though there has been all this talk about a KO from both sides, I don't think we'll see one. Look instead for Jones to do pretty much all he can these days, and box in spurts, fight in spurts and coast and showboat his way to a clear points win.

Article posted on 11.08.2009
previous article: Roy Jones & Danny Green in Pensacola Monday
next article: News: Shumenov fighting for history; Universum wins court case against Campillo!