"I'll Defeat Chris Namús This Saturday!" - Leli Luz Flórez
By Jaime Castro-Núñez, Photo: Courtesy of SINUBOX - Leli Luz Flórez, the Colombia-born female boxer who challenged WIBF featherweight queen Ina Menzer back in 2006, will have on Saturday, August 8th, her second opportunity to become a world champion. In that opportunity Menzer and Flórez produced a very interesting fight, with the champion landing several good punches and the challenger not only assimilating them, but also attacking throughout the ten rounds. Even though Flórez kept up the pace of the fight, it was Menzer who got the best part of it, thus winning by unanimous decision..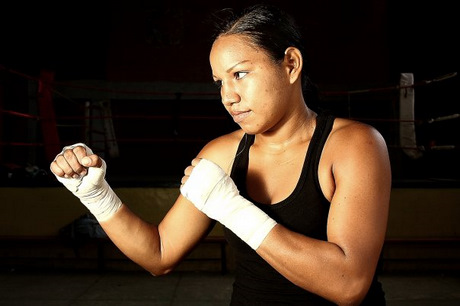 It took Leli Flórez almost three years to have another chance to fight for the championship. Managed by Colombian promoter Andy Espinoza of SINUBOX and trained by Pedro Vanegas, she claims to be ready to defeat beautiful Chris Namús. "I've been waiting for this moment since I lost to Menzer. After losing in Germany I quit boxing for almost two years, but I came back stronger and I haven't lost a single fight since then. Mark my words: I'll defeat Chris Namús this Saturday! I want to make history, I want to be Colombia's first female champion, I want to be an example for those girls who want to practice this beautiful sport," said the 24-year-old pugilist from Monteria.

Chris Namús, currently 9-0-0 with 2 KO's and Leli Luz Flórez, currently 13-3-0 with 6 KO's, will fight for the interim WBC female light welterweight title in Montevideo, Uruguay, at Estadio Cr. Gastón Guelfi/Palacio Peñarol. Article posted on 04.08.2009
previous article: 'Left-Hook Lounge': Vivek Wallace's mailbag feat. Bradley/Campbell, Alexander, Cotto/Pacquiao, and more!