Cayo and Rossy win by unanimous decision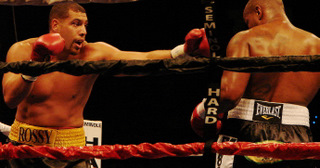 By Ron Scarfone at ringside - At the Seminole Hard Rock Hotel and Casino in Hollywood, Florida, Seminole Warriors Boxing in association with Bad Dog Productions presented a fight card featuring two championship bouts for minor belts. In the main event, Victor "Mermelada" Cayo of Santo Domingo, Dominican Republic defended his WBA Fedecaribe junior welterweight title against former two-time IBF lightweight champion Julio "The Kidd" Diaz of Coachella, California. Diaz said that his body has outgrown the lightweight division, so he decided to move to the junior welterweight division. Although the undefeated Cayo was a risky choice for his first opponent in a new weight class, Diaz wanted to be in a meaningful fight to find out if he can still be competitive against good opposition. Diaz's previous fight was a loss to Rolando Reyes, so it was important for Diaz to get back to winning. Unfortunately for Diaz, Cayo was not intimidated by facing the former world champion and had the utmost confidence that he would remain undefeated. Cayo also had to deal with the depressing news that his original trainer Rudy Pena had died of a heart attack recently..

Cayo displayed a daring fighting style in which he frequently would have his long arms hanging low and jutting his face forward. In spite of this, Cayo was hardly ever in danger because his speed and arm length were the determining factors in this fight. Cayo is 5'11" in height and has long arms, so he uses his fighting style to make his opponents feel comfortable and then throws his punches as they come in. Cayo connected with a right hand to the head at the bell to end the second round which caused Diaz's legs to wobble. Cayo had no qualms about switching from an orthodox to a southpaw stance in the third round. Diaz also switched to southpaw in response. Then, Cayo decided to switch back to orthodox and Diaz did the same. With about 45 seconds left in the fourth round, Diaz landed a right hand to the head of Cayo and then pushed him into the ropes. Cayo almost fell down and had his back to the ropes, but referee Sam Burgos ruled it a slip. With five seconds left in the eighth round, Cayo connected with a big left hook that staggered Diaz.

The fight was scheduled for ten rounds instead of twelve rounds even though a belt was at stake. Diaz needed a knockout to win, but could not get it. In total, Cayo landed an incredible 266 out of 289 punches to the head of Diaz. The punches that Diaz landed were more equally distributed to the head and body of Cayo, but Cayo was the far busier fighter. The judges scored it 98-92, 97-93, and 96-94 all in favor of Cayo by unanimous decision. Although not a shot fighter at age 29, Diaz cannot be considered among the elite any longer after losing three of his last five bouts. Diaz moved up in weight because he could no longer make weight comfortably at lightweight. Arturo Gatti had the same issue when he had to move to the welterweight division in the last three fights of his career, but was not able to have the same success that he had in the lower weight classes. Cayo improves his record to 23-0, 15 KOs whereas Diaz falls to 36-6, 26 KOs.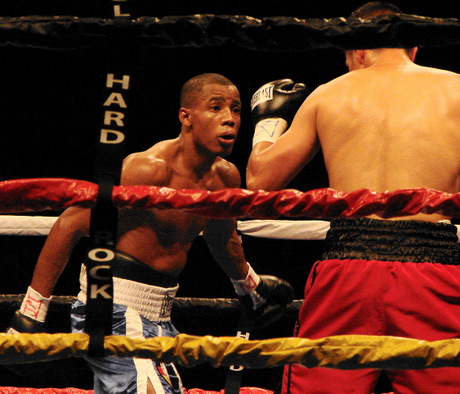 In the co-main event, two belts were at stake when Derric "El Leon" Rossy of Medford, New York faced Carl Drumond of Limon, Costa Rica for the WBA Latin American and WBC North American heavyweight titles. Rossy is a former football player from Boston College who spent three months with Shaolin monks in China to learn how to become a better fighter mentally after his two losses against contenders Eddie Chambers and Alexander Dimitrenko. Drumond has one loss by technical decision to former WBA heavyweight champion Ruslan Chagaev which was stopped due to an accidental headbutt that cut Chagaev. At 237 pounds, Drumond was at the heaviest weight of his career against Rossy and it showed. He looked slow and sluggish throughout the bout while Rossy was much faster. In the second round, Rossy threw a double left jab which was blocked by Drumond, but Rossy followed up with a right uppercut that snapped Drumond's head back. The plodding Drumond hardly threw any punches as there was no urgency in his demeanor. Drumond averaged only about seven punches landed each round. Rossy moved around the ring with ease and was not pressured at all by Drumond even though Drumond was following Rossy around the ring.

In the eighth round, former heavyweight champion Oliver McCall, who was among the spectators in the audience, stood up and shouted at Drumond trying to provide him with some tips as to what combination he should be throwing. McCall even made sure that Drumond knew who was screaming by shouting "This is Oliver!" in addition to his sage advice. This may have inspired Drumond because he had his best round of the fight, landing a left uppercut to the body and a right hook to the head within the last minute of the round. Rossy pushed Drumond away, but Drumond came right back and pursued Rossy until the bell rang to end the round. Drumond landed a low blow with a left uppercut in round nine, but this may have happened because Rossy pulled Drumond's head down with his left glove. Referee Frank Santore Jr. paused the fight, but Rossy did not need much time to recover and the fight resumed. Later in the round, Rossy landed a big right uppercut to the head that staggered Drumond into one of the ring corners. In the tenth and final round, Drumond was too tentative and could not get inside. Rossy easily kept him at bay with left jabs and straight rights. The judges' scores were all identical at 99-91 in favor of Rossy by unanimous decision. Rossy improves his record to 22-2, 12 KOs whereas Drumond falls to 26-2, 20 KOs.

The undercard bouts were highly entertaining. Donovan "Da Bomb" George of Chicago, Illinois faced Emmanuel Gonzalez of San Juan, Puerto Rico in the super middleweight division. George walked to the ring with the '80s song "You Dropped A Bomb On Me" playing in the background. Gonzalez had lost his last five fights, but two of those losses were by majority decision to Gennady Martirosyan and Dyah Davis. The heavily tattooed and muscular George was effective with the straight right in round one. When Gonzalez and George got tangled up, Gonzalez hit George in the back of the head and this angered George. George was so physically stronger compared to Gonzalez that it was just a matter of time before George would drop "Da Bomb" on him. Gonzalez was getting weaker from taking tons of punishing shots. In round four, Gonzalez switched to a southpaw stance in desperation, but it only made things worse for him. George dropped Gonzalez when he dropped a bomb in the form of a body shot in one of the ring corners. Referee Sam Burgos felt that Gonzalez could not continue and stopped the bout at 53 seconds of the fourth round. George won by TKO and remains undefeated at 17-0-1, 15 KOs whereas Gonzalez suffered his sixth straight defeat and falls to 9-6, 4 KOs.

Danny O'Connor of Framingham, Massachusetts faced James "Sweetwater" Helmes of Cincinnati, Ohio in the junior welterweight division. The southpaw O'Connor was an alternate for the United States at the 2008 Olympic Games. Helmes gave O'Connor all he could handle early in the fight. The first two rounds were close and competitive. Helmes even wobbled O'Connor briefly in round two. However, Helmes seemed to be getting weaker in round three as the punches to the body by O'Connor were taking their toll. O'Connor was landing more often and his punches were more powerful than Helmes in round four. A straight left by O'Connor swiveled Helmes' head to the side in round five. The fight went the six round distance and the judges' scorecards. The judges had it 60-54, 59-55, and 59-55 in favor of O'Connor by unanimous decision. O'Connor remains unbeaten and improves his record to 8-0, 2 KOs whereas Helmes falls to 6-5, 1 KOs.

Artur Szpilka of Wieliczka, Poland faced Jeremy May of Ocala, Florida in the cruiserweight division. The southpaw Szpilka had an easy time against May. In round two, a left hook to the body knocked down May in one of the ring corners. May got up before the count of ten, but referee Sam Burgos waved it off anyway. May was unhappy with the stoppage and felt he could continue. The fight was stopped at 1:20 of the second round and Szpilka won by TKO. Szpilka remains unbeaten with a record of 5-0, 3 KOs whereas May remains winless at 0-2, 0 KO.

Jonathan "Mantequilla" Gonzalez of San Juan, Puerto Rico faced Jorge Barajas of Boise, Idaho in the welterweight division. Gonzalez is a former member of the 2008 Puerto Rican Olympic team. Gonzalez has immense punching power and knocked down Barajas with a straight right to the head. Barajas got up, but was staggered by another straight right. Referee Sam Burgos stopped the fight at 1:05 of the first round and Gonzalez won by TKO. If Gonzalez can take a punch as much as he gives one, he has the potential to become a world champion in the future. Gonzalez improves his record to 4-0, 4 KOs whereas Barajas falls to 5-4, 2 KOs.

Luis "La Estrella" Franco of Havana, Cuba made his pro debut against Leroy Padilla of San Sebastian, Puerto Rico in the junior lightweight division. A former 2004 Olympian with over 400 amateur fights, Franco decided to defect from Cuba in order to make money for himself and his family as a professional boxer. The 27-year-old Franco is trained by Orlando Cuellar. Franco made an explosive debut as a pro with relentless body shots in piston-like fury. Padilla was knocked down, but referee Frank Santore Jr. deducted two points away from Franco because he pushed Padilla while he was down. It did not matter because this fight had no chance of going the distance. Padilla got up from the knockdown, but could only cover up to block the continuous onslaught. Padilla was not throwing any punches, so the referee stopped it at 2:14 of the first round. Franco won by TKO and gets his first win as a pro with a record of 1-0, 1 KO. Padilla loses for the first time as a pro and falls to 1-1, 1 KO.

A ceremonial ten count with the bell was done in memory of former welterweight and junior middleweight champion Vernon "The Viper" Forrest who was murdered and trainer Rudy Pena who passed away due to a heart attack. Article posted on 04.08.2009
previous article: Boxing Results: Billy Lyell Beats Overbey; George Crushes Gonzalez; Tommy Karpency Wins
next article: Sultan Ibragimov Says He's Not Retiring, Junior Witter Says He Won't Either