Timur Ibragimov KOs Willie Palms
by Pavel Yakovlev - (ATLANTIC CITY – 7/31/09) Timur Ibragimov stopped Willie Palms in the fifth round of a heavyweight contest at Resorts Hotel & Casino. Ibragimov was in full control of the action from the opening bell, scoring two knockdowns in the third and one in the fifth. Referee Ricky Vera waived the fight off at 2:00 of round five after Palms was driven into the ropes by a barrage of punches.

Ibragimov connected repeatedly with right hands throughout the fight. In the third round, a solid right to the head floored Palms for the first time. Another knockdown occurred later in the round after Ibragimov hurt Palms with a right hand followed by series of blows that had Palms in trouble on the ropes.

Palms mounted a brief counterattack in round four, as he connected with a few solid punches.. Ibragimov however was clearly the more skilled and better conditioned fighter, and he had no trouble maintaining control of the action by using his steady left jab and frequent right cross to the head. Throughout the match Palms was driven into the ropes by Ibragimov's combinations.

In the fifth round, Ibragimov knocked down Palms again, and afterwards he dislodged Palms's mouthpiece out with a solid left. The referee waived the action off as Palms was being punished on the ropes.

Palms vigorously protested the stoppage, arguing that he was unhurt and should have been allowed to continue. Indeed, it is probable that Palms could have fought on, and numerous ringsiders felt the match was stopped abruptly, too. Nonetheless, the action was extremely one-sided, as Ibragimov was dishing out a measured, steady beating to his outclassed but durable foe. Palms's only response was to clown and use stalling tactics in an effort to survive the fight. Apparently the referee was impatient with Palms's survival-mindedness and saw no reason to allow the bout to continue given that Palms was continuously absorbing punishment.

Ibragimov (25-2-1; 14 kayos) in some ways exceeded expectations because he repeatedly hurt and knocked down the durable Palms. Palms (10-8-1; 5 kayos), despite being a tune-up opponent who was expected to lose, is known for being able to take a punch and remain on his feet until the final bell. Ibragimov is now seeking to advance himself in the ratings by winning a regional title or continental title.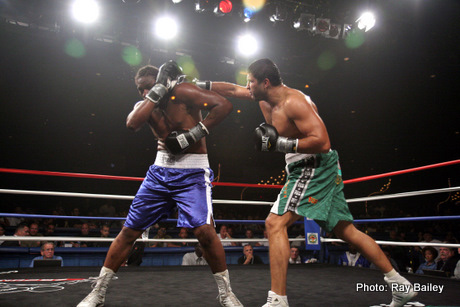 Ibragimov, who sparred with Oliver McCall in preparation for tonight's bout, weighed 226 lbs. Palms weighed 251 lbs. The card was promoted by Diane Fischer's Dee Lee Promotions.

In the main event, Prince Badi Ajamu (27-3-1; 15 kayos) won a 12 round unanimous decision over DeAndrey Abron (15-6; 10 kayos) in a light heavyweight match. The scores were 120-108, 118-110, and 115-113. Ajamu took the National Boxing Association light heavyweight title as a result of this win. Ajamu weighed 175 lbs., and Abron weighed 174 ½ lbs.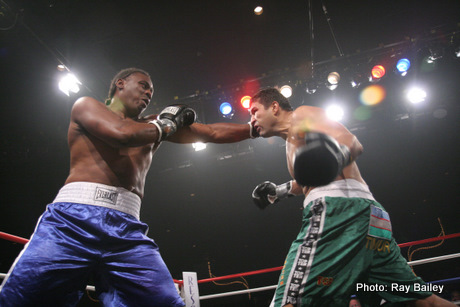 OTHER BOUTS

Light Heavyweight: Lavarn Harvell (4-1; 1 kayo) KO2 George Perez (0-1)
Super Middleweight: Joel De La Paz (3-2; 2 kayos) KO1 James Justice (0-3)
Light Heavyweight: Pedro Sandana (1-0) W4 Maurice Amaro (0-1)
Featherweight: Amanda Serrano (4-0; 3 kayos) TKO2 Christina Ruiz (1-1; 1 kayo)
Super Flyweight: Qa'id Muhammad (5-0; 5 kayos) KO3 Alfredo Berto (1-3)

(credit to John O'Kane of www.pressofatlanticcity.com for providing information for this article) Article posted on 03.08.2009
previous article: Down on Boxing?