So, What Now For Junior Witter?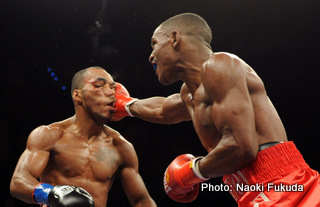 by James Slater - Junior Witter, even at the age of 35, talked a great fight and had many big plans for the future heading into last night's WBC title fight with the much younger Devon Alexander. Witter, who said before jetting off to the States that his power, having been on vacation, "was back now," failed to live up to any of the boasts he'd made before the fight that gave him a chance to regain the belt he lost to last night's headliner Timothy Bradley.

Quitting, for the first time in his entire career, with an injured hand (Junior is claiming a hairline fracture resurfaced), Witter's career is in genuine doubt. Say what you want about "The Hitter," but he was never a fighter we thought we'd see quit on his stool. His capitulation was even more surprising because southpaw Alexander, who improved to 19-0(12) didn't exactly hit him with any real bombs. Indeed, the fight was no war..

So, what can Witter, 37-3-2(22) do now but call it a day and retire? Surely hoped for fights with the likes of Amir Khan (an man a cocky Witter had said he'd do away with inside three-rounds) and Tim Bradley, in a rematch, have evaporated now. Never a man who gained major fan support or adulation, the former champ will likely face real flak from fans now. No-one likes a big mouth; even less so when the big mouth fails to live up to his boasts and instead quits in the corner.

No-one is doubting the fact that Witter DID injure his hand, and medical tests will in all likelihood prove the fracture did occur. But great fighters fight on under such circumstances. It is apparent that Witter is no longer even close to being great, if he ever was. Sure, it's easy to come down on a fighter when he's, well, down, but Witter called Ricky Hatton all manner of names when he was unable to land a fight with him - even questioning "The Hitman's" heart. There is little doubt Hatton's loyal fans will be feeling somewhat pleased about what Witter was reduced to last night. Now whose heart is in question?

Witter may fight on, but it will be tough for him to get motivated for domestic and even European-level fights. And after what he did last night it's a pretty sure thing that these are the only opportunities the 35-year-old will get if he opts to box on - there sure won't be any rematch with Alexander. A crack at another version of world honours looks a real long shot for Witter, too. No, it seems we can say goodbye to the man who was one of Great Britain's most naturally gifted, yet at the same time frustrating-to-watch fighters.

Witter may not have just quit against Alexander, he may have thrown the white towel in on his whole career.

Article posted on 03.08.2009
previous article: Fedor Signs With Strikeforce!
next article: Floyd or Roger Mayweather: Who is the Greater Trainer?