Nate Campbell, Don King To Challenge Tim Bradley's Win - Will The TKO Stick?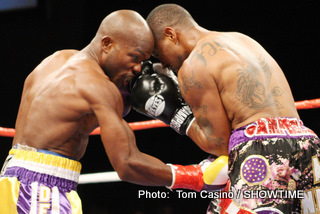 by James Slater - Will the 3rd-round TKO victory defending WBC light-welterweight champion Timothy Bradley scored over challenger Nate Campbell stick? That's the question many people are asking right now, and it seems some feel there is a good chance the result could be changed to a No-Decision.

Referee David Mendoza ruled that the blood that caused Campbell to stay on his stool at the end of the 3rd-round was caused by a punch; Campbell and his promoter Don King disagree. As fans know, if a fight is stopped due to an accidental foul before four rounds are completed, the bout is ruled a No-decision. This is what "The Galaxxy Warrior" and his promoter King are now shooting for.

We've seen it happen before, too. Heavyweight James "Lights Out" Toney went home with a 3rd-round TKO win over Hasim Rahman in a rematch the two men fought quite recently, only for "The Rock" and his promoter to successfully appeal the result and get it changed to a No-decision.. In this fight, as with last night's, a cut was opened on the man originally deemed to have lost, but doubts surfaced as to how the cut was caused; by a punch or by a butt.

Campbell is claiming he was butted by Bradley in the 3rd-round and that this is the reason he was unable to continue to fight. So, could Bradley's win be taken away from him? It may take time for us to get an answer, but this could happen. So too could a rematch between the two 140-pounders.

For his part, as reported on Ring on line, Bradley would take a rematch, saying a second fight with Campbell would be "easy money." If, however, the situation with Campbell turns out to be nothing but a lot of fuss about nothing and Bradley's win sticks, the plan will be for the man known as "Desert Storm" to next fight interim belt holder Lamont Peterson. Bradley did say, though, that if he had to he'd fight Campbell again "in a minute."

In truth, neither fight is the big fight Bradley wants. Massively ambitious and desperate to prove he is the world's best 140-pound fighter and one of the best pound-for-pound, Bradley wants Manny Pacquiao. Before last night's fight, Bradley was quoted as saying a KO win over Campbell would put him up there with the stars. It seemed as though he'd gotten himself at least a TKO over Nate, but now even this looks to be in some doubt. What a same. For both fighters.



Article posted on 03.08.2009
previous article: Mike Tyson Set To Do Four-Day UK Tour This Year - And This Time Fans Will Be Able To See Iron Mike For Just £25.00!