Bradley Defends WBO Strap With Controversial Victory Over Campbell On SHOWTIME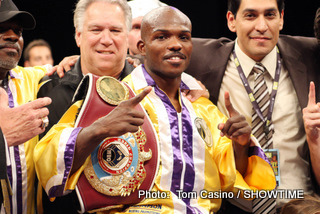 RANCHO MIRAGE, Calif. (August 2, 2009) – Timothy Bradley (25-0, 11 KOs) retained his World Boxing Organization (WBO) Junior Welterweight title with a highly controversial third round TKO over Nate Campbell (33-6-1, 25 KOs) on Saturday's SHOWTIME CHAMPIONSHIP BOXING® telecast from the California desert.

Referee David Mendoza ruled that a Bradley punch, not an accidental head butt, in the third round caused a cut and damage to Campbell's vision that forced the ringside physician to halt the contest on the advice of Campbell's corner before the start of round four.

In the SHOWTIME® co-feature, young gun Devon Alexander (19-0, 11 KOs) outworked Junior Witter (37-3-2, 22 KOs) to win the vacant World Boxing Council (WBC) Super Lightweight (140-pound) Championship by TKO after Witter quit on his stool after eight rounds..

The evening was promoted by Gary Shaw Productions and Thompson Boxing Promotions in association with Don King Productions and Agua Caliente Casino • Resort • Spa.

Bradley, of neighboring Palm Springs, Calif., was the overwhelming house favorite with his fans cheering wildly for him and booing his Jacksonville, Fla., opponent. Both fighters came out strong in the first round landing punches and pressing the action. In the third, after an accidental clash of heads, Campbell signaled to Mendoza to acknowledge the mishap as Bradley unleashed a fury of punches before the bell.

Campbell returned to his corner with blood surrounding his eye and was heard saying, "I can't see, I can't see. My eye is blind. I have spots in my eye."

Ringside physicians could not allow the bout to continue and Campbell offered no protest as the fight was called.

When the decision was announced—a TKO victory for Bradley, rather than a No Contest—heated arguments ensued from Campbell, his camp and promoter Don King.

Campbell told SHOWTIME reporter Jim Gray, with Bradley standing close by, "Of all the fighters in boxing, I am the only one who has fought anyone you put in front of me and I never complained about a decision. The camera caught it and the ref said it was a head butt. He never hurt me with nothing. I'm not mad with Tim. He did his job but this is wrong. I shouldn't have that TKO on my record. It's wrong."

To Bradley, Campbell said, "Be fair. Be honest (about the decision). It's about what is right and what is wrong."

Mendoza stood by his decision, explaining to Gray, "They both were head butting each other as they were fighting and after that last head butt, Bradley threw a punch and that is when he started bleeding. The blood didn't start coming out until the punch. The last thing I saw before the blood started coming out was a punch and I have to go with a punch."

When it was Bradley's turn to talk, he said, "I don't know, I was just in there fighting. I felt our heads collide and I see him get a cut. But I attacked and the ref was doing his job. I don't know what's going on. I'm here doing my job taking care of my business in the ring. It's not my job and not my problem. It didn't even matter. He was going to get beat tonight anyway. As the rounds kept going on, he was getting older and older."

In the co-feature, Alexander, of St. Louis, Mo., was able to withstand and eventually conquer the unorthodox fighting style of England's Witter. Witter, who kept switching stances and throwing wild shots, wasn't able to hurt Alexander who kept moving forward. After the eighth round Witter walked over to Alexander and told him and his corner that he could not go on.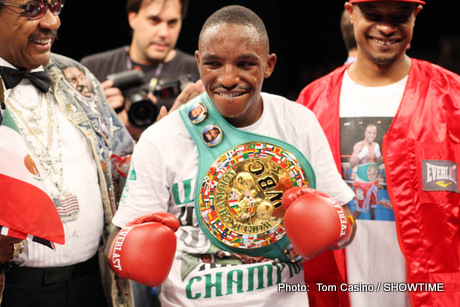 After the fight Witter explained, "My elbow went in the fourth round and basically I couldn't keep him off with one hand. I battled through for a few rounds. I kept switching, which was working to an extent, but I couldn't box the way I wanted to. I didn't feel good. I didn't feel good at all."

When asked if the decision was his or came from his corner, "It was a mutual agreement. We decided to let this one go. As much as I wanted to do it, I just wasn't able to. It's not that I wanted to quit, I wanted to win. I think it was a close fight."

Witter was down 80-72 twice and 79-73 on the official judges scorecards.

Witter followed by saying this would not be his last fight but that he just needed to get with his promoter and trainers and decide what the next move will be.

An extremely emotional Alexander was humbled by the win and remembered his father who passed away when he was a teenager. He said, "This feels good, baby. This is to my dad. I got it now. I got it. I train hard everyday. I didn't miss a day at the gym when I was an amateur and I stay dedicated through my professional career. Now, I have the green belt, the title. My coach (Kevin Cunningham) never gave up on me and now I got it. I had Don King with me and he never gave up on me. We are taking it back to St. Louis."

The 22-year old continued, "I've got a dynamite team and we had a game plan. We had an A-plan, a B-plan, and a C-plan. We had all of it. I told him in the press conference there is nothing he could do in the ring to stop me from walking out with that belt."

SHOWTIME CHAMPIONSHIP BOXING announcers Gus Johnson and Al Bernstein called the action from ringside with Gray reporting. The executive producer of SHOWTIME Sports is David Dinkins Jr., with Ray Smaltz producing and Bob Dunphy directing.

Saturday's telecast will re-air on SHOWTIME and the premium network's multiplexes this week as follows:

DAY CHANNEL
Wednesday, August 5, at 9:30 p.m. ET/PT SHOWTIME 2®
The fights will be available ON DEMAND from August 4 – August 31. Article posted on 02.08.2009
previous article: "Lethal" Lindsay Garbatt Hits Maureen Shea Like a Million Bucks!
next article: Valuev vs Haye: Does Nikolai Valuev's reckoning now await him?