Harris Shocks Quintero, Avalos Remains Unbeaten Friday on ShoBox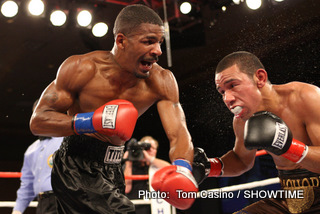 TEMECULA, Calif. – (July 31, 2009) – In a tremendous all-action fight, underdog Tyrone Harris shocked talented, once-beaten lightweight prospect Marvin Quintero with a eighth round TKO victory Friday on SHOWTIME's ShoBox: The New Generation. In the co-feature, bantamweight prospect Chris Avalos (11-0, 9 KOs) kept his unbeaten record intact with a second round TKO over Andre Wilson (11-3-1, 9 KOs). The fight originated from Pechanga Resort and Casino in Temecula, Calif. and was promoted by Gary Shaw Productions, LLC.

The main event featured non-stop, back-and-forth action throughout the eight rounds. Quintero and Harris continuously exchanged blows, but Harris, of Lansing Mich., took control of the fight in the middle rounds. Harris started landing the more damaging punches on the favored Quintero, who injured his right hand in the third round..

Leading on two of the three scorecards going into the eighth, Harris started to do some serious damage to the injured Quintero. Up against the ropes and defenseless to Harris' onslaught of punches, the referee stopped the fight at 1:05 of the eighth. Quintero, of Tijuana, Mexico, had taken more than eight consecutive punches to the face and was unable to counter or protect himself against the ropes.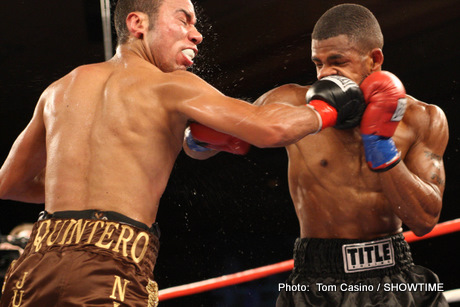 "I tried to keep control of the fight," Harris said. "My corner told me to pick up the pace and keep at him. I kept putting my hands on him and he was feeling it in the last couple of rounds.

"The referee knows what he's doing. If you can't defend yourself then the fight has to be stopped. I wasn't paying any attention to it. I was concentrating on knocking him out."

Quintero, who valiantly fought with a possibly broken hand for five rounds, did not disagree with the referee's decision.

"My hand really hurt," Quintero said. "I broke it and I couldn't hit back. I agree with the referee. I tried to continue, but I really couldn't hurt him."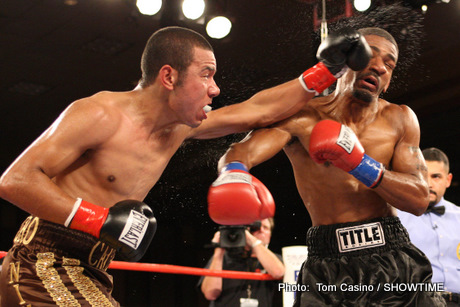 ShoBox's play-by-play man Nick Charles knew the fans were treated to a big shocker on Friday night.

"A huge upset here in Temecula," Charles said. "Tyrone Harris slams the door shut on Marvin Quintero. Harris beat him flat out, regardless of any hand injury. Harris out-boxed him and out-punched him. He deserves the biggest win of his career, a win that should completely revitalize his career."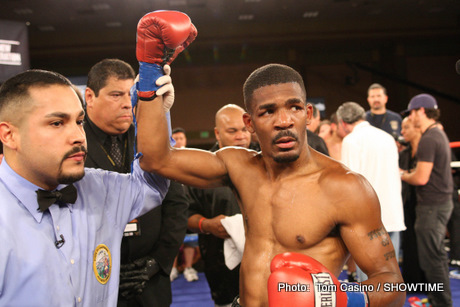 Former light heavyweight kingpin and ShoBox special guest commentator Antonio Tarver agreed.

"Many people had questioned Tyrone Harris' heart, his determination and thought he was becoming a journeyman," Tarver said. "Well, the questions were answered tonight. He should be proud of his performance tonight."

In a quick, but exciting, co-feature, the 19-year-old Avalos, proved why he is a highly regarded unbeaten prospect.

The first round was a feeling out process, but Avalos, of Tijuana, Mexico, came out swinging in the second. The hard-hitting prospect, who was facing his first true-southpaw, floored Wilson with a solid left hook just seconds into the round. Wilson, of St. Joseph, Mo., got up, but Avalos continued his onslaught and floored Wilson again seconds later.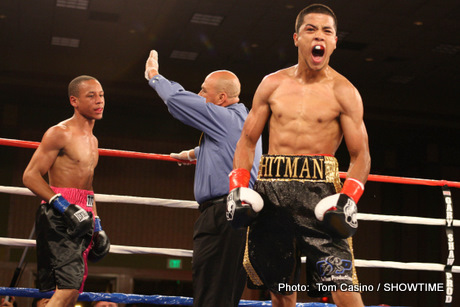 The determined southpaw was clearly hurt, but he rose from the canvas once again. This time, it didn't last long as Avalos unraveled a flurry of punches on a defenseless Wilson. The referee was forced to end the fight at 1:28 of the second.

"I just went in there with the mindset that I was going to win," Avalos said. "We've been working with a lot of southpaws, figuring out that uppercuts and double jabs would work. The double jab worked tonight. I went in there thinking I was going to win and I did."

A clearly frustrated Wilson knew that he made some mistakes.

"I just got lazy with my punches," Wilson said. "After the first I got way too comfortable with him. I thought I could control the fight after the first. I just got way too lazy and he caught me unexpectedly."

Nick Charles called the action from ringside with the Steve Farhood serving as expert analyst and Antonio Tarver as special guest commentator. The executive producer of "ShoBox" is Gordon Hall with Richard Gaughan producing and Rick Phillips directing.

Friday's bouts will re-air this week as follows:

DAY CHANNEL

Thursday, Aug. 6 at 10 p.m. ET/PT SHO 2

AVAILABLE ON DEMAND STARTING 8/3 AND ENDING 8/30

For more information on "ShoBox: The New Generation" and SHOWTIME CHAMPIONSHIP BOXING telecasts, including complete fighter bios, records, related stories and more, please go to new SHOWTIME website at http://sports.sho.com/ Article posted on 01.08.2009
previous article: Main Events Arturo Gatti Statement
next article: Assault In The Ring debuts tonight at 10 p.m on HBO