The Long And The Short Of It: Nunez/Granados – Arnaoutis/Feliciano
10.23.04 - By Wray Edwards: Finally, after we have waited patiently for some Friday night action, Showtime's "ShowBox The New Generation" had its debut last night. With ESPN's "Friday Night Fights" on hiatus, and things slow over at HBO, there has been precious little for us Boxing fans to enjoy. With Nick Charles at the helm and his sidekick Steve Farhood lending color, things are getting back on track for the year-end festivities. Gary Shaw productions & the Chumash Casino Resort, in Santa Ynez, California provided the boxers and the canvass for two very different matches.

The first bout featured an eight round, Junior Lightweight contest between 28 year-old Brazilian Agnaldo Nunez 9-1-5, and 20 year-old Isidro Granados 12-1-8 from Bellflower, California. Granados, moving up from Featherweight faced, in Nunez, a man 8 to 10 pounds heavier, and 8 years older. More than that, Isidro was about to take on a very centered boxer with mature skills and determination. By contrast Granados' style was haphazard and inconsistent.

The first three rounds were generally close, with an edge to Nunez, being punctuated only by a head-butt incident at 2:20 of the second frame. Both guys must have pretty tough skin as there were two or three more cranial clashes resulting in no cuts. In the fourth the chin contest began. At 1:23 Granados threw a right counter which put Nunez completely at the mercy of gravity as he went to his knees. It was a good, solid punch. Agnaldo got to his feet, took his eight, and closed out the round in dominant fashion. Several of his shots were equal to or better than the one which dropped him, giving Granados the edge in the chin department. I scored the round 10/9 for Granados as Nunez came back so strong for the rest of the round.

Round five had Nunez starting to pull away in the stamina department with greater accuracy and work-rate. Round six was deja vu all over again as Granados demonstrated his counter left briefly parking Nunez on the canvass, and this time he was flat on his back. Agnaldo got vertical
once again, took his eight, and had some shaky moments as he fought back to the end of the round. Seven and eight featured Nunez stamina, work-rate, accuracy and skill. Granados faded, took a lot of shots which would have dropped Nunez and generally demonstrated his ability to take five or six to deliver one.

When Jimmy read the scorecards, one judge gave the fight to Nunez by two points, while the other two called for a draw. The draw calls were obviously a result of those two judges considering two counter KD's to be equal to superior boxing skills and effort throughout the rest of the fight. I had it 77 for Nunez with a 9/10 in the fourth and an 8/10 sixth. He out-boxed Granados in all other rounds. That left only 74 for Granados. The California guy demonstrated his ability to take punishment. He was tough, but got a boxing lesson which exposed his youth and inexperience. The local judges, it appeared, did not want to discourage him.

For a Friday night fight it was pretty good, with lots of action and no booing from the crowd due to boring lulls. Nunez proved he could get up and continue, but he better get busy if he's going to do much in the next five years. With a mushy chin like that, he better work on defense. Isidro had better learn not to circle to his right when fighting a lefty. He spent way too much time on the raw-hide express by doing that.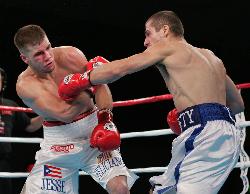 The "main event" turned out to be a miss-match as 25 year-old Grecian Mike "Mighty Mike"Arnaoutis 10-0-2 (4), fighting out of Atlantic City, stepped in against 22 year-old Puerto Rican Jessie Feliciano 12-2-2 (7) currently residing in Las Vegas. The winner would be awarded the NABO Light Welterweight belt. The first round opened with Feliciano stepping toward Arnaoutis with a pawing left, having his right hand cocked as if to really let one go; only he never did, to any great effect. At 1:42 to go in the first Mike delivered a left to the body and a left to the chin in quick succession putting Jessie on his backside.

Jessie got up, took an eight and stepped back in as before; not a good plan. Eighteen seconds later Arnaoutis struck a vicious left to the body which folded Jessie like an empty wallet and as he sunk down toward the floor Mike popped Jessie with a so-so left to the head. As Feliciano touched his right glove and knee to the canvass Mike delivered a stunning left to Jessie's right ribs while he was down. The ref shooed Arnaoutis away, but did not call the illegal strike.

As Jessie got up from that mess and resumed, he was bleeding from his right eyebrow (probably from the so-so left). Then he got caught at :23 with a withering left to the body and another at :17. Finally Mike moved into position and administered the finishing touches with more whistling southpaw strikes which left Jessie draped over the ropes like a wet noodle. The kid was game, but absolutely no match for the quick-handed Greek. The ref grabbed the ropes on either side of Feliciano's body and gave him a look of compassion. Jessie did not argue and it was over.

There were no big stakes or remarkable outcomes from these two fights with the possible exception that Arnoutis may have qualified himself for an accelerated career track. Nick and Steve did well enough as commentators but might benefit in the future from having an occasional guest boxer to sit in with them for more informed color. These presentations by Showtime are good practice for the average fan to learn the sport, and an occasional venue for up and coming boxers who sometimes make the big-time and thrill us all. There is always the possibility of a Sanchez/Candelo surprise while watching these bouts which, even though they are often entry level presentations, no fault can be found with making them available to the public free of charge. These brave young men are the fluid foundation of the sport and an essential part of its past, present and future. Thank you Showtime.

photos © Tom Casino/Showtime

Article posted on 23.10.2004
previous article: Harris stops Urkal in 11th round!
next article: Path to Glory Returns This Friday With a Great Roster of Prospects