Tom Glover Shocks Jon Thaxton With Points Win In Great Fight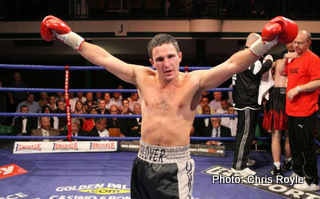 by James Slater - Tonight, at York Hall in London, underdog Tom Glover from Essex upset former British and European lightweight champion Jon Thaxton of Norwich with a desperately close points win. Winning by a single point on the card of referee and sole judge Ken Curtis, at 77-76, the 28-year-old scored the biggest win of his career. Improving to 9-5-3(0), Glover may well have ended the career of tough, long-time campaigner Thaxton, who fell to 34-10(19).

At age 34, and coming off his heartbreaking points loss to Frenchman Anthony Mezaache back in February when he lost his European belt, Thaxton moved up in weight to take on Glover. Boxing at light-welterweight, "Jono" was giving away a decent amount of weight. This may well have been a factor in his loss. Still, full credit must go to Glover, a big underdog going in..

The action was special right from bell-one. Southpaw Thaxton came out aggressively, looking to end the fight in KO fashion no doubt. Loading up with power on almost every shot, Thaxton got home with a cracking right hand to the body. Thaxton, the older man by six years, was really using up a lot of energy.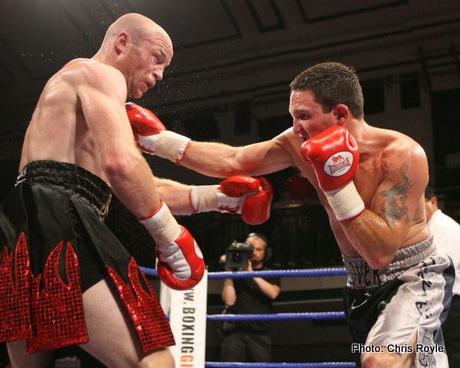 Switch-hitting at times throughout the battle, Thaxton had to take some good hooks to the head from Glover in round-two. A cut also opened high on the 34-year-old's head in this session, but thankfully the blood was not too serious. A real war was shaping up, as both men traded hard.

The fast pace continued throughout, and Glover really made the older man work hard. Thaxton boxed well at times, on the back-foot, while Glover made it a physical fight as much as he could. By the 4th Thaxton was looking a little tired. The crowd was well into the action, and value for money was being given big style.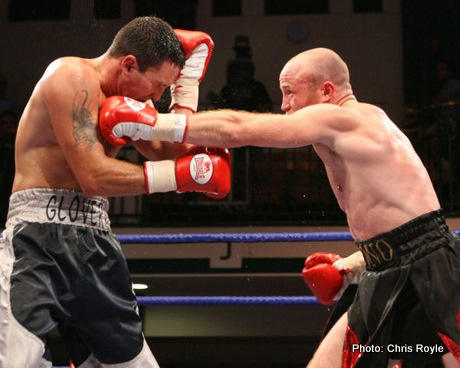 Some of the rounds were as tough to score as they were fought, and a left hook to the head from Glover wobbled Thaxton in the 5th. "Jono" came back with two uppercuts to the head - uppercuts being some of his favourite punches.

Thaxton boxed well in the 6th-round, as Glover pressed in. There was a warning given to Thaxton for holding in this round, and the two men traded body shots near the end of another great round of action.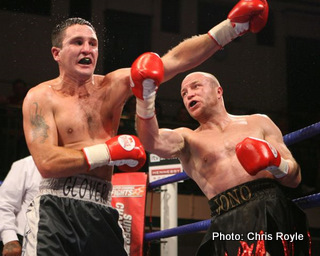 Jono" was still pumping out both hands in the 7th, despite his now obvious fatigue. Then, crucially as it turned out, Curtis deducted a point from Thaxton for holding. After the deduction Glover went for it and unloaded with both hands - both guys really did give their all tonight.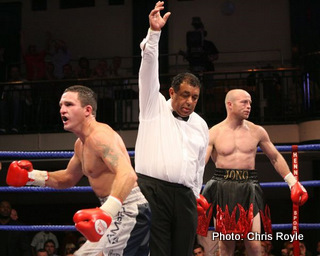 Some fierce exchanges began the 8th and final round, as both men knew the last session could well decide the winner. Both men put it all on the line and the crowd roared its approval once more. There was yet another warning given to Thaxton for something, either holding again or for an errant elbow, and Thaxton went back in and unloaded as best he could afterwards. A good right hand to the head landed by Glover, and Thaxton fired back right to the bell.

Both men reached out to Curtis at the end, but Glover's hand was raised, much to Thaxton's dismay.

The 34-year-old had a fight with British lightweight champ John Murray all set and agreed for later this year. But what will happen now? Article posted on 19.07.2009
previous article: Remembering Our Heroes