Results: Manuel Quezada Triumphs in Spectacular Fashion; David Telesco Returns With 2nd Round KO Win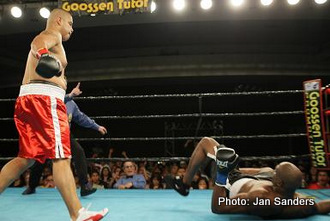 Securing his WBC CABOFE title and streaking up the heavyweight rankings, Manuel "El Toro" Quezada (28-4, 18 KO's) triumphed in spectacular fashion with a one-punch KO over Travis "Freight Train" Walker (31-3-1, 25 KO's). When the opening bell rang, both fighters felt each other out, with Walker trying to land the big blow as Quezada came forward. As the round continued, Quezada landed a vicious left hook to the body, which hurt Walker, forcing him to guard low. Quezada proceeded to work his way inside and took advantage of Walker's open holes up top. With 3 seconds left in the round, Quezada landed an amazing one-two combo that floored Walker, ending the bout instantly at the 2:57 mark.

The hometown crowd of Quezada rose to their feet in jubilee, as their fighter was crowned the victor. With the victory, Quezada's extends his winning streak, making it 17 in a row. The opportunity to land a big fight with one of the top heavyweights in the world is now in place.

"To get the knockout they way I did was an incredible feeling," said Quezada.. "I was nervous coming into this fight as I knew Walker was a big puncher, but once I heard the crowd cheering me on as I walked into the ring, everything changed. I just felt a confidence that I never felt. Joe Goossen had me working on a body attack and it worked. Those shots to the body opened up the head shot. I took advantage, landed that right hand, and bam it was over. I thank God for this victory."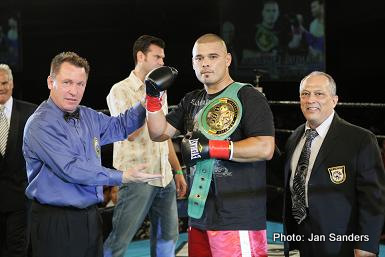 Quezada vs Walker was presented by Goossen Tutor Promotions in association with the Tachi Place Casino. For more information, please visit www.goossentutor.com.


HILTON RYE TOWN RESULTS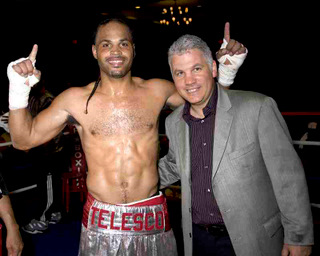 On July 16th Joe DeGuardia's Star Boxing brought boxing back to Westchester County with a six-fight card at the beautiful Hilton Rye Town Hotel in Rye Brook, NY.

In the main event bout of the evening former light heavyweight title challenger, the Pride of Port Chester, David Telesco (30-6-1, 25KO) made his long awaited return to the ring a spectacular one with a 2nd round KO over the extremely durable William Gill.

Telesco, who was fighting for the first time in almost five years, came out tentatively in the first round using his jab to measure his opponent.

In the second a huge combination from Telesco dropped Gill hard. Sensing his opponent was hurt, Telesco jumped all over Gill, battering him from ring post to ring post, before he finally was able to trap Gill in the corner. Telesco began unloading monstrous shots and another huge combination had Gill completely out on his feet. Luckily for Gill the referee jumped in, saving him from any further punishment. The official time of stoppage was 2:13 of the second round. Look to see Telesco back in action soon as he hopes to reestablish himself in the light heavyweight division.

ROBINSON SIMPLY WAS TOO MUCH FOR CUELLO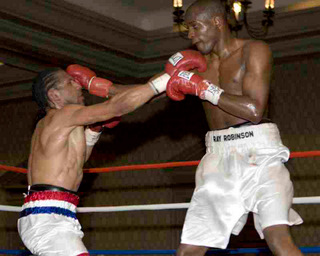 In the co-feature bout of the evening "The New" Ray Robinson improved to a perfect (11-0, 4KO) with a dominate six-round decision over Harrison Cuello (18- 11-3, 14KO).

Robinson simply had way too much fire power for the veteran Cuello as he continuously peppered him with shots from the outside. Cuello was game, but Robinson was just too quick and too powerful, as he dished out more and more punishment as the fight progressed.

A picture perfect left hand opened a nasty cut over Cuello's eye just as the final bell sounded, wrapping up a near perfect performance for the Star Boxing promoted Robinson.

RILEY DISPOSES OF HEMPHILL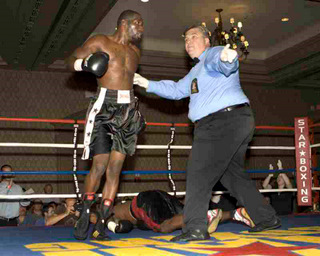 Star Boxing's hot light heavyweight prospect Yathomas "The Punisher" Riley improved to 6-0, 4KO with a second round destruction over Philadelphia's Andre Hemphill.

Riley punished Hemphill for most of the first, using a vicious attack to both the body and head.

In the second Riley unloaded a huge left uppercut that sent Hemphill down face first. Hemphill attempted to get to his feet but was in absolutely no condition to continue. Official time of the stoppage was 53 seconds of the second round.


Other Results:

Victor Valenzuela W6 Pasqual Rouse Eilon Kedem D Robert DaLuz Ahmad Mickens W4 Phil Hannah Article posted on 17.07.2009
previous article: The Thrill of Love