UK Boxing: Schmeichel Backs Froch; Thaxton vs Glover; Altrincham Sow Cancelled
Former Manchester United keeper Peter Schmeichel met with WBC super middleweight champ Carl "The Cobra" Froch today as the Super Six media tour hit Denmark. On Monday, the details of the groundbreaking new Super Six World Boxing Classic tournament were unveiled at a press conference at Madison Square Garden in New York. Just 20 hours later, thousands of fans gathered at Copenhagen's famous Tivoli Gardens to greet the stars who will battle it out for super middleweight supremacy over the course of the next 18 months..

Schmeichel, who now works as the Champions League anchorman for renowned Danish TV station Viasat, was on hand to meet the fighters and give his backing to the groundbreaking new concept. "I think this tournament it great," said Schmeichel. "It's like the Champions League in football. The best boxers in their division are competing. That is brilliant. I believe the tournament will be a huge success and maybe it can be done in other weight classes, too. Of course, I do favour my countryman Mikkel Kessler but I think everybody can win. Froch certainly has a good chance too. It is impossible to tell who will win."

Schmeichel knows all about the Champions League having won footballs most prestigious club competition during Manchester United's famous treble winning season in 1999.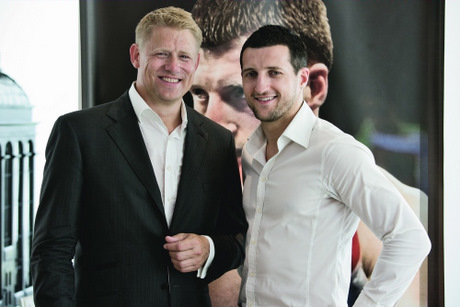 Froch is confident that he can win the inaugural Super Six title and prove himself as one of the World's best pound for pound fighters. "I will be the last man standing," declared Froch. "I look forward to clashing with the best fighters in the world. I am the world champion already so now I have set my sights on a Champions League title. I will prove my class in every single fight against world class opponents."

The opening round matches of the series have already been set with Froch opening his campaign against unbeaten American hope and Olympic medallist Andre Dirrell.

The other opening round bouts will see IBF middleweight champ Arthur Abraham stepping up to super middleweight to take on former undisputed world middleweight champion Jermain Taylor while WBA super middleweight champ Mikkel Kessler clashes with 2004 Olympic gold medallist Andre Ward. Dates and venue for the first round bouts will be announced shortly.


Cinderella Man Glover looking to crack Europe at Thaxton's expense

Unlikely title contender Tom Glover believes his fairytale story can continue by taking the scalp of former British and European Lightweight champ Jon Thaxton in London this weekend. The two clash on Saturday night (July 18th) at the York Hall, Bethnal Green in the chief supporting contest to the British and Commonwealth Light Heavyweight title showdown between undefeated duo Danny McIntosh and Nathan Cleverly. The Hennessy Sports event is live on ITV4 and Glover aims to continue his run of show stealing performances that has seen his career enjoy a remarkable turnaround.

The Maldon man turned professional in 2006 and enjoyed mixed success in the early stages of his career. However winning the Southern Area welterweight title late last year kick started a winning run that has seen Glover storm up the British ratings.

Last time out he upset the applecart by defeating Nadeem Siddique and he's determined to pull off another shock at the York Hall this weekend. "This is a massive opportunity for me and I'm determined to grab it with both hands," said Glover.

"When the call came through I didn't even have to think about it for a second because it's a no lose situation for me really. No one is expecting me to win but I'm very confident that I can surprise people again.

"I actually sparred Thaxton a few months back and I believe that I can beat him. I know that he's very experienced and that he can punch but I believe I'll be the naturally bigger, stronger man in there and that youth and size will be in my favour. I'll be looking to take what he's got and set a pace that he can't live with."

Glover is a brick layer by trade but he knows that a win over Thaxton will allow him to concentrate on his boxing full time. "It's hard trying to combine being a professional fighter with my job but it's opportunities like this that you dream about. If I can win this then hopefully I can get a shot at either the British or Commonwealth titles. A fight like that would allow me to train full time for a couple of months and I believe people would really see the best of me then."

A clash of unbeaten fighters tops the bill at the York Hall as Danny McIntosh and Nathan Cleverly square off for the British and Commonwealth Light Heavyweight titles. Aside from Thaxton – Glover the undercard also features the seventh professional outing for unbeaten Heavyweight sensation Tyson Fury. Ireland's reigning European Union Lightweight Champion Andy Murray is also in action alongside hot prospects Steve O'Meara, Lee Purdy, Dwayne Lewis, Bobby Ward and Del Rogers while recent Big Brother evictee Angel McKenzie features in her 18th pro fight. Tickets (£35 Unreserved and £70 Ringside) are available from the Ticketline box office on 0844 888 4402 or via www.ticketline.co.uk.


ALTRINCHAM SHOW ON JULY 24 CANCELLED

FTM regret that their show scheduled to take place at Altrincham's George H Carnall Centre on Friday July 24 has been cancelled.

Jamie Moore had been due to defend his European light-middleweight title against Frenchman Jimmy Colas but has been forced to pull out because of flu.

Promoter Frank Maloney: "I regret this has happened as I am not in the habit of calling off shows, but Jamie has been told to stay at home for five days.

"Even if he recovers he has lost crucial training days and with a world title fight so near we can't take chances."

The British bantamweight title fight between Gary Davies and Ian Napa scheduled for the same bill will now take place in Setember on the same bill as the English heavyweight title clash between John McDermott and Tyson Fury. Article posted on 15.07.2009
previous article: Chris Arreola-Oleg Maskaev Being Discussed