News: Anthony Thompson vs Grady Brewer; Derric Rossy vs Carl Davis Drumond; Howard Davis Jr
LAS VEGAS, NV (July 14, 2009) World ranked junior middleweight Anthony "THE MESSENGER" Thompson will now face Grady Brewer, winner of The Contender, Season Two, for the I.B.O. Junior Middleweight Title on Saturday August 22nd at "TKO World Championship Boxing at the Pala Casino". Presented by TKO BOXING Promotions and the Pala Casino Spa and Resort, tickets for "TKO World Championship Boxing at the Pala Casino", starting at $25, are available through Star Tickets (www.startickets.com, phone 1-800-585-3737)..

Brewer was originally scheduled to face Zaurebek Baysangurov.

Said Chet Koerner, President of TKO BOXING Promotions, "As soon as he heard that Baysangurov was out, Anthony stepped right in and took the fight. He's a very exciting, world class boxer and the Southern California fans are in for a terrific matchup between him and Grady Brewer."

The 27 year old Thompson, a native of Philadelphia, PA, brings a record of 24-3-0 with eighteen knockouts into the 12-round battle with Brewer. In his only bout this year, Thompson scored a crowd stunning first round stoppage of veteran Luis Lopez on May 2nd at the War Memorial Arena in Johnstown, Pennsylvania .

On August 15, 2008, Thompson was involved in an ESPN2 televised, highly controversial bout against Ishmail Arvin in Washington , D.C. Despite dropping Arvin twice in the third round, Thompson was kept from victory when the bout was stopped after the sixth round due to a cut he suffered from an earlier head butt and was awarded to Arvin.

As shown on replays, and viewed by the referee and members of the local commission the cut was clearly caused by a head butt and Thompson, who was way ahead on the scorecards should have been awarded the victory.

Prior to the Arvin bout, Thompson lost a very close split decision ten round bout to Yuri Foreman at Madison Square Garden on the Miguel Cotto/Zab Judah PPV undercard on June 9, 2007.

Since defeating former world champion Stevie Forbes in 2006 for The Contender, Season Two championship, Brewer, 24-11-0 (13 KO's), has fought twice since fully recovering from knee surgery. Amongst the most popular boxers in the sport, Brewer is coming off a 10-round decision win over Cornelius Bundrage in Providence , Rhode Island this past November.

Other outstanding prospects previously announced include San Diego middleweight K.J. Noons, 8-2-0 (5KO's), Mexican junior featherweight Rafael Valenzuela, 12-1-0 (6KO's), Los Angeles based bantamweight Leo Santa Cruz, 9-0-1 (2KO's) and Mongolian lightweight standout Bayan "THE MONGOOSE" Jargal, 12-0-1 (8KO's).

Further details of "TKO World Championship Boxing at the Pala Casino" will be announced shortly.


ROSSY STEPS IN TO REPLACE WITHERSPOON AGAINST DRUMOND ON JULY 31st

HOLLYWOOD, FL, July 13 – With Chazz Witherspoon forced to withdraw from his July 31st battle with Carl Davis Drumond due to undisclosed reasons, New York bomber Derric Rossy has stepped to the plate to face his fellow knockout artist in a sure to be explosive heavyweight bout at Hard Rock Live in Hollywood, Florida.

The bout is the co-main event of ESPN2 Friday Night Fights. In the main event, it will be a war to remember when unbeaten Victor Manuel Cayo battles former world champion Julio Diaz.

Tickets for this event, which is presented by Seminole Warriors Boxing, are priced at $27, $52, $102 and $152, and may be purchased at the Hard Rock Live Box Office or by going online at www.TicketMaster.com.

29-year old Derric Rossy (21-2, 12 KOs) has garnered rave reviews from fight fans as one of the most exciting heavyweights to come out of New York in years. Born of Puerto Rican and Italian descent, the former Boston College defensive end made a smooth transition from the football gridiron to the boxing ring, winning 21 of 23 fights. The Medford product is currently riding a three fight winning streak that includes back-to-back knockouts of Moises Droz and previously unbeaten William Shahan, and with a 2008 win over former heavyweight champion Ray Mercer already on his resume, the WBC Fecarbox champion is looking to move closer to a world title shot with a win over Drumond.

Costa Rica native Carl Davis Drumond (26-1, 20 KOs) was always seen as boxing's mystery man as he tore through his opponents from 2005 to 2008. But it was in February of 2009 that the world got to see that this 34 year old banger was for real, as he put in an impressive performance against WBA champion Ruslan Chagaev that was cut short via an accidental clash of heads that rendered Chagaev unable to continue and the winner via technical decision. Eager for another crack at the belt, Drumond will look to take out Derric Rossy and rocket back up the ranks.

For more information regarding this and other events, log on to: www.warriorsboxing.com


Olympic Champ is honored in Hometown of Glen Cove, NY

July 2009 - Howard Davis Jr., 1976 Boxing Olympic Gold Medalist, was honored over the weekend as a street was named after him in his hometown of Glen Cove, NY.

The Lightweight Gold medal champ is one of the most decorated and successful amateurs in American Boxing history.
Davis Jr. was also named the Outstanding Boxer of the 1976 Olympics and given the Val Barker Trophy, an Olympics that included Sugar Ray Leonard, Michael Spinks and Leon Spinks.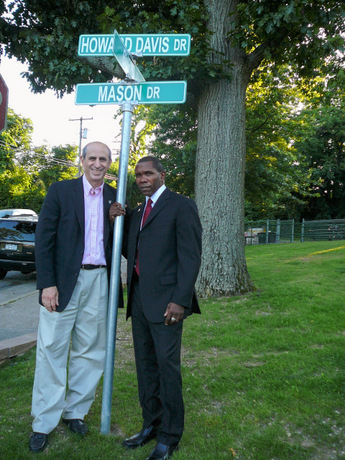 Davis Jr. turned pro after winning the Olympics. He retired in 1994 with a professional record of: 36-6-1 with 14 KO's.
Howard's father - Howard Davis Sr. – was also honored by Glen Cove Mayor – Ralph Souzzi - for his services as the "Father of the Community."

Howard Davis Jr. is today better known for his training of top-rated Mixed Martial Art fighters in their stand-up skills. He's also a Promoter and President of Fight Time Promotions, LLC in Florida.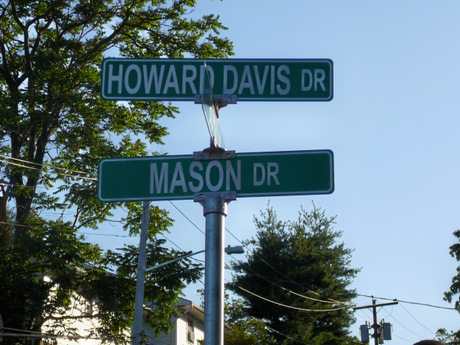 IMAGES COURTESY: www.fighttimepromotions.com Article posted on 13.07.2009
previous article: Tomasz Adamek - Bobby Gunn Ringside Report
next article: Massive Night Of Top Class Boxing In The UK This Saturday