Tomasz Adamek - Bobby Gunn Ringside Report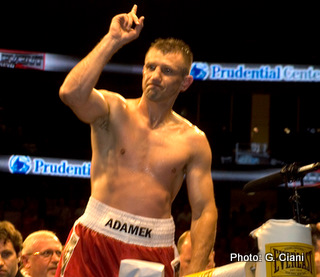 By Geoffrey Ciani - News pertaining to the tragic death of Arturo Gatti loomed throughout the Prudential Center as crusierweight champion Tomasz Adamek prepared to defend his crown against challenger Bobby Gunn. Fans, fighters, members of the press, and promoters were all saddened by the shocking news of the untimely death of one of boxing's modern icons. Gatti was once a marquee fighter in the Main Events stable making this a difficult night for many members on the promotional team, several of whom were close personal friends of his. Despite the unfortunate circumstances and the widespread sense of grief and sorrow, Main Events managed to put together an entertaining fight card which was highlighted by the Adamek vs. Gunn championship bout.

Going into the contest, few observers were giving Gunn much of a chance against a world class champion like Adamek. As Adamek himself later mentioned during the post-fight press conference, "According to fans I should not even have prepared for my bout with Gunn, but that's not me. I trained hard for eight weeks preparing for this fight, and I train for every bout like I am preparing to fight the best in the world." Like a true champion, Adamek was focused on the task at hand and did not fall victim to underestimating his opponent. It showed..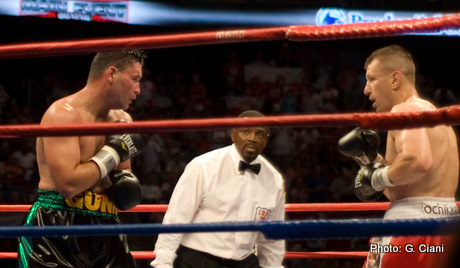 During the first two rounds, Adamek was mostly taking it easy, feeling out his opponent while looking for openings. Gunn's strategy was clear—he was attempting to work his way under Adamek's jab and he was looking to land the left hook. Gunn had some success early on in making Adamek miss with second and third punches in his combinations, but Adamek was still controlling the action with his jab. Gunn came to fight and was there to give it his best, but unfortunately, he was in there against a superior foe, and it wasn't long before Adamek began making the necessary adjustments to spoil Gunn's game plan. As Adamek later stated, "The jab is my number one weapon. Other than my straight right, I use the jab a lot. I could tell he wanted to sneak in shots under my jab, but I figured him out. I am an experienced fighter and that was an easy puzzle to solve."

By the third round, Adamek began finding the mark with follow-up punches in his combinations, and he began landing his right hand with more and more devastation and frequency. Gunn was still sticking to his plan, albeit unsuccessfully. He was still attempting to stay low and get under the jab, but not with the limited success he had earlier. Instead, he was now relying almost exclusively on the left hook, and oftentimes, he was eating multiple combinations just to look for an opportunity to throw a single hook. He was landing a few here and there, but even when he did, he could not manage to dent Adamek's granite chin.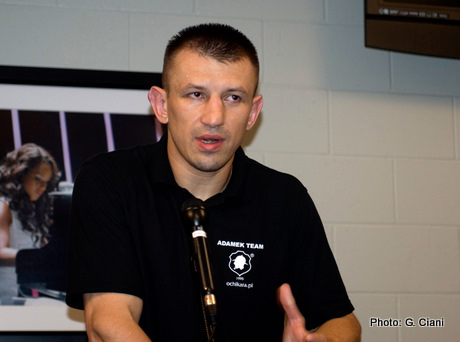 In the fourth round, Adamek unleashed a vicious assault on Gunn which saw him on shaky legs. It started with a thunderous straight right that visibly shook the challenger. Gunn, trying to portray he was not hurt, then pulled a page from Ricardo Mayorga's play book when he stuck his chin out and smiled at Adamek who then proceeded to land a series of jabs right on the button. In an awesome display of power, Adamek began landing powerful blows to both head and body as he started turning up his intensity. Gunn was being battered from pillar to post as Adamek began moving in for the kill. Adamek was throwing some powerful combinations and managed to open up a nasty cut on Gunn's right eye in the process, but somehow, Gunn managed to stay on his feet until the round ended. Despite his brave effort, however, referee Earl Brown went to Gunn's corner and stopped the bout prior to the start of the fifth round.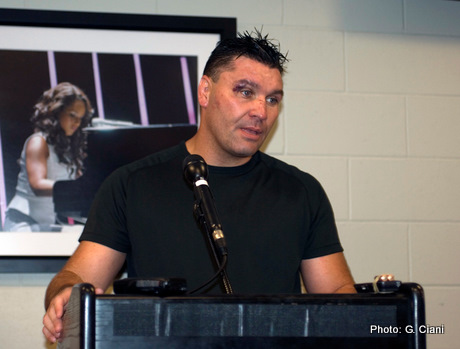 "I didn't even see the blood and was surprised they stopped it.", said Gunn. "He was doing everything to me that I wanted to do to him. He was a great fighter and the best man won. I take my hat off to him. He is a great champion and a class act both inside and outside the ring." Gunn was very gracious in defeat and was very appreciative of the opportunity to have fought for a shot at the championship.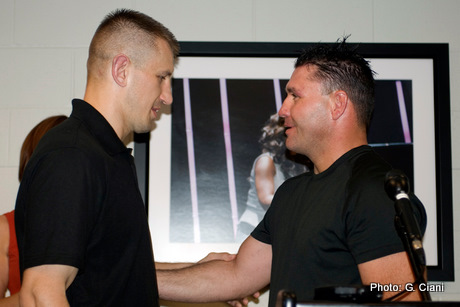 When asked about his future, there were two names being thrown around as logical next opponents for Adamek—Steve USS Cunningham, who won a wide unanimous decision last night against Wayne Braithewaite in Florida, and Bernard Hopkins, the living legend who has seemingly discovered a way to defy Father Time. When asked who he preferred, Adamek responded, "I am a warrior, so it makes no difference to me. I would fight Cunningham first (in a rematch) and then fight Hopkins, or I will fight Hopkins first and then Cunningham. It makes no difference to me." Rumor has it that Bernard Hopkins is set on fighting in January, either against Adamek or light heavyweight champion, Chad Dawson. This would seem to suggest that it is more likely that Adamek will give Cunningham a rematch later this year before being afforded the opportunity to face the future Hall of Famer, Bernard Hopkins, but time will tell.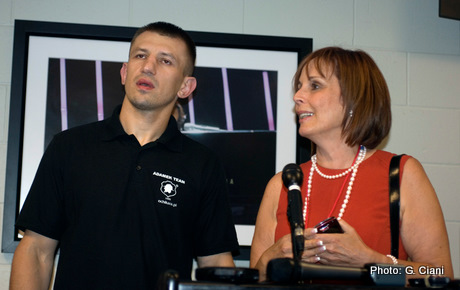 The post-fight press conference was one of both joy and sadness for the Main Events team. Kathy Duva opened the proceedings, almost in tears, as she discussed the tragic story surrounding one of their former stars, Arturo Gatti. She gave a very a touching account of the man who personified a "blood and guts warrior" inside the squared circle. The conference would end much in the same way it started. At the conclusion, Adamek himself chimed in on the subject by stating, "I dedicate this win to Arturo Gatti's memory. I knew him personally. His fights were legendary and this was a very sad day for everyone who loves boxing."

A bittersweet night for boxing.

To contact Ciani:ciaaaani@yahoo.com


To read more by Ciani please visit The Mushroom Mag
http://www.eatthemushroom.com/mag Article posted on 13.07.2009
previous article: News: Mary McGee; Carina Moreno; Tony Hirsch
next article: News: Anthony Thompson vs Grady Brewer; Derric Rossy vs Carl Davis Drumond; Howard Davis Jr