Will Yonnhy Pérez Be Colombia's Next Champion? -"I'm ready for either Darchinyan or Agbeko"
By Jaime Castro-Núñez - On May 29, 2009 bantamweight hot contender Yonnhy Pérez took the biggest step of his career in Johannesburg, South Africa, when he faced tough Silence Mabuza for the IBF's number one spot. Born in Cartagena, Colombia on January 18, 1979 and currently training in Santa Fé Springs, CA under the tutelage of Daniel Zamora, he claims to be ready to dethrone either titleholder Joseph Agbeko or Vic Darchinyan, who is moving up in weight to face Agbeko for the IBF bantamweight crown. Even though the Agbeko-Darchinyan match will be televised live on SHOWTIME, the Team Pérez will travel to Florida in order to watch it ringside..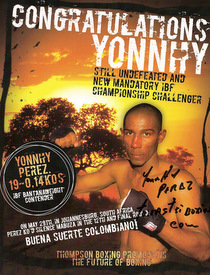 Since turning pro on July 30, 2005 in Tucson, AZ with a spectacular TKO victory over Steve Lozoya, Yonnhy Pérez has been considered Colombia's biggest hope for another world title. With a 74% knock out ratio, almost one hundred rounds boxed and a perfect professional record, Yonnhy has shown the power, intelligence and heart of a world champion. He made that clear last May 29 when he stopped Silence Mabuza in a tremendous fight that was not televised in the United States. Mabuza started fast and strong, castigating Pérez's body during the opening rounds, but at the end run out of gas to become Yonnhy's 19th victim. "He hit me very hard, especially in round number four. I took very well Mabuza's best punches and I didn't go down thanks to my preparation and desire to fight for the championship," Pérez said.

During the fight they went blow by blow and many rounds could go either way, but considering the fact it was on Mabuza's backyard, preference was given to the local. Before going into the last round, trainer Daniel Zamora knew they were behind on the scorecards and made it clear: "You must knock him out." Matchmaker and friend Alex Camponovo puts it this way: "I don't know what came up to him, but he had enough in his mind to go out there and do what he accomplished, which is incredible. Only two people have been able to beat Mabuza, one of them was Rafael Márquez, which was one of the best bantamweights in history, and he beat him twice, away from home, here in the United States. The only person to knock him out was Yonnhy Pérez in the twelfth round of the fight, in his own backyard. By defeating Mabuza we realized he can defeat anybody, anybody in the world. He is ready to be a world champion."

To be a world champion Yonnhy Pérez will need to defeat the winner between Joseph Agbeko and Vic Darchiyan. ESB readers know I have high regard for Yonnhy, whom I consider Colombia's most complete boxer at the present time. Aggressive, smart and disciplined, he can end matters with a single bomb or with constant, precise punches, as it was the case with Silence Mabuza. Yonnhy Pérez has been eager for a championship battle since he came to the US four years ago and now that he has the chance, am sure he will not waste it. The team is confident about the fact that Yonnhy will capture the bantamweight belt. The boxer does not talk too much (which I love) and he only claims to be ready. "I'm ready for either Darchinyan or Agbeko."

Article posted on 06.07.2009
previous article: What must Floyd Mayweather do to get his respect?
next article: News: Fres Oquendo vs Bruce Seldon; Gabor Veto; The Hinkey Brothers