Dimitrenko-Chambers: Eddie Chambers Ready For Dimitenko
02.07.09 - #5 WBC rated heavyweight Eddie Chambers (34-1, 18 KOs), who is set to square off against #1 WBO heavyweight Alexander Dimitrenko (29-0, 19KOs) as the main event this Saturday, July 4 in a WBO official eliminator at Color Line Arena participated in an open media workout today in Hamburg, Germany. Chambers stated, "I'm motivated and ready to take my position as the mandatory challenger for Wladimir Klitschko. "A win on Saturday night, will be especially significant, because it's the 4th of July and I know that my fellow Americans will be celebrating their independence. This would make victory especially sweet – I am proud to be an American.."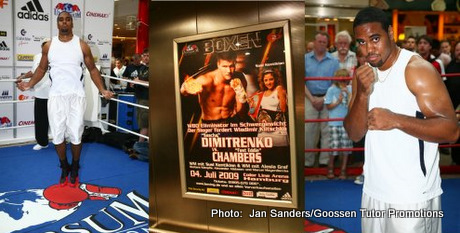 Dimitrenko-Chambers, Alekseev-Releford This Saturday

With a WBO heavyweight eliminator fight between two top three contenders and two world championship fights featuring titleholders Susi Kentikian and Alesia Graf, plus other high profile fights, the July 4th "Universum Champions Night" at the Color Line Arena in Hamburg promises to offer a high quality boxing show.

The WBO has officially announced that the heavyweight battle between Alexander Dimitrenko and the American Eddie Chambers at the "Universum Champions Night" on 4th July 2009 in Hamburg will be a WBO eliminator. For "Sascha" Dimitrenko it is now clear that in case of a win in this eliminator he will be the mandatory challenger of the WBO world champion Wladimir Klitschko in his next mandatory fight.


Both contenders met for the first time on Monday during a press conference at the Cinemaxx in Hamburg. Alexander Dimitrenko: ""I had very good preparation here in Hamburg with my trainer Fritz Sdunek. I had super work and a super sparring partner. I'm ready and fit for the biggest fight of my career on Saturday evening. I won't give away a lot, however, you will be surprised. My best time starts now and I'm happy about it!"

The unbeaten Alexander "Sascha" Dimitrenko of the Universum boxing stable, who is currently ranked within the Top 5 in all sanctioning bodies, has been patiently awaiting for a possivble world title fight against one of the Klitschko brothers. Ranked #1 WBO he is close to fight against world champion Wladimir Klitschko and also his the #2 WBC position could give him a world title fight soon but due to delays of fights he still has to wait and couldn't fulfil his big dream.He confirmed his great position in order to become the mandatory challenger with excellent fights against Timo Hoffmann, Derric Rossy and especially with his spectacular knockout win over Luan Krasniqi in November 2008 in Düsseldorf. He demonstrated his great boxing skills and his endurance to come closer to become world champion. He continues to work hard with his coach Fritz Sdunek in order to stay on track for a world title fight.

As for Chambers, Dimitrenko stated: "I've seen his fights and know what's coming. He's quick, but so am I. Understandably, I won't give away my tactics, but I can say that one punch can decide everything. It will be interesting!"

Dimitrenko's trainer Fritz Sdunek couldn't be at the press conference due to a private matter but he stetd the following via a statement: "Sascha stands in front his biggest task. Up until now, he's only had this fight against Chambers in his head, that's difficult enough. Now he must prove that he's matured and become more stable!"

The American "Fast" Eddie Chambers (34-1, 18 KOs) of Philadelphia has the experience of 35 fights and is ranked within the Top 3 in the American heavyweight division and because of his age he is seen as one the hopeful American heavyweights. He is currently ranked #3 IBF (one ahead of Dimitrenko) and #5 WBC. In the IBF Heavyweight Elimination Tournament (in order to become mandatory challenger and fight against Wladimir Klitschko) in November 2007 / January 2008 he suffered his first defeat when he lost in the "big finale". In his last fight since he impressed, he claimed the US heavyweight title and in his last bout in March 2009 he defeated the former WBC champion Samuel Peter. Eddie Chambers declared himself ready to take on the unbeaten 6'7 Ukrainian: "Since the fight against Samuel Peter, I've been in training and preparing for this next challenge," he said. "I've polished my technique with my trainer, but haven't had to make any other big adjustments. However, I have prepared intensely and especially for my opponent."

His trainer Robert Murray said: "First of all we want to say thank you to Universum and the Promoters and Sascha that this fight is taking place. We want to become world champions and we're ready. It will be a great fight on Saturday between two very talented boxers. Eddie has often boxed against bigger boxers in the past. We're well prepared."

World champion Susi Kentikian must defend her titles against super flyweight world champion Carolina Gaite of Argentina

The unbeaten "Killer Queen" Susi Kentikian, the double world champion of the WBA and WIBF at flyweight, will have another hometown advantage fight when she will step into the ring at the Color Line Arena on July 4th within the "Universum Champions Night" against the WBA world champion at super flyweight, the Argentinean Carolina Marcela Gutierrez Gaite. After her great victory in March over Elena Reid at the small Sporthalle in Hamburg she will now be featured in the fightcard in the big Color Line Arena for the ZDF telecasted "Universum Champions Night".

Susi Kentikian: "The preparation for this fight ran very well and it will be a new challenge as I'm boxing against a world champion from a higher weight class. I must give everything. My last fight against Elena Reid was important because I saw that I can maintain a high tempo for ten rounds. It was an important experience."

Her trainer Magomed Schaburow seemed optimistic: "I find it very courageous that her opponent comes down a weight class and boxes Susi. As usual, It was an intensive preparation and, as usual, from the outset Susi will display fireworks!"

The 32 year old Carolina Gaite (15-1, 11 KOs) of Cordoba has a impressive record for a female fighter as she has 15 victories with 11 by KO and only one defeat when she comes to Hamburg now to battle Susi Kentikian. After her victory over Rosilette Dos Santos in October 2008 when she claimed the WBA belt at super flyweight, she will step up to a higher weight division in order fto fight the "Killer Queen" at flyweight. Gaite revealed on the press conference that shortly before she left Argentina, her father died unexpectedly. "My father has always accompanied and supported me. He would not have wanted that I call off this fight. Now for me it's a double motivation and I will go in spite of all that to the fight. I have intensely prepared for this fight. It's a big motivation to fight for two world champions belts in a lower weight class." Her trainer Carlos Tollo added: "Sure, Carolina must reduce her weight, but a world championship fight is a double motivation. To box in Germany for two belts, we're confident going into this fight."

WIBF/GBU champion Alesia Graf will defend against Terri Lynn Cruz

It has been more than four four years since Graf has fought in Hamburg. The WIBF/GBU jr. bantamweight champion Alesia Graf (23-1, 9 KOs) will be featured in the huge "Universum Champions Night" card on July 4 at the Color Line Arena in Hamburg. She will be facing the US American Terri Lynn Cruz (17-5-2, 8 KOs). After a few fights in her hometown of Stuttgart and her last win over stable mate Magdalena Dahlen in March 2009 in Rostock, the "Tigress" Alesia will demonstrate her boxing skills to the fans in Hamburg. Alesia Graf: "I have boxed twice in Hamburg, but in the small gym. Now I'm looking forward to the arena. Boxing there has always been my dream," she said. "In my last fight I learned a lot. I classically outboxed Magdalena Dahlen and now I can and must continue that against the experienced Terri Lynn Cruz, who has already been in world title fights. I have to be careful because the Americans are always good for surprises."

Cruiserweight Alexander Alekseev seeks another world title shot

Cruiserweight Alexander Alekseev (17-1, 15 KOs) will also see action as he seeks another world title shot. He was surprisingly upset by Victor Ramirez in January in a bout for the vacant WBO interim belt by technical knockout in round 9. He's coming off a decision win in early May against Max Alexander. Trained by Fritz Sdunek he continues on the road toward another world title shot against Kendrick "The Apostle" Releford (20-12-2, 10 KOs).

Double world champion Susi Kentikian will defend her titles against another world champion, Carolina Gaite

"Killer Queen" Susi Kentikian, the double world champion of the WBA and WIBF at flyweight, will step into the ring at the Color Line Arena on July 4th within the "Universum Champions Night" against the WBA world champion at super flyweight, the Argentinean Carolina Marcela Gutierrez Gaite.

The 32 year old Carolina Gaite (15-1, 11 KOs) of Cordoba has a impressive record for a female fighter as she has 15 victories with 11 by KO and only one defeat when she comes to Hamburg now to battle Susi Kentikian. After her victory over Rosilette Dos Santos in October 2008 when she claimed the WBA belt at super flyweight, she will step up to a higher weight division in order fto fight the "Killer Queen" at flyweight.

Additional fights for the "Universum Champions Night" on July 4th at the Color Line Arena in Hamburg will be announced within the next days.

Tickets are available from 18 Euro at:
Universum Ticket Hotline: +49- 40-69 65 59 59
CTS-Eventim Hotline: +49-1805-5 70 000 at all known Ticket Shop or at www.boxing.de Article posted on 02.07.2009
previous article: Ted the Bull's Scotch and Cigar Club (Number Eight)
next article: Jason Booth Dominates Dean To Retain British Title