Photos: Floyd Mayweather Workout In London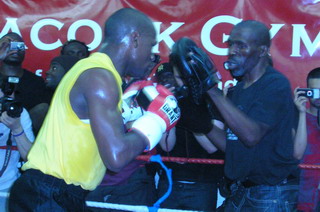 By Allan Williams, all photos by A. Williams - At a sweltering gym in east London, it seemed the world was waiting for the return of Floyd Mayweather, in his first public workout since announcing his return to the ring. Allan Williams was ringside for the action.

Floyd Mayweather may be skilled at boxing, but as far as timekeeping goes, he leaves a lot to be desired. The two hour session that was originally due to begin at 3pm instead became a shorter session starting at 4.45pm. The crowd was packed to the rafters, good natured yet boisterous, and this led to delays by the Mayweather camp as the fans tried to rush to the ring to get a glimpse of their idol.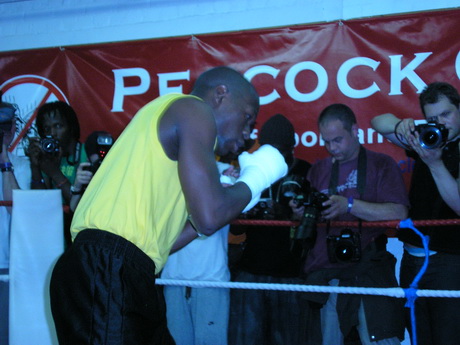 Britain's Olympic Gold medallist James DeGale turned up to catch a glimpse of Floyd, and as the wait ensued in the baking hot gym DeGale took to the ring to entertain the crowd, going through the motions with some pad work as the crowd awaited 'Money' Mayweather.. Speaking to DeGale afterwards, the immensely likeable boxer gave me an interesting insight into his mindset. He is fighting again on the Khan-Kotelnik undercard, in a 4x3, and DeGale told me he that with the work he is putting in, he could easily do 6x3's, or an 8-rounder. Commenting on the recent news that amateur rival Darren Sutherland is to fight the man DeGale fought on his pro debut, he said: 'it's rubbish, you know – that's not a test at all. They're only doing it to try and get one up on me'.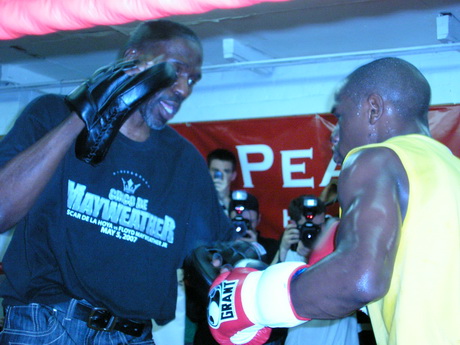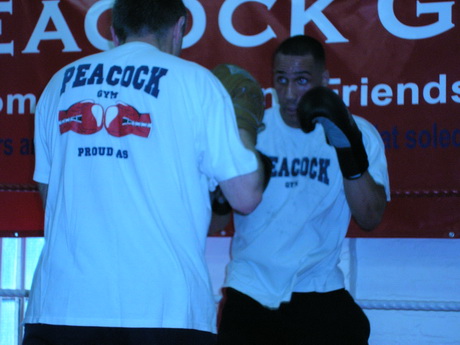 When Mayweather took to the ring, even his burly security guards couldn't keep the crowd from rushing to the ring. Floyd, it must be said, seemed slightly uncomfortable with everyone so close to the ring, frequently shouting 'back up baby, back up' as he went close to the ropes and felt people on or near him.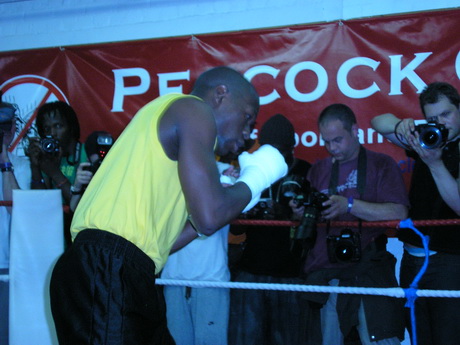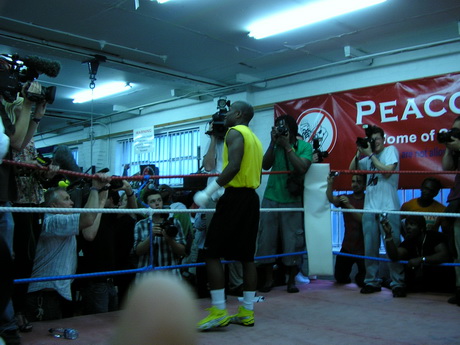 Having said that, Floyd working out is poetry in motion. Seamlessly engaging in the choreographed moves with his uncle and trainer Roger, he looked like he has lost none of his poise or speed in his lengthy absence. At one point, the crowd couldn't believe their eyes, as Floyd and Roger both closed their eyes and practiced the routine, neither one missing a step. It was over all too quickly, but it had been worth the wait.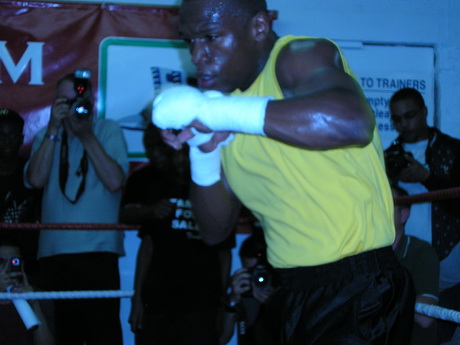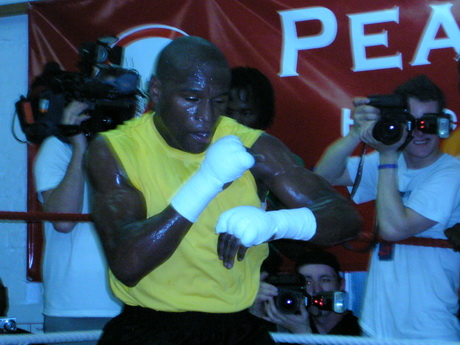 Article posted on 22.05.2009
previous article: The Ring Championship: Are They Winning?
next article: Vicente Escobedo KO's Former Champ Kevin Kelley In 2nd Round - Surely The End For "The Flushing Flash"