Nicolai Valuev Ready For Ruslan Chagaev
Nikolai Valuev believes the solitude of East German village Kienbaum will help him to win the rematch with Ruslan Chagaev on May 30. The WBA heavyweight champion, who battles it out with the "champion in recess" at Hartwall Arena in Helsinki, is shaping up in Team Sauerland´s training camp base 20 miles east of Berlin. In the middle of nowhere, there is nothing that could take the Russian Giant´s focus away from the fight. "In St. Petersburg the phone would ring every two minutes," he said. "Then there would be a family duties. And I could not walk on the streets without being recognised and asked for a signature. There would be no chance to work out efficiently. That is why I like Kienbaum. I can really focus here.."

And he added: "The landscape, the birches, the lake – it all reminds me of St. Petersburg. So I feel like being at home, at least a little bit, even though I am far away from Russia.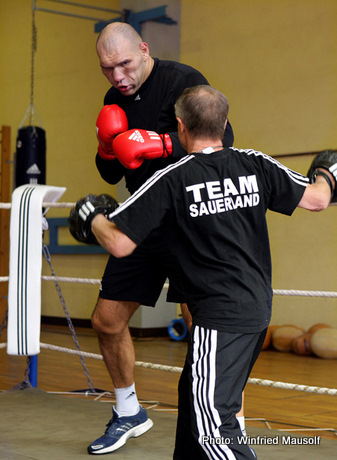 Valuev never allows anybody to watch his sparring sessions. They are his secret. In the mornings, he also does a 90-minute work-out with coach Alexander Zimin featuring warm-ups, stretching, shadow boxing, coordination exercises and pad-work. The biggest and tallest champion of all time only gets the Thursday afternoon off. "When the weather was bad I watched DVDs. The last movie was about Alexander The Great. However, if the weather is fine, I go fishing. I really enjoy it." Last week, Valuev, who is also a passionate hunter, got lucky, catching a perch. "The perch was too young so I threw it back in," he said.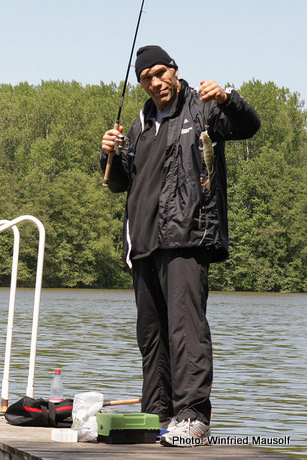 On Sunday, May 24, Valuev will travel to Helsinki to continue his preparation for the showdown with Chagaev. "I am very confident of success," he said.

More pictures on www.boxen.com Article posted on 18.05.2009
previous article: Timur Ibragimov: A Heavyweight Ready To Climb The World Ratings
next article: UK Boxing: Nathan Cleverly; Kevin O'Hara; Darren Sutherland