Timur Ibragimov: A Heavyweight Ready To Climb The World Ratings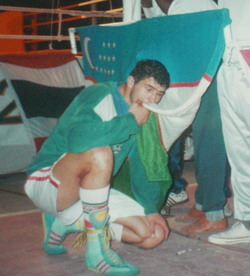 17.05.09 - by Pavel Yakovlev - As a teenager in Uzbekistan, Timur Ibragimov established himself as one of the best amateur boxers in the former Soviet Union. Given that Ibragimov was a product of the vaunted Soviet boxing program, which produced many legendary amateurs over several decades, one would expect that his boyhood heroes would be the likes of Victor Ageev, Igor Vysotsky, or Rufat Riskiev. The young Ibragimov, however, had other boxers in mind.

"The ones I was really looking up to were Muhammad Ali and Mike Tyson, even from the beginning," reports Ibragimov. Even from an early age, his attention was fixed on the world that lay beyond the Soviet Union. For Ibragimov, boxing satisfied his need to meet the world. "When the USSR collapsed, I was able to visit a lot of places in Europe and Asia," he explains. "I was impressed by almost everything I saw because everything was so different and every new place was an adventure. I was discovering the world one fight at a time."

Ibragimov's enthusiasm for the world was such that he even wore a shirt with an American flag on it during a 1997 boxing tournament in Karachi, Pakistan. "I was so proud of having participated in the 1996 Olympics in Atlanta that I wore that shirt. Times are different now," he says, "I don't think I could walk around Karachi today with that same shirt on.."

Today, as a legitimate fringe contender in the heavyweight division, 34-year-old Ibragimov makes United States the base of his climb up the heavyweight ranks. He currently resides in Hollywood, Florida, and trains daily while he conducts negotiations with promoters for future fights. With a professional record of 24-2-1, including 13 knockouts, Ibragimov is enthusiastic about fighting the world's top ranked heavyweights. Talking to him one can sense an irrepressible thirst to experience life and the world, as he puts it, "one fight at a time."


UZBEK AND UKRAINIAN FAMILY BACKGROUND

Ibragimov's philosophy of life, perhaps, is not surprising given his family roots. His mother is a native Ukrainian who married his father, an Uzbek. Together they raised five children in Uzbekistan." "I grew up with four sisters and I was the only athlete…." says Ibragimov, "still my father didn't have any trouble beating me if I was out of line. I knew that and tried to behave my best."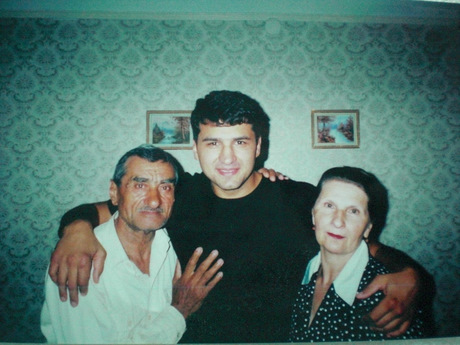 Although Ibragimov was brought grew up a Moslem, the family observed Christian holidays as well because of his mother's background. Today, he makes a point of calling his mother in Uzbekistan every holiday to wish her well. But Ibragimov's father, who died in 2004, was also a strong influence in his life. "When I became a teenager my father wanted to make sure I was busy so that I will stay out of trouble. That is why boxing started as a hobby," says Ibragimov, "I didn't like any of the team sports like soccer. I was inclined towards wrestling or boxing one-on-one – these are very popular and very competitive sports in Uzbekistan – and I became good and started winning."

Ibragimov learned of his father's death only hours after winning his 14th professional fight, an eight round decision in Moscow over Terry McGroom. "Everyone was pleased with the results and I was supposed to come back to America on the next flight, but instead I received a call from Boris [Ibragimov's former manager, Boris Grinsberg] telling me I was going to have to fly to Uzbekistan because my father had passed. I think it was the saddest day of my life. I mean, I could take many punches, but this was the blow that broke me down in a million pieces.

"I really miss him, he was a great and honorable man", adds Ibragimov.

Ibragimov was fortunate to have his father's strong influence during his teenage years, When he was 16-years-old, he achieved a boxing success that could have easily have swelled his adolescent ego to troubling proportions. That year, 1991, Ibragimov won the prestigious USSR Junior Championships in a tournament held in Tashkent.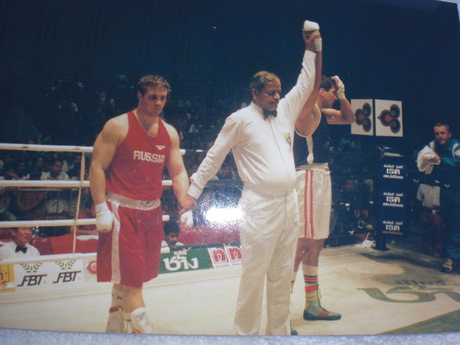 For Ibragimov, winning the fiercely competitive national tournament was as unexpected as it was spectacular. "It was the first time I participated in a national tournament", he explains. "The coaches put me there only because I was from Uzbekistan and the tournament was taking place there, but they thought I was probably going to make it in the first day then be eliminated. I fought the first day against the former champion, a Georgian; he was beating me badly but in the last round I dropped him and he wasn't able to get up. Everyone was so surprised, I was surprised, after that my confidence improved and I kept winning. When I got to the final I was so excited that the guy broke my rib and I didn't even feel it. I couldn't believe it, I was so happy and proud, I went back to Urgench, which is a small town, and everyone knew and wanted to congratulate me."


AMATEUR AND PROFESSIONAL BOXING SUCCESS

Success in high-level amateur tournaments became habitual for Ibragimov. In 1993 he won the first of his five Uzbek national championships, which led to a salaried job as a member of the Uzbek National Boxing Team. At the 1994 World Cup tournament in Bangkok, Ibragimov won a bronze medal. In 1997 he took the gold medal at the Central Asian Games in Alma Ata.

The highlight of Ibragimov's amateur career was fighting in the 1996 Olympic Games in Atlanta, where he carried the flag for the Uzbek National Olympic Team, the country's first team after becoming independent in 1991 . Carrying his nation's flag was especially an honor for Ibragimov given that one of his teammates was Ruslan Chagaev, the Uzbek heavyweight (and future WBA heavyweight champion) who had already achieved world renown by defeating the seemingly invincible Cuban boxer Felix Savon.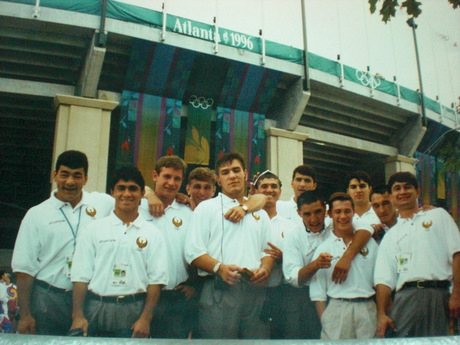 At the Olympics, Ibragimov discovered boxing's sordid side when he lost a controversial decision to lanky Croatian Stipe Drews. The final score was a marginal: 10:9. In Ibragimov's words, "I really got robbed…until now, that is the only fight I feel I really get robbed. We [the Uzbek officials] protested their decision, and the judges answered that the rules had changed and that they were counting only punches to the head. Only punches to the head! He was one full head taller than me and I landed so many body punches but they didn't count them."

Eventually, Ibragimov decided to try his luck as a paid professional. On March 29, 2000, he made his pro debut by outpointing Dmitri Naumov over six rounds. The bout took place in St. Petersburg, Russia, and at 189½ lbs., Ibragimov was still fighting as a cruiserweight. For the next two-and-a-half years, he remained inactive and then resumed his career in the United States under the managerial guidance of Russian émigré Boris Grinsberg. By this time, Ibragimov had added thirty pounds to his tall frame and was fighting as a full-fledged heavyweight. Signing with Grinsberg also made Ibragimov a stablemate of highly touted heavyweight prospect Sultan Ibragimov, who would eventually win a WBO world championship belt. Over the next four years, Ibragimov ran his professional record to 21-0-1 with 13 knockouts.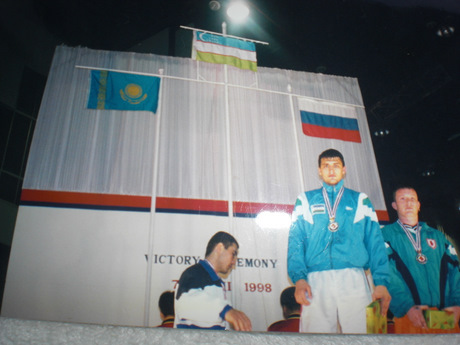 One fight at a time, Ibragimov discovered that life could be good for an upwardly mobile boxing prospect. Several of his bouts aired on cable television and, together with Sultan, he received a lot of attention from the media. In 2004, Ibragimov even got to meet Mike Tyson. "It was a dream of mine to meet him. I sparred with him for one month…it was a great time. A year later, Ibragimov won the WBC FECARBOX title by stopping Paul Marrinaccio (20-1-2; seven kayoes) in seven rounds. As a result of this victory, the WBC rated Ibragimov 16th in the world, and his future seemed bright.


SIDELINED BY MANAGERIAL AND PROMOTIONAL PROBLEMS

Like most other talented professional boxing prospects, however, Ibragimov learned that his easy upward mobility would not last indefinitely. One fight at a time, Ibragimov discovered that lost fights, managerial problems, and promotional difficulties could stall a boxing career.

In June 2006, Ibragimov lost a unanimous decision to top contender Calvin Brock (28-0; 22 kayoes) in a high-profile bout televised by HBO. The fight was Ibragimov's first test against a legitimate world-class opponent, and he was essentially outhustled in a tactical fight in which both boxers fought with caution. The decision favoring Brock was unanimous, the scores being 119-109, 117-111, and 115-113. The press was critical of both boxers after the bout, but especially of Ibragimov, whose defensive tactics caused observers to question whether he had the competitive drive necessary to win world-class matches.

The loss to Brock undermined Ibragimov's relationship with Grinsberg, and Ibragimov remained inactive for the next seven months. Then, suddenly, Grinsberg matched Ibragimov with top contender Tony Thompson (28-1; 17 kayoes) in February 2007. Ibragimov was given only two weeks advance notice of the bout, a remarkably short amount of time given that Thompson was a 6'5", fast moving southpaw with a notoriously tricky style, an opponent who should be fought only after lengthy, careful preparation in the gym. Consequently, the underprepared Ibragimov lost a unanimous decision to his cagey foe.

Immediately after this loss, Grinsberg terminated his contract with Ibragimov. Ibragimov believes that Grinsberg made the decision to end their relationship long before the Thompson fight.

"After the fight with Calvin Brock, Boris Grinsberg didn't want to have anything else to do with me," explains Ibragimov. "At the time I was very naïve and didn't understand the business side of boxing. He only informed me of the fight against Thompson on two weeks notice. I told him that was not enough to time to prepare, but he said that was it for me and that I had no other option than to take the fight…I trusted him and fought. He put me in the fight to make the most money out of it and then released me as a manager."

Now managing himself, Ibragimov next won an easy ten round decision over former European champion Timo Hoffman (37-4-1; 21 kayoes) several months later in Germany. Ibragimov completely controlled the fight with effective footwork, sound defensive maneuvering, and clever counterpunching. Twice Hoffman dropped to the canvas in the later rounds after being stunned by right-hand counters, but the referee ruled the falls as slips. The final scores favoring Ibragimov by margins of 99-94, 98-92, and 97-93 were, in fact, generous to the thoroughly beaten Hoffman. (This writer scored the bout 100-92 for Ibragimov.) Given that Hoffman was rated 14th by the WBA going into the fight, the victory put Ibragimov just one or two wins removed from a top ten rating.

Unfortunately, Ibragimov was not able to capitalize on the Hoffman win because he was sidelined again with promotional problems. Upon returning to the United States, Ibragimov signed a contract with Don King Productions, but King kept him inactive.

"After the Hoffman fight, I had the opportunity to sign with Sauerland Events, but I am living in America, and my former trainer advised me to take an American promoter. So, I made another naïve mistake and signed with King, who gave me a promotional contract for three fights a year. They didn't give me any fights and after much pleading to get my release I received it in April," explains Ibragimov.

Since his June 2007 win over Hoffman, Ibragimov has fought only twice, winning decisions against obscure opponents in North Carolina and in Russia. He is currently training in Miami in preparation for future fights now that he is no longer under contract to Don King.


A SKILLED BOXER POISED TO SCORE A MAJOR UPSET

So, how good is Ibragimov and what are his future prospects in professional boxing?

The late Hank Kaplan, a legendary boxing pundit and expert evaluator of boxing talent thought favorably of Ibragimov. " Timur did a nice job against Calvin Brock. He showed defensive skills, took a good whack on the chin. He showed guts. The showing he made, it puts him in position to make a few bucks."

Kaplan's appraisal of Timur is apt. Ibragimov is a tricky ring technician who evinces all the solid fundamentals characteristic of the best Soviet amateurs who enter the professional ranks. He shows good ring generalship while moving effectively on his feet, keeping his guard high and slipping punches. Ibragimov is rarely hit by a solid punch. He is patient in the ring, always baiting his opponent into making mistakes so he can counterpunch with quick, awkward punches thrown from many unusual angles. Although not noted for his power, Ibragimov can hurt a foe when he gets his full weight into his punches (which Calvin Brock pointed out after their bout).

At six foot three and a half inches, 225 lbs., and with a reach of 77-inches, Ibragimov is big, strong, and durable enough to hold his own in clinches with any heavyweight in the world, including super-sized heavyweights such as the Klitschkos and Nikolai Valuev. There is evidence that Ibragimov has learned from experience. His polished performance against Hoffman suggests that he acquired increased professional depth from his fights with Brock and Thompson. Ibragimov 's ability to take a heavy punch has been proven.

The boxing world should not overlook that Ibragimov has lost only twice as a professional, both times to top contenders in fights from which he emerged without a mark on his face. Ibragimov rebounded from these setbacks by delivering a one-sided beat-down against a then established fringe contender in the opponent's own hometown.

Don't be surprised in the next year if you see Ibragimov defeat a world ranked opponent and establish himself in the thick of the world heavyweight ratings.


(Through this article, Timur Ibragimov communicates thanks to his friends Sultan Ibragimov and Vladimir Galaktionov.) Article posted on 18.05.2009
previous article: News: Leo Nolan; Ashanti Jordan; Carina Moreno