Will Samuel Peter Ever Fight Again?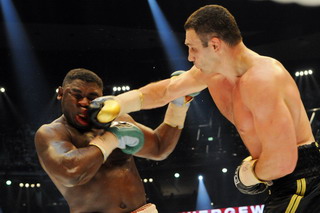 By Bill Patrice Jones: On the 22nd of January 2005 Samuel Peter fought on HBO against Yanqui Diaz in the continuation of his ascent to the top of the heavyweight division. He came into the ring a strong 232 pounds, a fearful and determined puncher who needed to support the statement he had made against Jeremy Williams in his previous bout. In any other division a fight of this kind would not have seemingly generated so much interest but in a stale heavyweight era people were making noise. Bernard Hopkins had gone on record stating that Peter was his favourite heavyweight to watch and legend Roy Jones Jr was more than complimentary during the fight. Peter clobbered Diaz to submission in five one sided rounds and set himself for a title shot.

Samuel Peter is today largely seen as a joke by fans of the noble art, citing his lack of determination, poor training regime and almost baffling inability to lose some of his excess poundage. He was last seen waddling to an awful points defeat to Eddie Chambers, wandering helplessly around the ring in shape which classified him as morbidly obese..

The cynics will tell you Sam Peter was always a joke, overrated and over hyped because of the poor quality of the division who was lucky to win a heavyweight title and ultimately got what he deserved for mixing with the Klitschko brothers. However was Samuel Peter wasted potential, a man who destroyed himself and his reputation? The questions remain: Was Samuel Peter ever a good fighter and will we ever see him fight again?

Peter was promoted as something of a modern Mike Tyson figure of sorts, a man who would shake up the division and redeem it with the quality that most fans want the most: Knockout power. He eventually earned his first chance to fight for a world title when he met Wladimir Klitschko in an IBF eliminator in 2005. In what was ultimately a significant fight for both men, Klitschko redeemed himself by coming off the canvas three times to outpoint Peter for the relatively easy unanimous decision. Peter displayed both his raw power in rocking and intimidating Wladimir but also his severe lack of finesse by being rather easily outfoxed for the majority of the fight.

Still people wanted a knockout artist to ascend the throne and whilst Peterís high weight and lack of skill were alarming many awaited his return. He regrouped with a couple of important wins and then entered his next significant fight against James ĎLights outí Toney winning a close split decision. The WBC ordered a rematch and Peter would deliver a performance which caught the eyes of many fans. Coming in to the ring at a toned 250 pounds Peter boxed, moved and completely outdid anyoneís expectations.

Yet just when it seemed that Samuel Peter had improved significantly so too did the serious problems begin. There were rumours of Peter disrespecting his training regimen and indulging a little too much in his comfortable Las Vegas lifestyle. Late nights, parties and a little too much of a good thing. This combined with trouble securing his next fight, with constant change of opponent a withdrawal from defending champion Oleg Maskaev and a possible late pull out from Jameel Mccline because of drugs tests. Peter did find himself in the ring with Mccline and the fears over his poor training were shown to be true. He was dropped three times in two rounds and nearly stopped before he got his senses together. He rallied back to comfortably outbox Jameel for every single round thereafter.

Yet could Peter really fulfil the destiny many had perhaps foolishly written for him so early on? His weight was becoming a serious problem, his training was inconsistent and even his famed punch resistance was on shaky ground. He came in against Oleg Maskaev in Mexico overweight and out of shape, yet he still had enough raw power to pummel the ageing Russian into submission rather easily in six.

Now the WBC champion Peter was given a nasty awakening: Vitali Klitschko was coming out of retirement and wanted his WBC belt back! Immediately debate swirled: Could a rusty injury prone Vitali take the force of a so called prime champion? Would Peter be exposed by a returning ring great? One thing was for certain he needed to be in the best shape of his life and he needed to show the fire he had early on in his career. Yet none of this came to fruition, Paterís scheduled tune up bout was cancelled and he ended up coming into Berlin grossly out of shape. In one of the most humiliatingly one sided heavyweight title contests in history, Peter was pummelled for eight one sided rounds before he decided he could take no more.

It seemed Peterís brief rise and fall was over before it had even started. Yet was Samuel Peter ever a good fighter? More importantly, what does it show us about the publicís response to the prospect of a heavyweight puncher?

The sad truth is Peter did have big potential and raw natural assets any heavyweight would desire. The problem was that the standard of the division minus the Klitschko brothers was so universally poor that Peter realised he could become a champion without even getting into top shape. If Vitali Klitschko had not returned when and how he did, we might have faced the prospect of a lengthy title run for the big Nigerian and when a fighter trains as poorly as he did that is a shocking indictment of the quality out there. Peterís style required him to be in fabulous shape, so he could launch big attacks out of a crouch style. He proved to be a decent boxer but a deeply flawed man. Whatever he had he ate away carelessly, unable to contain his selfish appetites. It is unlikely we will make the noise about a heavyweight prospect like we did over Samuel Peter in the near future. We are not going to be a careless with our predictions. If Samuel Peter had run 3 miles every morning, stayed trim and focused he could still be a contender. Instead he was last seen wandering hopelessly around a ring with Eddie Chambers watching his career disappear as the rounds passed. It is unlikely we will see him resurface in any meaningful fights and this author can only say: What a waste!

Article posted on 12.05.2009
previous article: Mayweather Sr. Blames Hatton And Lee Beard For Loss To "Pac-Man"
next article: Pacquiao vs. Mayweather Jr. - How did we get here?