Oliver McCall - "I Want Chris Arreola Next!"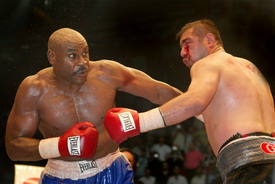 07.05.09 - Exclusive interview by James Slater - "The Atomic Bull," Oliver McCall, returns to the ring after a nineteen month absence this coming May 22nd, when he meets Australia's John Hopoate in Las Vegas. Still intent on becoming a two-time heavyweight king, the 44-year-old with the granite chin and the 51-9(36) record says he is feeling better than ever going into the fight with the former rugby player.

Also on the May show will be Oliver's up-and-coming son, Elijah McCall. Excited to be fighting with his son on the same card as he for the first time, Oliver is looking forward to putting on a good, fan-friendly performance against the 11-2(11) 34-year-old from Sydney..

Very kindly taking time out to speak with me earlier today, McCall was in fine spirits.

Here are his answers to my questions:

James Slater: It's great to speak with you, champ. How are you feeling?

Oliver McCall: I feel blessed, I feel truly blessed.

J.S: It's good to see you back, or getting ready to get back, in the ring. How soon after the points loss to Juan Carlos Gomez did you decide you'd fight again?

O.M: Well, I had a shoulder injury as far back as February of 2006, and ever since then, until the Gomez fight, I was basically fighting one-handed. I couldn't throw left hooks and it hurt real bad to throw left jabs. I won two small titles with the injury and I had Gomez hurt in the 10th round - I believe that if I had my left hand, I'd have stopped him when he was hurt. But after the Gomez fight, I wanted to fight again, but I knew it was in my best interests to rest and let the shoulder heal. I was about 75-percent back then, but now I'm fully healthy and I'm really excited about that. I feel great and now I'm ready to go!

J.S: You feel better than ever, it sounds like?

O.M: Exactly. I think I'm a more complete fighter now. I relied on just my right hand when my left shoulder was hurt, and during that time I mastered the right hand. But now I have my left back too. You'll see that in the [Hopoate] fight.

J.S: What do you know about John Hopoate? Have you seen him fight?

O.M: I've seen him, yes. I've studied him a little. He has a nice right hand and he's tough. But ring generalship-wise, he's not on my level. I've been all over the world and I've fought and also sparred some great, great fighters. I'm not underestimating John, but experience-wise he's not on my level. But he can punch, he's courageous and he has determination. I think it's gonna make a great fight for the fans. He can't out-box me - I think he's quite limited in his boxing skills. I'm gonna take advantage of that. This fight is about me looking good, making a statement and showing people I'm back.

J.S: He's very excited about the fight, I've read. He's calling it a dream come true for him to be fighting in Las Vegas against a top name like you. When did you get the call to take this fight?

O.M: Over a month ago. I'm just as excited as he is - for two reasons. Number one, because I'll be facing a guy who excelled in another sport, in rugby. You know, he was a top name in that sport. He's got all [his wins by] KO's in boxing now and I know he'll come right at me to come and try to win. And number two, because this is a fight that will give me a chance, fully healthy, to see where I'm at regarding my future. I still want those world titles, and this fight will let me know where I'm at regarding my goal. In this fight you will see me in ultimate condition.

J.S: What approx weight do you plan on entering the ring at, Oliver?

O.M: For this fight I will be 238 pounds or less.

J.S: I read that Hopoate has been sparring Kali Meehan for this bout. Who have you been sparring with?

O.M: I've been sparring with Carl Davies, who recently fought DaVarryl Williamson. Also Wilma Vasquez, who's an up-and-comer, with an 8-0 record. And I've been sparring with Elijah McCall, my son. He's really improving and coming up right now, I can see that by the sparring. My son's fighting on the same card, and you'll get to see a double dose of the McCall KO punch on May 22nd! I've sparred over a hundred rounds for this fight. Yesterday, I did eleven straight rounds with different sparring partners.

J.S: There's no way Hopoate is going to stop you, as you've never even been down and you're known for your rock chin. But are you looking for a KO win?

O.M: Yes. I want a KO in this fight. I want to win by KO to show that I'm back. I don't think this fight will go more than three rounds. My wind is great and I don't get tired. I've trained to go the distance if needed, but I'm gonna score a KO. John has gotten tired by around the 4th or 5th round in past fights, and as soon as he gets tired, as soon as I sense it - I'll let loose with a barrage. I can knock you out with either hand, and I'll fight like a champion in this fight.

J.S: You say you expect him to come right at you, but as he cannot win by KO his mindset may be to try and go in and out-work you, do you think?

O.M: I'm gonna warm-up real good in the dressing room and I will be going straight at him. No, he can't KO me, and he can't out-box me either. I'm gonna start fast and lay some on him!

J.S: Your son is on the card, of course. Do you plan on having more double headers with you and Elijah fighting together in the future?

O.M: What I want is to fight on the same card as my son right up until I retire and then pass the mantle onto him. God's will, that's how things will be.

J.S: You've just turned 44, do you have a timeframe in you mind as to how long you plan to box on for?

O.M: Yes, I have a timeframe in mind. I want, God willing, to fight for all of 2010, and then in 2011 I'll retire with my son at around 15-0 or so, and I'll say, 'well, son, it's your turn now.' And hopefully he'll be a better world champion than I was. But I want those world titles before I retire. And even if I was to beat Klitschko later this year, I'd still box until 2011. That's another of my goals, to not lose again before I retire.

J.S: It's been great speaking with you, champ. We wish you best wishes for the May 22nd fight......

O.M: There's one thing I want to say. One thing I really, really wish for, is that me and my son, when we box together on another card, that all his brothers and sisters come to the fight. That means more to me than winning back the title. I have seven kids, and I want all Elijah's family to come and watch us both fight on the same card. With God's will this will happen.

J.S: Wish Elijah good luck for his fight, too. And thank your brother Frank for setting up this interview, Oliver.

O.M: Okay. There's another thing I want to say. I want [Chris] Arreola next. He's a pussy, and I want him for my next fight! Make sure you put that down! Me and Arreola would be a great fight and it would lead the winner to a shot at Klitschko. Whoever wins out of me and Arreola could then fight for the title. He's [Arreola] supposed to be the best U.S heavyweight - let him fight me.

J.S: Okay, thanks, Oliver.

O.M: Thank you. You have a blessed day.

Article posted on 08.05.2009
previous article: News: Guillermo Rigondiaux To Make Pro Debut; Jennifer Salinas Returns With Big Win!