Abregu-Garcia Showtime Weights And Quotes
TELECAST NOTE: 2008 Olympian Gary Russell, Jr., takes on Alvaro Muro in a four-round featherweight bout Friday night before the SHOWTIME telecast begins. Between the two featured fights, highlights will be shown of Russell's fight and he will be interviewed about his transition from the amateur to professional ranks and what is next for the Washington D.C., resident. Russell is 2-0 since turning pro in January. At the 2008 Beijing Olympics, Russell never got to enter the ring as he missed the Olympic weigh-in hours after losing consciousness in his Olympic Village dorm room..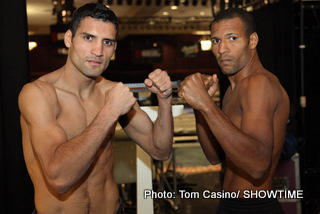 THURSDAY'S WEIGHTS: Carlos Abregu weighed in at 148 pounds on Thursday in Santa Ynez, Calif., a day before he's scheduled to face Irving Garcia on ShoBox: The New Generation on SHOWTIME (11 p.m. ET/PT, delayed on the west coast). Garcia tipped the scales at 147-1/4. Both boxers in the telecasts' opening fight–Marvin Quintero and Wes Ferguson—weighed in at 134 pounds.

Abregu puts his stellar, unblemished 26-0 record, with 21 knockouts, on the line Friday, May 1. The Argentine will face Puerto Rico's Garcia (17-3-3, 8 KOs) in the 10-round welterweight main event at the Chumash Casino Resort. In the co-feature, Quintero (15-1, 12 KOs) of Tijuana, Mexico, will take on Ferguson (20-3-1, 6 KOs) of Las Vegas in an eight-round lightweight bout. The event is promoted by Gary Shaw Productions, LLC.

What the principals had to say prior to Thursday's weigh in:

CARLOS ABREGU

"The difference between my opponent when I last fought on SHOWTIME (a win over David Estrada on Dec. 5, 2008) and Garcia is that Estrada just wanted to win, period. He's always coming forward. But Garcia is a front-runner. He goes two, three rounds and then he fades."

"There were a lot of doubters on whether I could finish a 10-round fight back home. I think a lot of people were impressed that I went that far even though some were disappointed in the way I fought."

ABEL SANCHEZ (Abregu's trainer)

"Just because Carlos has the glittery record doesn't mean anything here. He has to put on a show. He has to be money in the bank. Guys that he's going to be facing now are just going to be that much stronger and are going to want to take that perfect mark from him."

IRVING GARCIA

"The only thing I know about Abregu is his fight against Estrada. I know how he throws his punches. It's a big fight for me. It's all or nothing now."

"It's been five years since my last fight on SHOWTIME. I've had a lot of experiences since then."

"I have to keep the fight in the middle of the ring. I can't go outside. But I have to be ready to adapt to whatever comes my way."

MARVIN QUINTERO

"Wes is very strong and a good fighter. He'll be ready for me."

"I learned so much training a total of 20 rounds recently with Ricky Hatton in Las Vegas."

"My plan on Friday is to throw more and get hit less. That's the goal.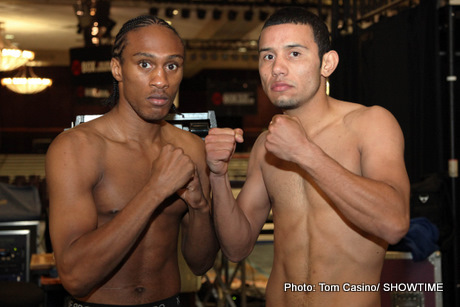 WES FERGUSON

"I know Marvin is durable. He's like a tank. He throws and he throws."

"I'm so excited to get this chance to fight for the first time on SHOWTIME. I've fought on the other networks before but this is huge. The whole world will be watching."

"I don't think I'll be nervous. It's the same drill as any other fight. I don't care how I look. A win is a win at the end of the day. I want to be the one holding my hand high after this fight."

NICK CHARLES (ShoBox Commentator)

"(Carlos) Abregu really fell apart down the stretch against (David) Estrada when they met here at Chumash on Dec. 5. I'd expect to see dramatic improvement from Carlos. For him to be a genuine prospect in his talent-heavy division he's going to have to put on a show. It's just going to be a real good test for both him and Marvin Quintero."

"As far as the first fight goes, I'm pretty anxious to see how Quintero fares against a very slick opponent like Ferguson. To be considered a legitimate contender, Quintero has to dominate this fight against someone as slick as the young American Ferguson."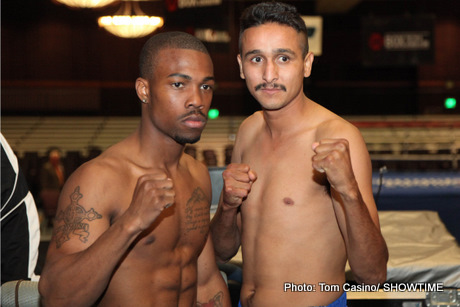 Undefeated Welterweight Abregu Faces Garcia This Friday on SHOWTIME

NEW YORK (April 27, 2009) – The knockout is always in the back of Carlos Abregu's mind, and with an 80 percent KO track record, he knows he is more then capable. Abregu will put his stellar, unblemished 26-0 record, with 21 knockouts, on the line Friday, May 1, on ShoBox: The New Generation on SHOWTIME (11 p.m. ET/PT, delayed on the west coast). The Argentine will face Puerto Rico's Irving Garcia (17-3-3, 8 KOs) in the 10-round welterweight main event at the Chumash Casino Resort at Santa Ynez, Calif. Garcia, 30, is the World Boxing Council (WBC) Latin American welterweight champion and is undefeated in his last five fights.

In the co-feature, Marvin Quintero (15-1, 12 KOs) of Tijuana, Mexico, will take on Wes Ferguson (20-3-1, 6 KOs) of Las Vegas in an eight-round lightweight bout. The event which will emanate from the Chumash Casino Resort in Santa Ynez, Calif., is promoted by Gary Shaw Productions, LLC.

The 25-year-old Abregu, nicknamed "El Porto" or "The Young Horse", is a fast-rising prospect who has been a pro for just over four years. While he may be unknown to some, he is certainly not a new name to boxing fans in Santa Ynez, a small town just 30 miles northeast of Santa Barbara, located in the beautiful Central California wine country.

Ranked No. 6 by the WBC at 147 pounds, Abregu scored a career-best win on Dec. 5, 2008, on ShoBox with a 10-round split decision over David Estrada at Chumash. The victory wasn't without controversy, but Abregu feels he earned the win.

Abregu took an early round lead on all the scorecards before suffering a over his left eye in the fifth. Estrada rallied in the second half of the fight and in the 10th round Abregu was staggered by a powerful right from Estrada. The punch caused Abregu's glove to touch the canvas, but the referee did not score a knockdown and most thought the fight was closer than the scores indicated.

After his victory, Abregu said, "This was definitely my toughest fight but I felt I won, if not by the spread they had me winning by."

In his last fight on March 20, in Salta, Argentina, Abregu won a 10-round unanimous decision against Americo Sagania (16-3-1).

Abregu was born in Tucuman, Argentina, and is one of 11 children. He began boxing at age 16 and had 43 amateur fights (41-2) and won one national amateur title in Argentina, in 2004. He is managed and co-trained by Carlos Baldomir, a former WBC welterweight champion.

Because of his aggressive, knockout style, Abregu's fights have been termed "can't miss" by loyal boxing followers and should play well against the agile and always-moving Garcia, who likes to set up his attack with the jab and punches in combinations making this fight all the more intriguing.

Said Abregu's head trainer Abel Sanchez: "Irving Garcia, being Puerto Rican, he's got a different style that's going to help Carlos' maturation. I think that it's a good fight. I'll tell you as a trainer and a manager, not as a promoter – I wouldn't want him to knock Garcia out in one round, because that does nothing for him. I would like to see four, five, six, seven, eight rounds of work that allows Carlos to extend himself and work his stuff – throw combinations, test his stamina.

"SHOWTIME is looking for one thing, the promoter is looking for one thing, and the trainer is looking for a different thing. He has to please all of us, but I'm looking at it six months, eight months from now."

Garcia – currently ranked No. 19 at 147 pounds – is a former WBC Caribbean (CABOFE) welterweight champion and former Puerto Rican junior middleweight champion.

He is coming off one of his career best wins in his last fight on Oct. 17, 2008, a 10-round unanimous decision against Chris Smith at Hatillo, Puerto Rico following two prior technical decisions in 2008. Performing before his hometown crowd, Irving was relentless early on, landing sharper punching and building a lead on all the scorecards. A flurry of right hands in the later rounds led to Garcia finishing strongly and earning the impressive win.

Garcia, born in Arecibo, Puerto Rico, didn't spend much of his early twenties in the gym but rather the classroom earning two bachelor degrees from Inter-American University in Puerto Rico in 2002: in human resources and business administration.

The two-time Puerto Rican national amateur title holder at 132 and 140 pounds, Garcia comes from a family of fisherman and still rises at 4 a.m. to help fish on occasion.

He used to be a regular sparring partner for Felix Trinidad. "He was one of the main guys for Tito," his manager Harry Padilla said. "Irving put in a hell of a lot of rounds with him, and that was the point in his life when he thought he had a chance. Tito really got close to him and said, 'You should give it a shot.' That gave him so much confidence."

Said Garcia through an interpreter: "I'm a technical boxer. Jabs, straight punches, rolling with punches."

Garcia isn't the only one who's been training with a big name. Quintero has also been in the news recently as he has been training with Ricky Hatton in Las Vegas..

Like Abregu, Quintero fought in Santa Ynez in December of last year as he knocked out Alberto Amaro (4-1). It wasn't much of a contest as Quintero scored a knockdown with a series of punches in the second and the referee stopped the fight at 2:04.

In his last fight on Jan. 16, in Tulsa, Okla., Quintero registered a third-round TKO over Nick Casal (18-3-1).

Quintero's opponent, 23-year-old Las Vegas resident Wes Ferguson, is promoted by Floyd Mayweather Jr. Ferguson was the 2002 National Junior Olympics amateur champion (132 pounds), the 2002 National Silver Gloves amateur champion (132 pounds) and the 2001 Pan Am Cadet amateur champion (126 pounds).

A five-year pro, Ferguson has won three fights in a row.

Nick Charles and Steve Farhood will call the ShoBox action. The executive producer of ShoBox is Gordon Hall with Richard Gaughan producing and Rick Phillips directing.


Irving Garcia Anxious for Friday's Showdown with Unbeaten Carlos Abregu!

Vega Baja, Puerto Rico - During his ten year pro career, Welterweight contender Irving "Chuma" Garcia 17-3-3 (8 KO's) has dealt with plenty of adversity as a fighter but is still dissatisfied with his status. From a disappointing loss against power punching contender Said Ouali to a controversial technical draw in a WBA interim title fight with Yuriy Nuzhnenko, Garcia fell just short during his most lucrative bouts. The narrowly missed opportunities had caused a distraction for Garcia, as he become overanxious for another crack at a top fighter.

After refocusing and rededicating himself to what was directly in front of him, Garcia began to take things step by step rather than leaps and bounds. Back at his best following an October decision victory over former top prospect Chris Smith, Garcia knew he was where he wanted to be and another opportunity to take center stage was on the horizon.

"I worked my tail off in the gym and it showed during my last fight", mentioned Garcia. "I've spared a ton since beating Smith and was ready for an opportunity once it came my way."

This Friday, Garcia will have the opportunity to once again spring himself into the title picture when he will battle highly rated Argentinean Carlos Abregu on ShoBox: The Next Generation. Coming into the ring with an impressive record of 26-0 with 21 KO's, Abregu possesses solid power and has made a name for himself in the US by scoring a dominating knockout over Thomas Davis as well as earning a gutsy decision over perennial contender David Estrada in December.

Stepping into the ring with a renowned rising star like Abregu, Garcia understands the cards are stacked against him. Coming into the fight as the underdog, Garcia only uses others doubts as motivation to pull off a victory against a fighter he feels is perfect for him.

"He comes forward and throws plenty of looping shots", said Garcia, who has sparred countless rounds with pound for pound elite Miguel Cotto during the last five years. "I have fought plenty of guys like Abregu in both the pros and amateurs. I am going to show him my skills, fight when I have to fight and box when I have to box. I know this is do or die for me so I am coming out to make a statement."

ShoBox: The Next Generation will air live Friday May 1 at 11 PM ET on the Showtime Network.

Garcia is promoted by Starfight Productions. Starfight Productions is based out of Tampa, Florida and is operated by Aaron Jacobs, Shea Bailey, Pete Fernandez, Mike Asmer, and Randy Feldman. Article posted on 29.04.2009
previous article: Hatton vs Pacquiao: Tactical Warfare!