Photos: Froch Defeats Taylor; Green Stops De Leon
MASHANTUCKET, Conn. (April 26, 2009) – photo credit: Tom Casino/SHOWTIME - Carl Froch (25-0, 20 KOs) remained undefeated Saturday evening after a stellar comeback performance that had a near sell-out crowd of 3,726 on their feet when he knocked out former undisputed middleweight Jermain Taylor (28-3-1, 17 KOs) to retain the World Boxing Council (WBC) super middleweight world title on SHOWTIME®.

In the SHOWTIME CHAMPIONSHIP BOXING co-feature scheduled for 10-rounds, Allan Green (28-1, 20 KOs) impressed the crowd with his astonishing power after when he knocked down Carlos De Leon, Jr. (21-3-2, 14 KOs) three times in the second round before scoring a fourth and night-ending knock down. The evening of fights, presented DiBella Entertainment and Hennessy Sports, emanated from MGM Grand Theater at MGM Grand at Foxwoods in Mashantucket, Conn.

Froch, of Nottingham, England, had something to prove Saturday night, not only to the American audience, but to the naysayers who hadn't given him credit as a world class champion. Taylor, of Little Rock, Ark., wanted to show the boxing world that he still had the heart, the skills and composition of the champion he once was..

With both coming out strong, Taylor outshined Froch and sent him to the canvas with a hellacious overhand right in the third round; the first time Froch has ever been down in his career. Froch recovered and was able to find his rhythm as he pressed the action in the middle rounds.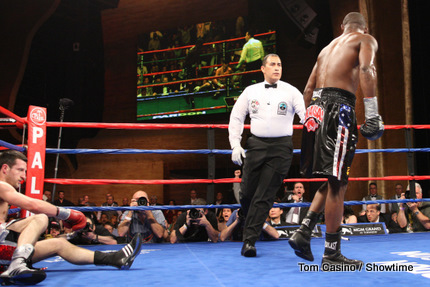 At the start of the 12th and final round, Froch felt that he needed a knockout to win the fight. And that is just what he got. Froch dropped Taylor using his solid jabs and strong right hand and, while Taylor was able to recover, he never fully regained his legs. At 2:46 of the 12th round after sustaining a flurry of monstrous punches, referee Michael Ortega stepped in and held a defenseless Taylor.

After the fight Froch said, "My trainer (Rob McCracken) told me I needed a big round in the 12th. He was right. You saw it, everybody saw it. I'm the champ."

Regarding the stoppage, Froch said, "You could see he was badly hurt and not defending himself. He was not even looking at me at the end. It was a great decision by the referee. I had to make a statement on American soil and I did just that."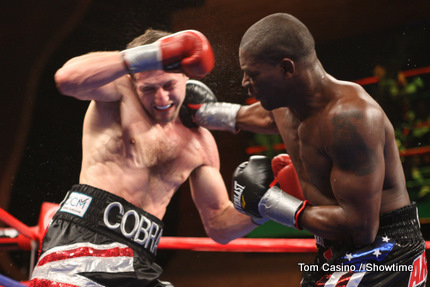 Taylor respectfully called for a rematch after the fight when he said, "I want a rematch. He came over here and he really is a warrior. I know he's got a good heart. I put 110% in the gym but he stayed with it and worked it."

Asked whether he agreed with the stoppage Taylor replied, "He thought it was time to stop it so he stopped it. My hat is off to the ref."

Green, of Tulsa, Okla., established his jab and firm right hand as soon as the fight began. After continuing to beat and overpower him, Green set up a lead right in the second round followed by a large left hook that sent De Leon to the canvas for the first of four knock downs in the round. Never truly recovered, De Leon continued to take a beating until the referee halted the fight at 1:06 of the second round.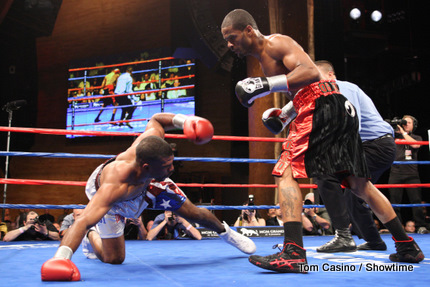 After the fight Green said "I was here to make a statement. I was here to serve notice to Jermain Taylor and Carl Froch. I mean no disrespect but I want the winner of this fight. Lucian Bute is sitting here. I want these guys."

Referring to the left hook that proved to be the beginning of the end for De Leon, Green said, "I kept coming with my right. I knew once he got brave I would come over with the left. I was able to set it up and finish. No one can handle this power. It looks like I hit him with the Hammer of Thore."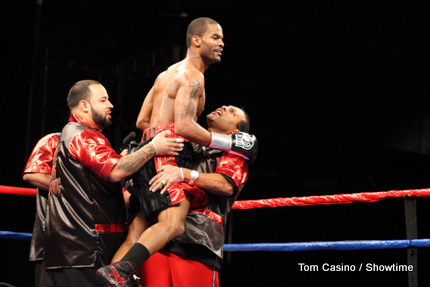 Article posted on 25.04.2009
previous article: FNF - No Long Count in Chicago Tonight: Escalante Crushes Stark